FBR Report: June Update – Mali Yang Offensive Continues
21 July 2015 Kachin State, Burma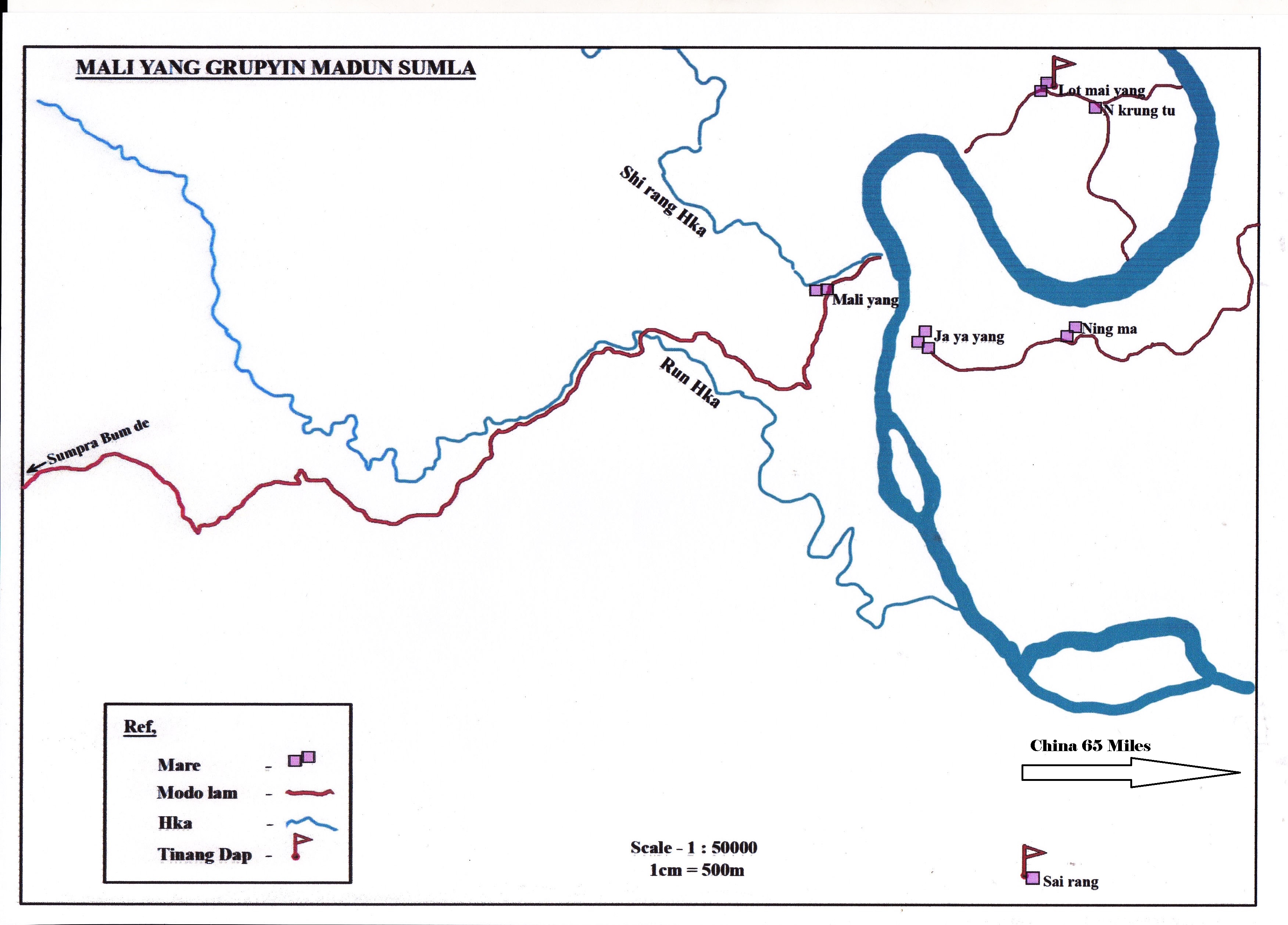 On Saturday, 11 July the Burma Army and Burma Air Force launched an offensive near Mali Yang Village in northern Kachin State.
At 0855 on 11 July, the Burma Army fired an artillery barrage at a KIA post near Mali Yang Village, Sumpra Bum Township, followed by a ground assault 35 minutes later. At 0930 Burma Army Infantry Battalions (IB) 29, 37, 58, 137 and 138 advanced on the KIA position from all sides. Ground fighting continued throughout the day and was interrupted at 1130 and 1500 by two Burma Air Force jets that conducted strafing runs on the KIA position.
The Burma Army had previously controlled the Sumpra Bum town area, near Mali Yang, throughout the 17-year ceasefire between the Burma Government and Kachin State from 1994 to 2011. Following the Burma Army's renewed hostilities with the Kachin in 2011, the Burma Army departed the area and the KIA 7th Battalion retook control.
On July 9th, two days preceding the offensive, reinforcements for Burma Army IBs 29, 37, and 58 arrived along with a helicopter from M.P.Hk (Burma Army Northern Command). The reinforcements and recent clashes that have taken place in the area throughout June came about due to local politics regarding education. The Burma Government Education Department had determined in the education scheme they devised for Kachin State that non-local teachers were better suited to teach in light of security concerns in the Sumpra Bum area. The Kachin State Education Department recently ruled that non-local, Burma Government teachers no longer needed to teach in schools in the Sumpra Bum town area, so the non-local teachers were dismissed. After their dismissal, the Burma Army accused local KIA groups of not only resigning the teachers, but fortifying a KIA post. Under this pretext, on June 24-25 the Burma Army launched an offensive in the area, yet the KIA 7th Battalion pushed the Burma A
rmy back. On 8 July the KIA's Conflict Resolution Team sent a letter to the Burma Army to discuss hostilities. The Burma Army has stated that their Committee members are away on other duties. The Burma Army's new July 11 offensive is a continuation of this unresolved conflict.
Mali Yang village is located 12 kilometers east of Sumpra Bum town. Mali Yang lies on the west side of the Mali Hka River which passes by Sumpra Bum. Mali Yang village has 40 families and a population of approximately 200 people. The families of Mali Yang and nearby Jara Yang Village are currently displaced.
MALI YANG UPDATE: Between 1530-1800 on 15 July, fighting in Mali Yang resumed with the Burma Army IB 29, 37, 137, and 138 conducting ground assaults on Mali Yang Post. One KIA soldier was killed and four were injured. On 16 July the fighting continued around the Mali Yang KIA post.
UPDATE: Kachin State and Northern Shan State, Burma
At present, the Burma Army is conducting a systematic campaign of oppression against ethnic peoples in Burma. The ongoing ceasefire discussions taking place between the Burma government and ethnic factions suggest a shift toward peaceful reform, but the Burma Army continues its attacks. Below are numbers related to the Burma Army's military actions in June 2015, yet this list provides only a small fraction of Burma Army activity.
Clashes– 81
Burma Army troop movement — 2779
Horses (Supply) – 80
Trucks (Supply) — 92
Burma Army Helo (Recon) — 2
Burma Army Jet (Recon) — 1
Burma Army wounded — 38
Burma Army killed -32
Burma Army Police wounded — 3
Burma Army Police killed — 1
Kachin Independence Army wounded — 1
Kachin Independence Army killed — 1
Taang National Liberation Army killed — 4
Currently, the Burma Army is utilizing arbitrary arrests, forced labor, humiliation, torture, rape and murder against civilian populations and ethnic resistance armies in order to dominate and control the human and natural resources available in ethnic lands. Below are field reports during the month of June which indicate the wide spread abuse the Burma Army utilizes to demoralize and degrade ethnic people in Burma. Fighting in Northern Shan state has also spilled into China recently. China has increased its military presence and activity near the Burmese / Chinese border in response.
Arrests, Forced Labor, and Torture of Villagers
On 17 June eighteen villagers from Seng Hpra village were arrested and taken to Gaw Lu Yang by Burma Army LIB 421. At 1700 hours seventeen of the villagers were released, but Mr. Lamai Awng Mai has yet to be freed and is reported to have been tortured.
At 1230 on 17 June twenty civilians were detained and forced to be porters. The civilians were originally sheltering at Christ Church in Seng Hpra village, Hpakant township, before their detainment and forced labor.
Between 1430-1900 on 16 June a civilian, Mr. Ugaw Tu, was forced to be a route finder for Burma Army troops in LIB 422 and 428 between Nam Yung Pa and the Kachin Independence Army's (KIA) post in Lai Si Bum, in Mansi township, Kachin State.
At 1430 on 13 June, Burma Army IB (236) stationed at Nam Yet arrested and tortured Mr. Nsang Brang Awng and his wife from Gawng Run in Kachin State, and is forcing them to travel with the Burma Army. They were last seen in the Nam Lim Pa area.
At 1100 on 2 June Burmese soldiers and a Burmese Army captain from Aung Tun Lin station at Gat Noi arrested Mr. Zinghkang Naw Ja, Mr. Lasi Naw Ja, and Mrs. Seng Mai (wife of KIA Sergeant Major Balawng Gam Seng). The Burma Army soldiers released Ms. Seng Mai but have yet to release the two men from Gat Noi. The men have been jailed in Kamaing Sub-township, Hpakant township. There has been no explanation put forward as to why they were arrested.
Destruction of Property and Threats to Villagers
At 0530 on 19 June Christ Church was destroyed by mortar fire from Burma Army LIB 421 in Seng Hpra village, Hpakant township.
At 1315 on 14 June Burma Army LIB 321 set Mr. Labang La's farm hut and Mr. Pausa Naw Ja's farm hut on fire in Mansi (Manje) township.
On 6 June Operation Commander Naing Oo from LID (88) called on local residents for a meeting at Hpawng Seng school in Muse township, northern Shan State. The commander threatened the people that, "You all must inform us if Kukang troops enter into Hpawng Seng village. If you don't, we will burn down your houses".
On 3 June approximately 50 Burmese Army troops from Infantry Battlation (IB) 255 arrived in Lahkra Yang and seized 20 trucks of timber belonging to Ah Tawng Tang in Nam San Tang Sub-township.
On 1 June Burmese Army troops from Light Infantry Battalion (LIB) 425 station at Kap Maw monastery arrested Kachin Independence Army (KIA) militiaman Lahpai La Seng and seized seized Ks-1,000,000 and an ID card from. He was later released and not returned his money or ID.
On 30 May soldiers from the Burmese Army Light Infantry Division (LID) 66 and 88 warned local villagers not to go outside of their villages. The Burmese Army then threatened the villagers that "if you are seen in the jungle you are our enemies".
Indiscriminate Firing on Villagers
At 1130 on 29 June Burma Army LIB 421 stationed at Hkrai Run fired 60mm mortar rounds toward Kap Maw and Gaw Lu Yang villages in Hpakant township, forcing villagers to flee.
Between 1340 — 1420 on 28 June Burma Army LIB 336 stationed at Kamaing Byuha Kawng and Lamawng Kahtawng fired 30 rounds of 60mm and 81mm mortars toward civilian populated Lai Nawng Kha village, Hpakant township. Villagers fled to Kamaing monastery and the local Christian church.
At 2330 on 25 June commandos from Kachin Independence Army (KIA) 38 and 39 conducted an attack on Burma Army Hpawng Seng base. Following this attack two Burma Army soldiers were found to be missing. Burma Army soldiers then ordered locals from Nawng Hapai village, "œTry to find our two missing soldiers out. If not, we will shell mortars towards your village."
At 1515 on 27 June, Burma Army posts at the head of Awng Ja village fired six mortar rounds towards Nawng Hpai village.
At 0530 on 19 June the Christ Church in Seng Hpra village, Hpakant township, was struck by a mortar round which was fired by Burma Army troops in LIB 421. Following the impact, the church caught fire and burned down.
Burma Army in Kokang region UPDATE
On 3 June, ten Burmese soldiers from every battalion under Military Operations Command (MOC) 7 in Hpakant township have been taken to be sent as reinforcements to Kukang region in Northern Shan State.
Burma Army fighting in Kokang region spills into China
At 1130 on 12 June the combined forces of Burma Army Light Infantry Divisions 66 and 99 carried out ground assaults on Shau Au Shan where MNDAA troops from Brigade 211 position near BP-111 in Kukang Mau Htai region. The fighting continued throughout the morning on 13 June. On 13 June 3 mortar shells fired from Burma Army troops dropped on the Chinese side of the border near BP-111.
On 6 June Chinese border guard forces patrolling around BP-111 encountered Burma Army troops encamped near the border line and warned them, "You should not build up positions close to border line and move back," however, the warning was ignored by the Burma Army troops. Later that day, at 1730, a Chinese armored tank unit performed artillery drills 100 meters from the Burma/China border where the Chinese troops encountered the Burma Army.
Between 1230-1630 on 4 June Burmese Army troops fired an artillery barrage towards Shau Au Hku where Myanmar National Democratic Alliance Army (MNDAA) troops are positioned. The shells impacted around the border between Burma and China, roughly 500 meters away from where Chinese troops have been drilling.
At 1230 on 1 June Chinese troops fired warning shots near Burmese soldiers who were maneuvering across the Chinese border in order to route Kokang forces. The Burmese Army ignored these warnings. This resulted in five Burmese Army troops sustaining gunshots from the Chinese. After the fifth casualty the Burma Army troops retreated.
Between 28 May – 1 June Burma Army troops carried out offensive operations against Kokang forces in Hpau Lu Shan and Chen Ma Shu Lin Shan villages, near border post (BP) 111 and 114, (near Laukkaing) in Northern Shan State.