Mission Report: Good Life Club Programs and Human Rights Documentation
13 March 2015
Kachin State and Shan State, Burma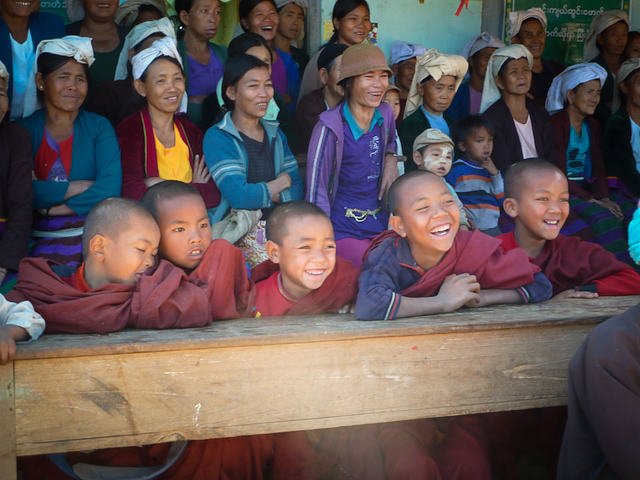 Dear friends,
Thanks for your support and care for the people of Burma and encouragement to us! We've just completed a series of missions in Kachin and Shan states, northern Burma, and are grateful to all of you that we could be there to help tell the story of what is happening.
Good Life Club Programs in IDP Camps and Ta'ang Villages
On these missions we conducted six Good Life Club programs, two in Kachin Internally Displaced Person (IDP) camps and four in Ta'ang-area villages in northern Shan State. These programs reached over 1000 children as our team taught songs and health care, used a drama to tell the story of the 12 spies of Moses and teach a lesson about standing up for what is right, treated patients, conducted interviews and gave a small gift to each child, as well as giving school supplies to the teachers.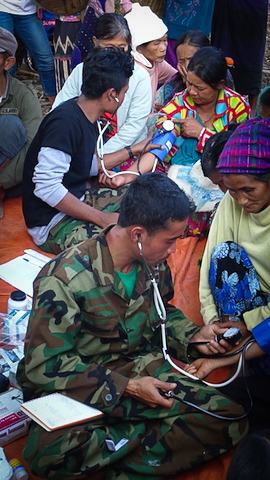 Our team included Karen and Karenni headquarters team members and Arakan, Kachin, Shan and Ta'ang (Palaung) teams. This year, especially, we thank God for the vibrant enthusiasm of the Shan and Ta'ang teams during the GLC programs. Though not Christian, they performed an animated version of an Old Testament (Bible) story and created excellent practical tools for healthcare concepts (making ORS drinks for all the children).  This enthusiasm and the joy they clearly had interacting with the children was unusual for these groups that, in our experience, are typically stoic and militaristic. Even in the awkward situations, such as opium villages where our welcome was tenuous, they committed to giving communities all they had to offer of their time and skills.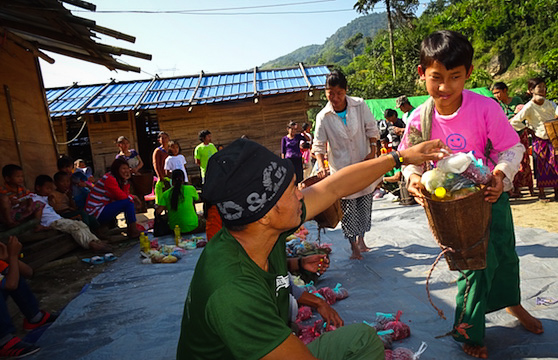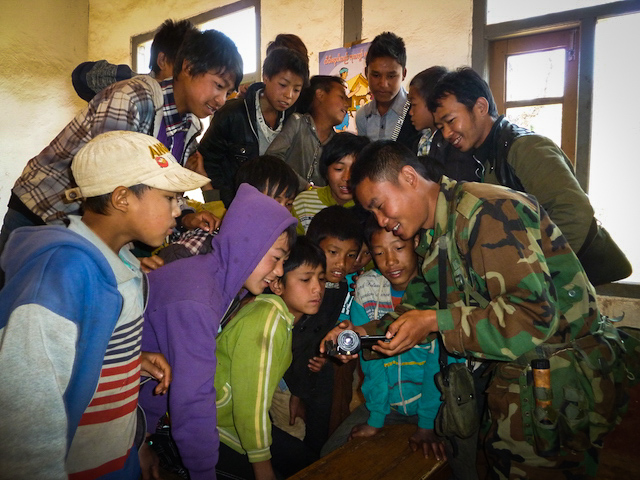 We started the Good Life Club programs in Dum Bum and Bum Hsit Pa IDP camps. We had been in Dum Bum two years ago; now it is nearly doubled in size and the people there gave us a warm welcome. We shared their Sunday service with them, also giving away school supplies, GLC shirts and food supplies.
The next program was at Bum Hsit Pa IDP camp, where we have been twice before.  Last year we were surprised to see friends from a different camp, at Nam Lim Pa Village, had moved there, chased out by another Burma Army attack. This year they were still there. Several hundred children came to the program. We interviewed a teacher from Nam Lim Pa who had been injured by a piece of shrapnel two years ago when her village was attacked; the same attack killed one of her students. She is now the head teacher of the school at the camp, with over 700 students and 32 teachers. She is recovered and still hopes for peace and freedom for her people, but is also still afraid because the Burma Army soldiers can come again at any time.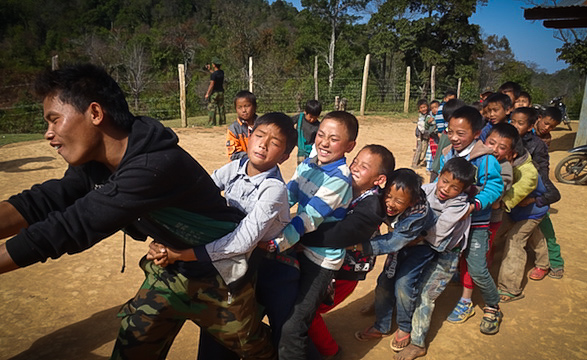 Many of the schools in Ta'ang area are supported by the Government of Burma; the teachers are from central Burma and they are paid and supplied centrally. These schools face some different challenges than the IDP teachers – and some the same. Though they are part of the central government system, they still live in the anxiety of potential fighting. One school, whose two head teachers are Burman and have been there for 20 years, said that recently they had lost half of their students as their families moved away from fear of nearby fighting. In these schools, language is a problem as the curriculum is Burmese and the students come to school speaking their tribal language – in these areas, either Ta'ang or Lisu.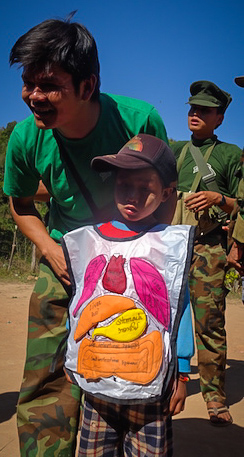 All of the teachers reported that they were under-supplied, with not enough space or basic supplies. In the Ta'ang area, this has gotten worse in the last three years, with the escalation of fighting and increased difficulty in transporting supplies.
Forced Labor at Kong Run
Before moving to the Ta'ang area of northern Shan State we visited Nam Lim Pa Village. Our teams did follow-up interviews with the families of several people who had been tortured and killed by the Burma Army in late 2012. We gathered new details and were able to pray with a father whose son, a deaf-mute, had been killed as well as a mother whose son, partially debilitated by a stroke, had also been killed.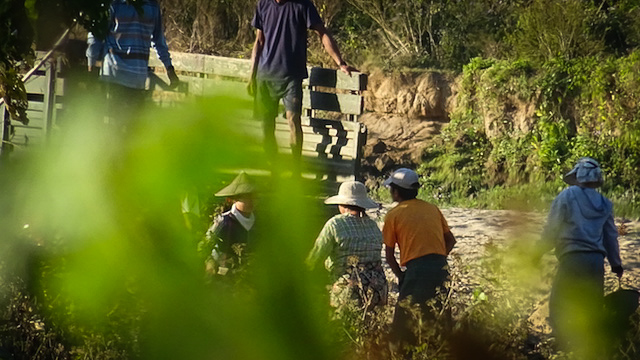 On 20 January, the teams conducted a reconnaissance of a nearby Burma Army position at Kong Run, and photographed and videoed Burma Army soldiers forcing villagers to carry rocks for them.  Here we also heard news of the rape and murder of two Kachin women, missionaries who had volunteered to work in a small village in the fighting area, on 19 January.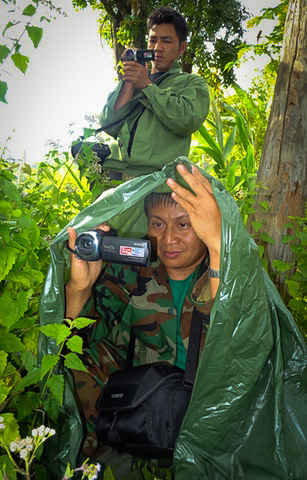 Thank You
As we see the joy in children's faces at the Good Life Club programs, as well as the anguish caused by Burma Army abuses, we are reinforced in our commitment to stand with the people here in their struggle against oppression. We are able to do this because you also stand with us, and support and encourage us in our work and all the people we meet.
Thank you and God bless you,
The Free Burma Rangers