Multiple Burma Army attacks kill 24 ethnics in Kachin State Burma between 11 and 22 November 2014
 2 December 2014 Kachin State, Burma
There has been no reduction in violence between Burma Army forces and ethnic groups in spite of the international attention President Obama's visit to Burma has garnered.  The two-week period which included the president's visit was marked by 20 clashes between the Burma Army and ethnic groups.  These clashes resulted in the deaths of 24 ethnic resistance fighters along with 28 wounded, while four Burma Army soldiers died and one was wounded.  The Burma Army moved more than 1,508 troops, 48 supply trucks, 38 supply horses, and has operated five transport and reconnaissance aircraft in northern Shan State and Kachin State.  These figures reflect an active military operation against ethnic peoples, not the actions of a peace keeping force.
Burma Army overruns Mai Nawng Kachin Independence Army Post; capture, torture and kill KIA soldier.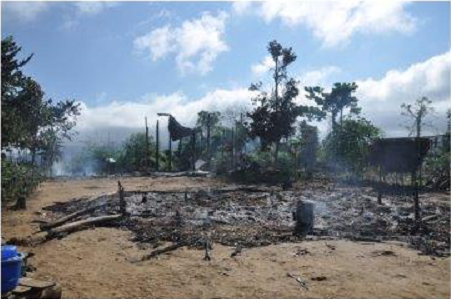 On 19 November the Burma Army's 6th LIB and 66th Light Infantry Division (LID), and local Kawng Hka (PTT) militia forces (a Burma Army militia) attacked Kachin Independence Army (KIA) Post at Mai Nawng, located in Nawng Lut town of Monyin Township.  The attacks began when 30 Burma Army soldiers began assaulting the post from 03:30 to 04:30.  At 05:30 they were reinforced by 70 more Burma Army soldiers and attacked the post until 08:30 when the camp fell to the Burma Army.
KIA soldier Pte. Myitung Naw Ja was injured in the attack, captured, and tortured to death by the Burma Army.  One KIA soldier was able to escape and three are missing.  After burning down the KIA post the Burma Army departed.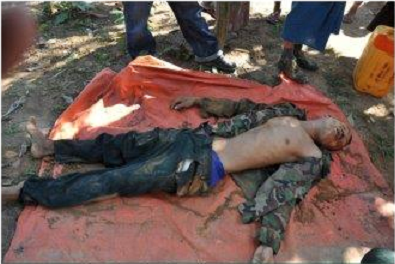 Burma Army indiscriminately fires at villages and IDP site
On 22 November the Burma Army's Light Infantry Battalion (LIB) 387 fired seven 120 mm artillery shells from Dum Bang Bum Post. Some of the rounds landed near villages, others near the N' Kung Pa Internally Displaced People (IDP) site. Two of the shells impacted on the outskirts of Nhkawng Pa Village, Momauk Township, Kachin State, where the shrapnel from the shells disabled electric power lines.  Three of the shells impacted near schools and houses in Bum Kahtawng Bum Village, causing the death of a grazing cow.  Two shells dropped at Lungpu Hkakku Post where a KIA lieutenant and sergeant major were wounded.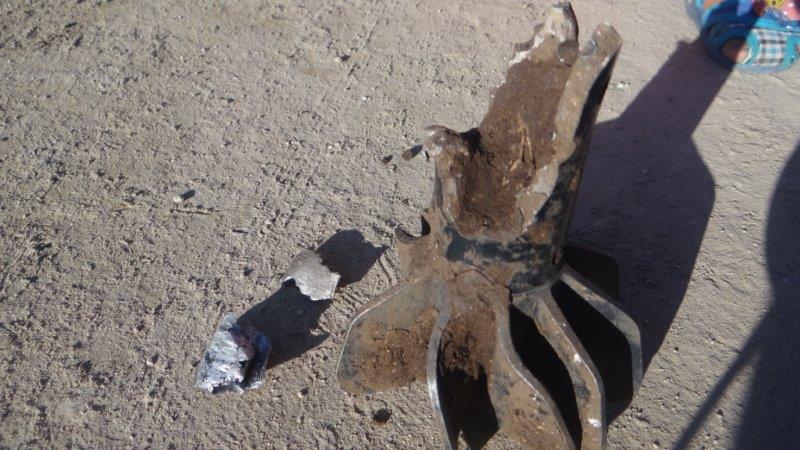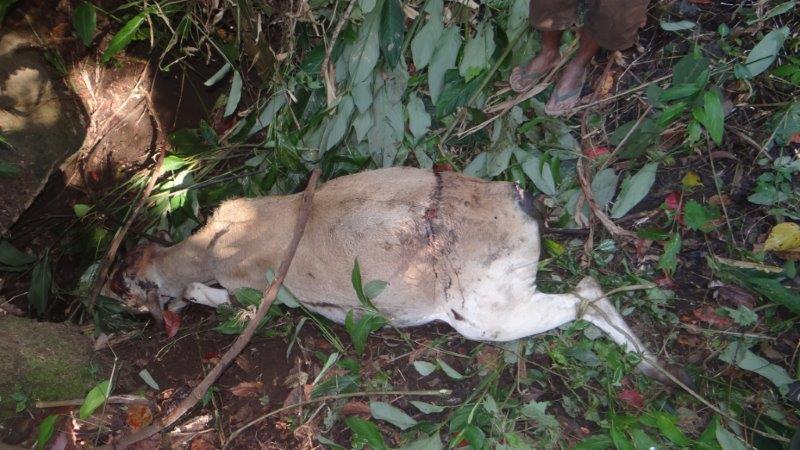 Burma Army kills 23 Kachin, Ta'ang and Arakan Trainees
*This event was originally reported on 21 November here.
At 12:15 on 19 November 2014, the Burma Army's Light Infantry Battalion (LIB) 390 fired a 105mm Howitzer at the Kachin Woi Chyai Bum Officer Training School, killing 23 cadets. The Burma Army fired from their position on Hka Ya Bum mountain, which has a direct line of sight to the Kachin training school, located north of Laiza in Waingmaw Township, Kachin State. The shell impacted on the parade ground of the Woi Chyai Bum Officer Training School when officer trainees were practicing drills. Twenty cadets were instantly killed and three died of their wounds on the same day.  At least twenty people were wounded, including four instructors.
At 12:30 on the same day, Burma Army LIB 389 fired artillery from Bungshi post, Hka Ya Bum, towards Lang Ta post, where troops from Kachin Independence Army (KIA) 23rd Battalion are positioned on the outskirts of Laiza.
Elsewhere at 12:30 the Burma Army LIB 386 fired artillery from Dum Bang Bum at Hka La post where KIA security forces are stationed.
Burma Army and Ethnic Groups clash; ethnic soldiers killed, wounded and taken captive
At 11:40 on 19 November KIA Sergeant Ahkyi La and Private Nkoi Zau Dan were traveling to their post when they were attacked by a combined force of 100 soldiers from Burma Army 21st, 29th, and 121st Infantry Battalions.  Both KIA soldiers were wounded and Sergeant Ahkyi La was taken captive.  Private Nkoi Zau Dan escaped.
At 04:00 on 19 November Burma Army 6th IB and PTT forces attacked Mai Nawng Post, Monyin Township, where MKM 1st Company is stationed.  During this attack one KIA soldier was killed and four are missing.
At 20:30 on 18 November Burma Army 384th LIB clashed with KIA troops between Nhkram post and Sama Nhkram road, Waingmaw Township.
At 15:30 on 18 November Burma Army PTT and TNLA troops clashed at Loi Kang Nam Rim village.  They reclashed at 16:50 at Nam Gan Hka bridge near Lung Wai, Kuthkai Township.
On 17 November Burma Army 317th LIB and KIA 12th and 27th Battalions clashed at Nlung Wa Lawng, Mansi Township.
From 13:15 – 15:30 on 17 November 80 Burma Army soldiers from LIB 317 clashed with KIA 12th and 27th Battalions at Nlung Wa Lawng between Hka Shang and Man Kyin Villages, Mansi Township.
At 14:15 on 17 November 100 Burma Army soldiers of Infantry Battalion (IB) 51 fired 60mm mortar rounds for 45 minutes at Nam Hkyi post where KIA forces are stationed.
At 21:10 on 16 November Burma Army LIB 389 stationed at Namsan Yang Awng Ja Yang fired 60mm mortar shells into rubber tree plantations near Chyingnam Zup village, Waingmaw Township.
Between 12:00 – 14:00 on November 16 the Burma Army LIB 317 and the Mungshawa Hpyen Hpung (MHH), a Kachin militia, clashed at the Hin Buk and Hka Pra junction.  Three Burma Army soldiers died in this clash.
At 04:00 on 16 November Burma Army LIB 217 stationed at Ying Maw fired six 60mm mortar rounds at Na Hkai site, Kuthkai Township.
At 21:15 on 13 November the Burma Army LIB 317 clashed with the Kachin Independence Organization's militia (MKM) in Muse, Northern Shan state.
Between 06:00 – 11:00 on 13 November Burma Army Kawng Hka (PTT), a Burma government funded militia, clashed with KIA forces between Ga Leng and Pang Gu villages.  One Ta'ang Liberation Front Army (TNLA) soldier operating with the Kachin forces was taken captive by the Burma Army and one TNLA soldier was injured.
At 22:45 on November 11 Burma army IB 56 stationed at Hpun Pyen Bum fired their 60mm mortar twice at Lahkum Bum hill where Kachin Independence army troops were conducting training.
At 10:25 on November 11 Light Infantry Battalion 382 stationed at Hka Ua – Lawa Yang junction post clashed with Kachin Independence Army 23rd Battalion near Lang Ta Bum hill in Waingmaw township.
At 09:00 on 11 November 50 Burma Army soldiers shelled a KIA post with mortars in Monying Township.
At 0900 on 11 November Burma Army IB 217 and Mungshawa Hpyen Hpung (MHH), a Kachin militia, fought near Mung Paw Man Lau, Kuthkai Township.  One Burma army soldier was killed and one injured.
Burma Army Activity
On November 11 200 Burma Army troops with 15 trucks of arms and military supplies departed from Northern Command Base and arrived at Infantry Battalion 29 base in Mogoung Township.  Local police have also been questioning civilians at the mile 8 junctions.
On 11 November 180 Burma army troops from IB 237 currently occupy Loi Ying, Sama Kawng and Dum Bau Bum hills, Momauk township.  Artillery Unit 336 has set up positions at Sin Lum and Dum Bau Bum with two 120mm mortars and 200 shells.
On November 11 Light Infantry Battalion 388 was found hunting cattle belonging to residents of Lai Lum Pa village in Waingnaw township.
On 9 November 180 Burma army troops and eight military trucks arrived at Lawk Je village, Manton township.
Between 13:00 and 14:30 on November 5 two fighter jets flew drills over Myitkyina.  These jets come from the Burma army's recent purchase of 10 fighter jets from Russia.