As Long as it is Day: Finding God's New Way
A Good Life Club report from northern Burma 30 March, 2014 
"Neither this man nor his parents sinned," said Jesus, "but this happened so that the works of God might be displayed in him. As long as it is day, we must do the works of him who sent me. Night is coming, when no one can work. While I am in the world, I am the light of the world."  John 9:3-5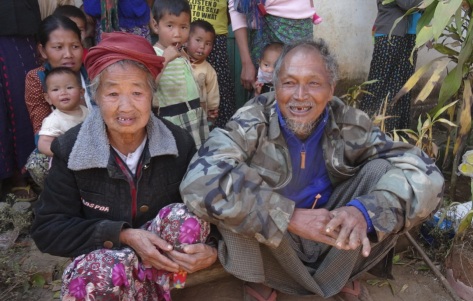 On 22 January 2014, eight new Free Burma Ranger teams graduated from Leadership and Relief Team Training: five Ta'ang, two Arakan and one Kachin.  Our mission plan was to visit the Ta'ang area in northern Shan State for the first time.  On our way there, we would stop at two Internally Displaced Persons camps we had visited last year and do Good Life Club programs.  These first two programs gave the rangers good experience in leading larger groups.  At La Gat Yang camp there were about 300 children and at Bum Hsit Hpa there were around 200 children.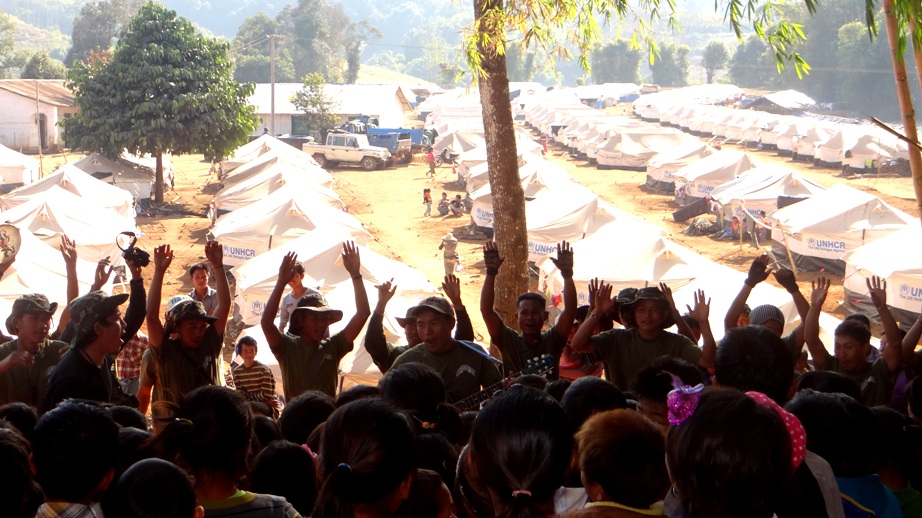 At Bum Hsit Hpa we were informed there were people there we knew – the IDPs from Nam Lim Pa Village, who we had seen last year in the camp there and who had to flee again in November and were now here.  We were happy to see them, but heavy with their reality of suffering and fleeing again.  Further, three men of the village had been killed and one, named N'Dau Gam, had been captured and beaten for hours before escaping just as the soldiers marched him off to be executed.  We interviewed the sister of one of the men who had been killed, N'Hkum Brang Aung, 20, and learned that he was mentally handicapped and had gone back to protect his things, thinking the Burma Army wouldn't bother someone like him.  His family had found his body hanging from the rafters of a school building, shot to death but with signs of torture.   We also saw again the 98-year-old man, who, when we saw him in June had said, "You helped us when we needed it in World War II … Now in our time of need you have come again." This time he said "I knew you'd come again.  We are so happy to see you."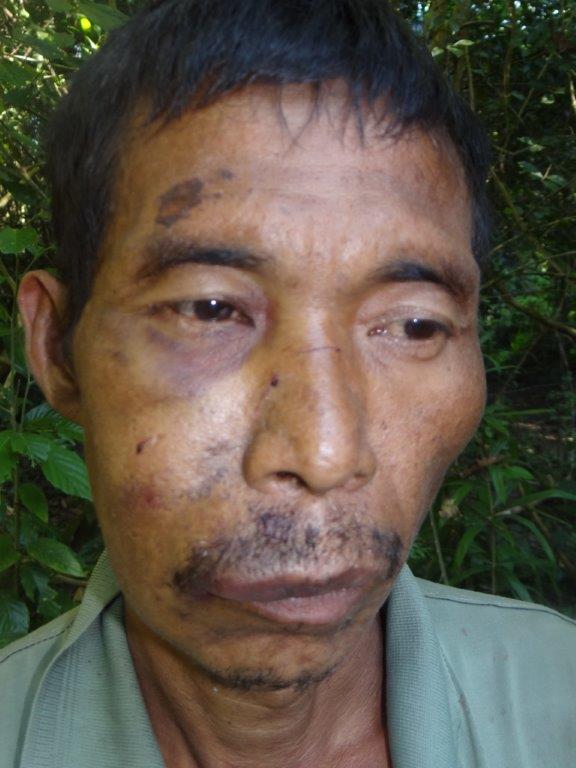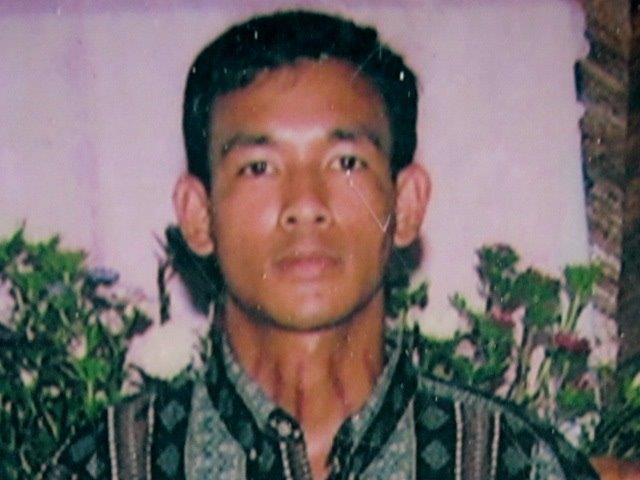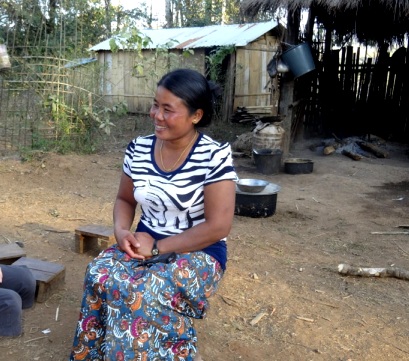 As we gathered with the families for singing, a drama, the gospel message and gift of the bead bracelet, questions of relevance seemed obvious.  Hadn't we just done this with this same group last year in another place of 'temporariness?'   Does the message of hope weaken when the situation worsens after we leave?   The cycle of suffering of these people we loved chipped away at our faith in our own message.  Yet, later God's encouragement of focus came to mind: Don't look back, despairing in evil's work; face forward, searching for as many opportunities to introduce Me into the equation as possible.   Often we are on a tight schedule, conditions aren't ideal for sharing, or it's not convenient with teams or villagers; but we are to be vigilant to keep sharing the message of abundant life so that when the storms hit, grace and mercy will have been there first.  For some it might be the first introduction to a lifeline that God is waiting to offer.  The story we share through the colored bead bracelet begins with God's good creation, goes through sin and suffering to Jesus' sacrificial love, forgiveness and finally new life – thus ending again with God's creativity.  He has never stopped being the creator and wants only an open door to create life where there seems to be only emptiness.  This encouragement would be key as our mission played out.
After these first two programs, fighting again broke out in Nam Lim Pa area.  We went there, to report on the situation and see if we could help.  The village was abandoned; homes had been ransacked and hastily-erected bunkers dotted people's yards.  We found the bodies of the three men killed in November; their families had only had time for a hasty burial before they had to flee again.  We gave them a proper burial and a funeral.  In the ransacked school dorms we found ripped-up books we had given the school at the program eight months before, a GLC bracelet lying among scattered clothes and schoolbooks, and GLC shirts.  What remained of the message of hope we had wanted to share?  We stayed in the empty house of a teacher; there were pictures, ID cards, clothes, a vanity case with nail polish – the stuff of normal life – left in haste, then thrown all over by the marauding soldiers.  We picked up the house as best we could; it seemed to be all we could do at the moment.  We left a few days later; the Burma Army had backed off but was still threatening and it felt like we were abandoning a duty and leaving something precious exposed, vulnerable.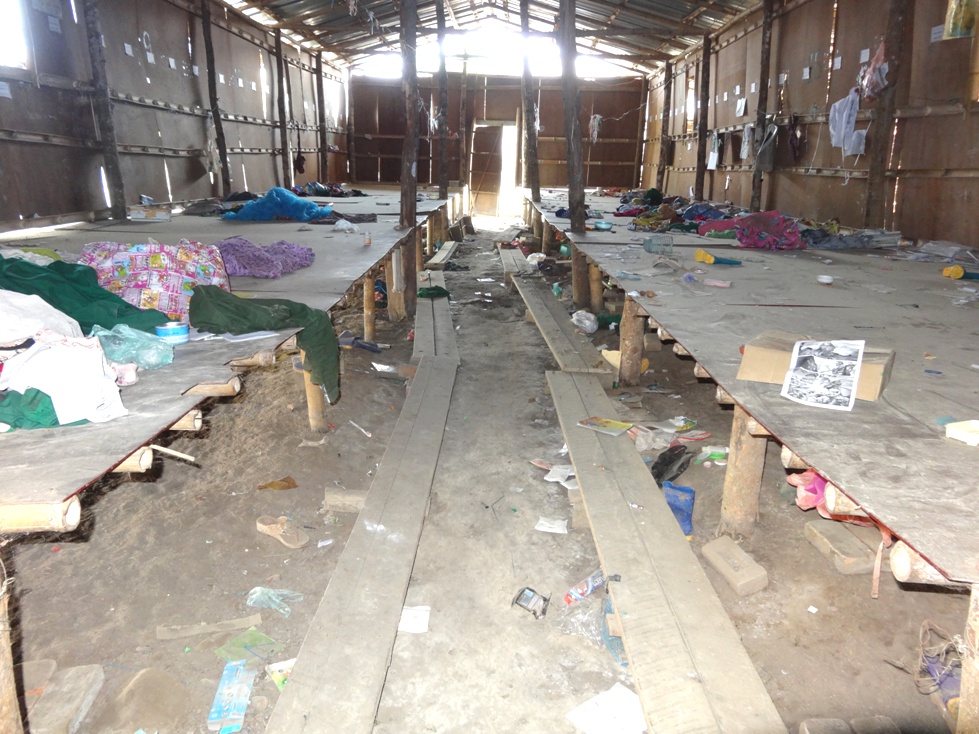 Our next five programs were in the Ta'ang area of northern Shan State, where we saw over 800 children from 12 different schools.  The Ta'ang have their own organization and resistance army – they have not yet signed any agreements with the Burmese government – but they don't have their own state, which is what their leaders want.  The villages were clean and well-ordered, with primary schools that are mostly supported by the Burma government.  The teachers are from all over Burma and are assigned to their schools by a central administration.  The curriculum and instruction are all in Burmese, making language a challenge as most of the students only speak Ta'ang dialects.  Once they finish primary school they either quit school or go to a boarding school in a bigger town.   Parts of this area are less than a day's drive from the attacks of the Burma Army against the Kachin, and yet they know very little about it and feel unaffected.  Still, one teacher, a young Burman man from central Burma who was very interested in our program and the FBR, summed up their needs with one word: freedom.  While these people weren't under immediate military oppression their freedom only extended as far as the opportunities afforded them – which were few, with no education offered in their language, and no education beyond primary school offered in their villages.  They had stability, but little freedom.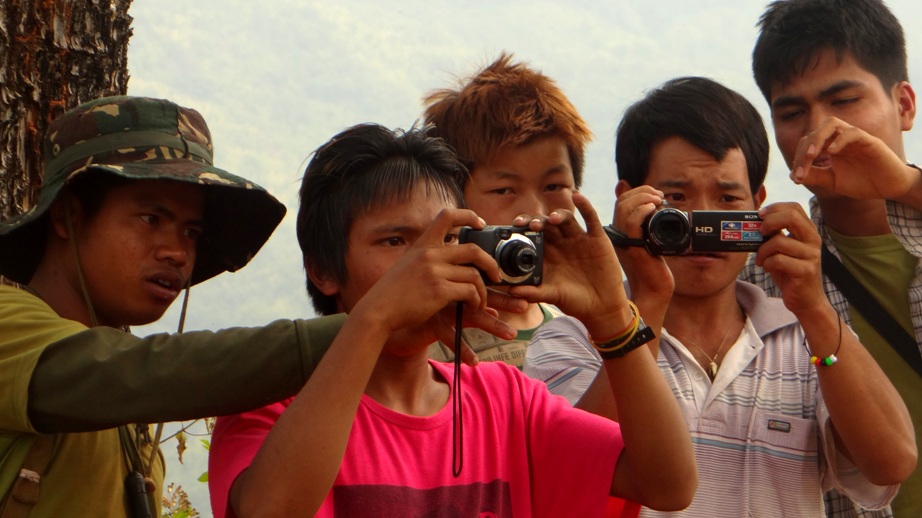 The next leg of our mission would show us the more dramatic consequences of this.
The road we walked wound up through higher and dryer mountains.  We had just left tea-growing country and in these mountains, we had been told, was opium.  The first field surprised us, spread over the hillside, green and beautiful and ripe for harvest.  One family was living in the middle of it, with one young boy about eight years old.  They were nervous but offered us what they had, juice.  We gave the child some balloons and took photos.  Several hours further on we came to a village on a bare and windy hilltop. There were about 10 families here.  No school.  Opium fields spread out down the hillside below the houses.  Some of us interviewed families while others did a reconnaissance of a militia camp standing on a hilltop several ridges away.  In the house where we stayed, the family was Chinese and had been there for over a generation. Their son had been arrested by the Burma Army the week before for drug possession.  At the same time, their crops were controlled and taxed by the ever-present Burma Army-controlled militia across the valley.  This family, too, was nervous, with the anxiety of people who aren't free – while they lived away from war, they were at the mercy of five competing armed groups and were pawns in a system that reaches all the way around the world.  They knew that there was a big picture in which they were nothing.
The one night we spent there we tried to show them a still bigger picture: the yellow bead in our story represents gold, and just as gold is both beautiful and valuable, so are they in God's eyes.  They are his beloved children, we told them: He wants to hear from you.  We gave the woman who was our hostess a bracelet for each member of her family, reassured her that we were only there to document and not to hurt them, interviewed them about their life and work and became friends in the process.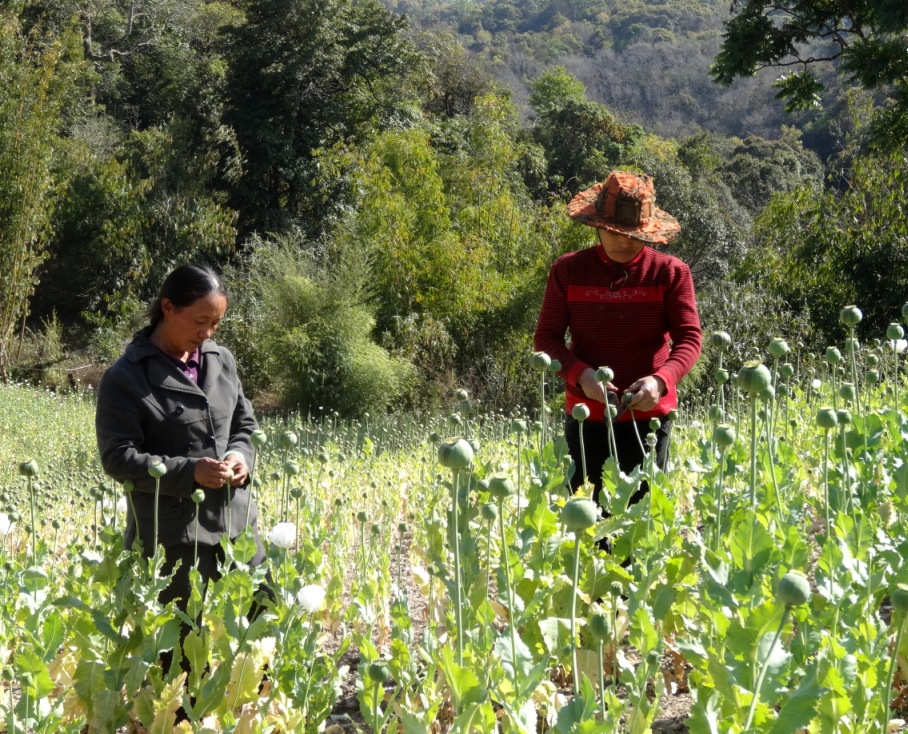 The day we left, the Ta'ang National Liberation Army, as part of a project to eradicate opium production, came to the village and began destroying the opium fields.  The villagers watched as soldiers systematically gridded out across the field and with swinging bamboo sticks destroyed their livelihood.  The woman who had shared her house and fire with us, who we had interviewed earlier and shared the message of the gospel with and who had come to trust us – she watched silently for a moment then walked slowly to her house.  Soon we could hear her crying from her room, loud sobs.  We tried to comfort her; she said that crop was money for her son, to get him out of jail.  Without it, he would be lost.  The soldiers swung their bamboo sticks through her fields as the sound of her despair poured through her house.  How to comfort her?   She was caught up in a system bigger than her, a system that slowly strangled those caught in it – but it was the only life she'd ever known.  Despair indeed when your livelihood turns to ashes in your mouth.
We sat with her.  Gave her some money to help her son.  We prayed for her.  What to pray for?  For God's new way.  We had no solution.  It wasn't just a question of defeating an enemy, but of overthrowing a system, that she was part of, that she was implicated in, by tradition if not choice.  God's offer of new life, as represented by the green bead, was all we had to share: faith in His continuing creativity.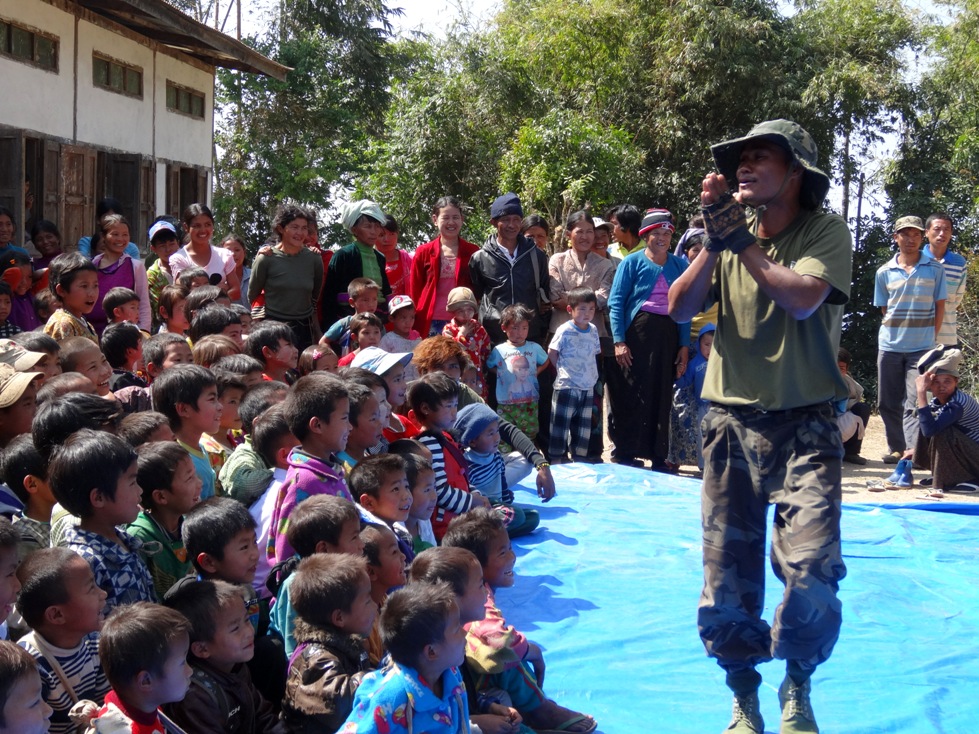 I later thought of the story where Jesus' disciples ask Him about a man born blind: "Who sinned, this man or his parents, that he was born blind?"  Jesus removes the situation from the zero-sum matrix of reward and punishment and says, "Neither this man nor his parents sinned but this happened so that the works of God might be displayed in him" (John 9:3).  And this became our message, as we continued our mission.  Every opium field was its own story of poverty and bondage, from the 13-year-old girl licking raw opium off her fingers as she harvested, to the old grandmother living alone taking care of an orphaned baby girl.  We could only affirm that God was waiting to work in their lives, that they could pray to Him for a new way, and that He wanted them to.  The sense of urgency that had begun to build at the beginning of the mission was confirmed; we had watched the Chinese lady's life suddenly change, her plans and wealth stripped away.  Each of these families could lose their livelihoods any day.  All we could do was to point them to His new life, to tell them they had the ultimate freedom to call on God and follow the way He had prepared for them.  Jesus knew, when his disciples asked him, that we are part of a big, flawed system.  He didn't blame the system: he healed the man.  He says, "As long as it is day, we must do the works of Him who sent me. Night is coming, when no one can work."  And so he gives us our mission, this must be what we are about too, and we must do it now.