FBR Report: Death of a Ranger: Saw Wah 
11 July, 2013 Karen State, Burma
Saw Wah, a 26-year-old Karen video cameraman working in Mergui-Tavoy District, died 23 May 2013, of pneumonia after months of fighting Systemic Lupus Erythematosus, which weakened his immune system.  He is survived by his wife and infant son, and his mother and two sisters.  Saw Wah served as a Free Burma Ranger on the Ler Doh Soe Township team.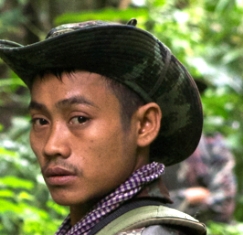 Saw Wah was active, energetic, smiling and laughing as he worked.  He was a good cameraman and crucial member of his team.  His illness began while he was working for his people inside Burma; he was then taken to a hospital in Tavoy when he developed swelling all around his body.  After two months there he was moved to the border for better care.  His team leader, Saw Sei Sei, showed a great deal of care and concern, helping him throughout his illness.  Some of us were able to visit him and pray with him before he died, along with a missionary in the area who faithfully kept trying to find good medical care for him.  He had told her that he believed in Christ and wanted to go to Bible school if he recovered but he also knew he would go to Heaven when he died.
Saw Wah said, upon joining FBR, "My goal in joining FBR is to help my suffering people.  I give my life to help them until I die."  This is what he did and we are grateful for his life, his service and his example that we will try to follow.
We are sad that Saw Wah is no longer with us, but also know we will see him again in a great land of freedom and peace. Until then we stand by his family, mourning his loss but grateful for him in our lives.
May God bless you,
Free Burma Rangers