FBR Report: Burma Army Jet Fighters and Helicopters Support Continued Ground Assaults in Kachin State, Killing and Injuring Civilians
Kachin State, Burma 11 January 2013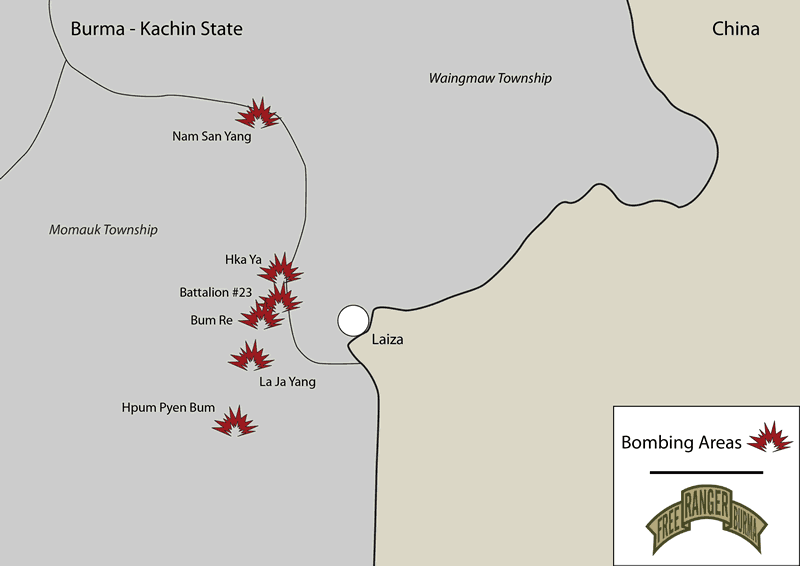 For the past month, the Burma Army has been consistently employing the use
of helicopters in an increasingly violent campaign against the Kachin. New offensives
have opened in Lajayang, Pang Wa, and Nam San Yang. As of now, the total number
of deaths and injuries that the Kachin have sustained are not known, but the
airstrikes have devastated many villages.
Most recently, attacks have occurred in Hpum Pyen Bum, a KIA camp in Ba Maw
District, Daw Hpung Yang Township (Located at: N 24° 41' 40.1" E 97° 28' 59.4").
300 Burma Army soldiers from Divisions 88 and 101 began attacking the camp with
mortar fire at 4:00 AM on 7 January 2013 and took over the camp on 8 January
2013 at 4:30 PM. Three Mi24 helicopters and 4 fixed-wing aircraft supported
the operation with direct fire. KIA troops retreated when the air strikes began,
and are maintaining a nearby position. From Hpum Pyen Bum, the Burma Army have
a view of Laiza and the surrounding area. On 9 January 2013 around 8:00 PM the
Burma Army shot four mortar rounds impacting within 4-5 km of Laiza.
On 6 January 2013, the Burma Army attacked Nam San Yang village, where there
is no KIA presence. KIA troops near the area estimate that approximately 300
Burma Army troops came to the village, and burned many homes.
The number of people who have been injured because of these attacks is unknown,
but sources on the ground recently reported news of a fatality and several injuries
sustained during an air strike. On 27 December 2012, at 10:30 AM, the Burma
Army used heavy artillery 105 mm Howitzer to fire upon Kachin civilians near
Laiza. Many villagers were working in a watermelon plantation when the firing
took place, and a 50-year-old woman named Magi Tu Ja was injured, and later
died from the injuries she sustained from the attack.
Three other villagers are known to have sustained injuries as a result of this
attack. Kai Ling, 20 years old, was injured on the right side of his waist.
Ma Roi, 50 years old, sustained injuries on his left side. Htoi Ma Seng, 53
years old, suffered damage to one of his legs. All were sent to Laiza hospital
to receive medical treatment for their wounds.
On 28 December 2012 the Burma Army used 3 helicopters in an attack near Laiza.
While dropping bombs and rockets upon villages in the area, the Burma Army destroyed
the bridge that connects Myint Gyi Nah, Ba Maw and Laiza. This has crippled
the transportation for locals. However, the Burma Army is not taking responsibility
for the destruction of this bridge, alleging that the KIA (Kachin Independence
Army) is responsible for the destruction of the bridge.
Attacks continue on a daily basis, creating an increasingly dangerous and hostile
environment for all local people, as the Burma Army does not discriminate between
firing upon KIA bases or civilian villages.
Fighting between the Burma Army and the KIA is now taking place in every district
within Kachin State, with the heaviest fighting concentrated in and around Laiza.
There are roughly 2000 Burma Army soldiers in the area, comprised of 11 different
battalions from Division 88 and MOC (Military Operation Command) 21, TOC (Tactical
Operation Command) 1. The units are as follows: LIB (Light Infantry Battalion)
315, 316, 217, 318, 415, 307, 309, 320, 389, IB (Infantry Battalion) 237 and
74.
May God Bless You,
Kachin Free Burma Rangers