FBR REPORT: Burma Army Mortars Villages and Burns Homes in Kachin State; 50,000 people displaced
Kachin State, Burma
24 April, 2012
---
 

 
 
Burma Army fighting continues in Kachin State since the original outbreak of violence on 9 June 2011, when Burma Army soldiers broke the ceasefire previously held with the Kachin Independence Army (KIA). As Burma Army attacks continue, the KIA attempts to defend the population and numerous clashes have occurred between Burma Army and KIA soldiers. Burma Army soldiers have also repeatedly attacked civilian villages, often occupying and looting the village afterwards and forcing villagers to flee. Free Burma Ranger teams have collected multiple reports of extrajudicial killing, imprisonment and torture. There are over 50,000 Internally Displaced People in camps on the border, with thousands more hiding in the jungle.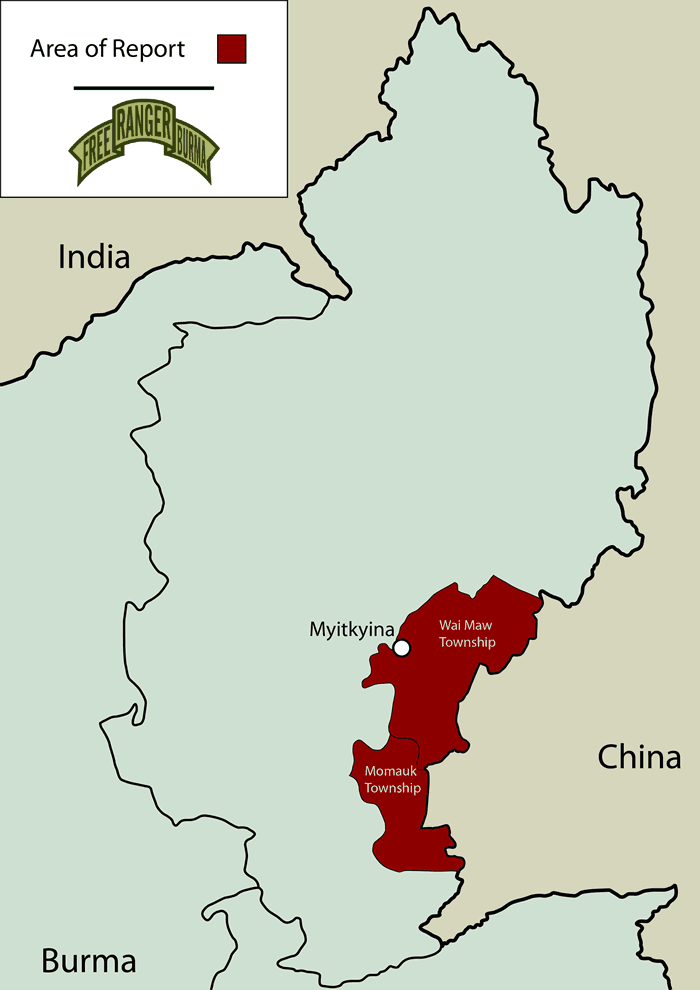 Map showing area of report
On 8 April 2012, Burma Army soldiers attacked a hill near Gan Dau Yang Village and N'Pawn Village, Wai Maw Township, on which a Christian church and KIA outpost are both located. Burma Army soldiers shelled 120mm and 81mm mortar the hill every 15 minutes throughout the day, shelling a total of 40 mortar rounds. Attacks continued the following morning, with Burma Army soldiers shelling an additional 60 mortars.
Burma Army Infantry Battalions (IB) 390 and 260 started burning the N'Pawn Village on 27 March 2012, and resumed on 5 April 2012 after clashes with the Kachin Independence Army (KIA). Eighty houses have been burned down. There are currently three battalions with 300 Burma Army soldiers in N'Pawn Village, and eight battalions total in the area (IB 340, 389, 260, 348, 398, 305, 360 and 380), totaling approximately 1,000 soldiers.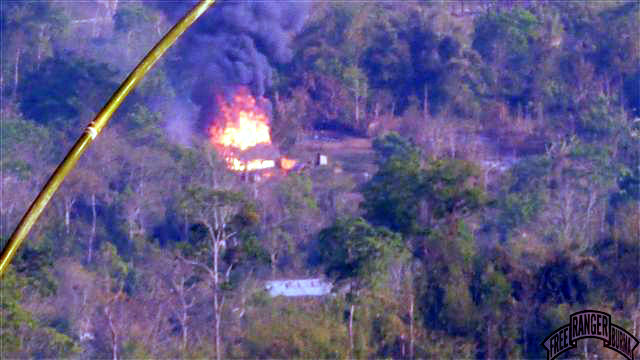 Homes burning in N'Pawn Village, Wai Maw District where IB 390, 260, and 389 have burnt 80 homes.
On 28 March 2012 at 12:30 pm, Wa Pyat Village, Wai Maw Township, was burned by Burma Army IB 438. The battalion had 300 soldiers, with 200 soldiers outside the village while 100 soldiers occupied the village. The burning of Wa Pyat Village, a village of 15-20 households, followed fighting with the Kachin Independence Army (KIA) that happened the day prior, 27 March 2012. Civilian casualties have not yet been determined, but three Burma Army soldiers have been confirmed dead.
On 18 March 2012, LIB 384 and LIB 360 attacked KIA troops between Gawng Dau Village and N'Pawn Village. On 22 March 2012, the fighting continued at N'Pawn (where days later, Burma Army soldiers burned several homes). On the morning of 25 March 2012, the fighting continued at Nam Sam Yang, where Burma Army troops mortared the village and burned nine houses. Multiple restaurants and stores beside the road were destroyed when the village was mortared. Over 200 Burma Army soldiers patrolled around Nam Sam Yang Village and were equipped with rifles, 60mm and 80mm mortars, and M79 launchers.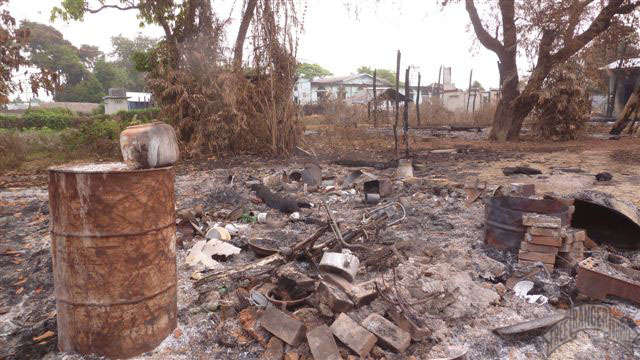 The remains of a home burned by Burma Army soldiers in Nam Sam Yang Village on 25 March 2012.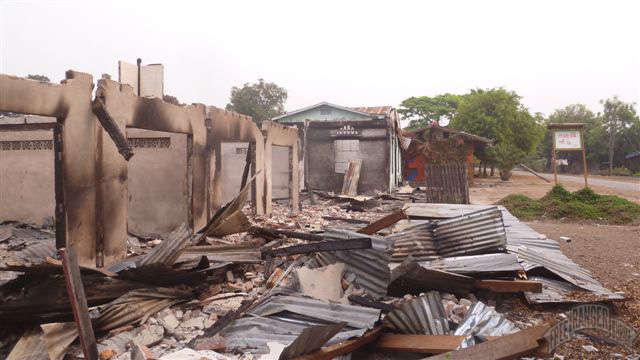 Stores that were destroyed by mortars in Nam Sam Yang Village on 25 March 2012.
On 15 March 2012 in Momauk Township, Burma Army IB 69 under Light Infantry Division (LID) 99 mortared a KIA camp near Ban Htang Village. Fighting has been ongoing between the KIA and the Burma Army in the area, while the Burma Army has consistently resupplied troops, patrolled the area, and occupied civilian villages. There are currently over 12,000 Burma Army troops throughout Kachin State.
God Bless You,
Free Burma Ranger Kachin Teams