FBR REPORT: Burma Army continues attacks, burns houses and kills one man and two women; over 40,000 Kachin people now displaced by attacks and more preparing to run
Kachin State, Burma
23 January, 2012
---
 

 
 

The Burma Army is currently attacking within six miles of Mai Ja Yang, a city in Kachin State that is a refuge for over 1,000 displaced people
The Burma Army is firing an average of 100 mortar rounds per day into this area and is receiving reinforcements.
Over 40,000 Kachin people now displaced by attacks and more are preparing to run.

 
WARNING: This report contains graphic images that may be disturbing to some readers.
Attack on Mai Ja Yang city and IDP site
The Burma Army is currently attacking within six miles of Mai Ja Yang, a city and a refuge for over 1,000 displaced people who fled from other areas since fighting started in June 2011. Everyone in the town has their bags packed and are ready to flee. On 13 January 2012, 60 elderly people who are unable to walk were taken by car to a new Internally Displaced Person (IDP) site. The Burma Army is firing an average of 100 mortar rounds per day and is receiving reinforcements.
Burma Army Division 88 and LIB 321, under the control of the Southern Division, have two camps close to Mai Ja Yang: Yaw Yawng and Kawng Lawt Camps. In Mai Ja Yang there are two IDP camps: Ung Lung and Gat Pa, which have accommodated displaced people since July 2011 and now house over 1,000 IDPs in total.
In the same area, on 12 January 2012, Division 88 and Light Infantry Battalion (LIB) 321 shot a villager named Mi San, age 40 and a father of three, from Kawng Nan Village, Lwe Je Township. He was returning from his farm when he met the Burma Army troops. They arrested him, tied his hands, and made him walk in front of the soldiers to show the way. After one Burma Army soldier stepped on a landmine, the soldiers became angry and shot Mi San. The bullet went through his mouth and out the back. The KIA (Kachin Independence Army; pro-democracy ethnic resistance) found his body and started to burn the body, but Burma Army soldiers began shooting, forcing the KIA to leave the site. The Burma Army is telling local villagers that KIA killed Mi San.
Because of ongoing fighting in the area, 4,000 people from around Lwe Je have fled to Laying IDP Camp on the international border. This camp now contains 8,000 displaced people. Major needs are not enough toilets or plastic sheeting for roofs.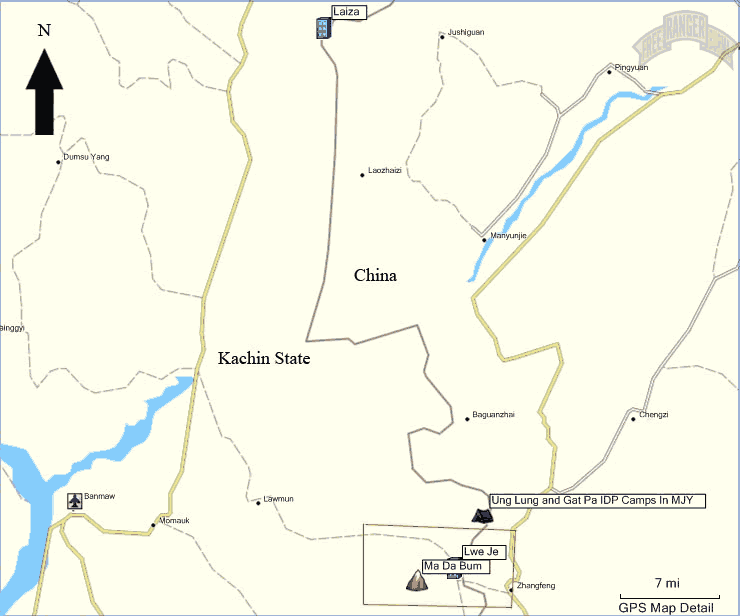 Fighting and IDPs near Mai Ja Yang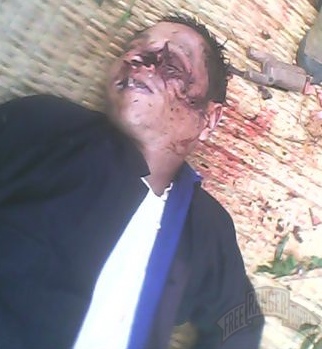 Villager Mi San shot by Burma Army
Two women killed and two men injured by Burma Army in KIA 2nd Brigade area
Burma Army Light Infantry Battalions (LIB) 389 and 390 shot and killed two women between Nam Ya and Seng Hpra Villages in the KIA's 2nd Brigade area on 11 January 2012. Their names were Lgwi Ying Yawm, 17 years old, and Gawlu Lu Seng, aged 18.
As Burma Army LIB 388 passed Mung Maw Village while traveling from Ba Maw to Seng Lum, a tire exploded nearby. Apparently believing it was an attack, the Burma Army troops fired into the village injuring two ethnic Shan men: Min Min, 26, and Nyi Htwi, age 30.
Attack on Prangatung Village
Burma Army Division 88, with about 300 soldiers, entered Prangatung Village on 7 December 2011 after fighting with KIA Battalion 15. They burned three houses; the owners of the houses were Jang Ma Anaw (the village headman), Jang Ma Sharoi and Maru Dau Lum. This is the second time that Jang Ma Anaw's house was burned by the Burma Army; the first time was in 1993 in Mung Hka Village.
Villagers had originally fled this village in June when fighting first began, then later returned to their homes but fled again on 17 November 2011. There are 67 houses in the village, of which almost all were plundered and household items destroyed. All the farm animals were killed. The village contained approximately 300 villagers who fled to Wa Ra Pa, Je Gau Pa, Seng Mai Pa, Bum Rim Zup, and Mai Ja Yang IDP camps.
After the Burma Army troops left Prangatung Village, they went to reinforce the second group of Division 88 in Maruyinsun Village on 9 December 2011. Burma Army troops withdrew from the village after fighting KIA troops defending the village. Before the Burma Army left they burned one house in Maruyinsun Village. Jang Ma Braung Nan, the house owner, lost 40 sacks of rice he had stored, which were either eaten or burned by the Burma Army.
The Burma Army continued to Den Woi and then on to Lwe Je. Two other groups from Mo Maw reinforced this group at Lwe Je. All these units are now involved in the attack on Mai Ja Yang.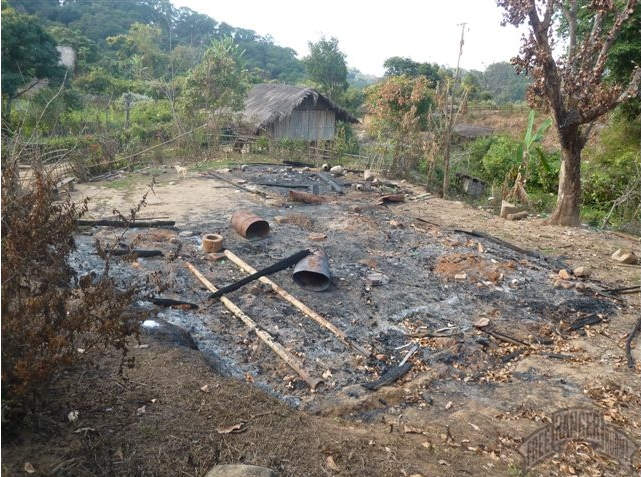 One of three burned homes in Prangatung Village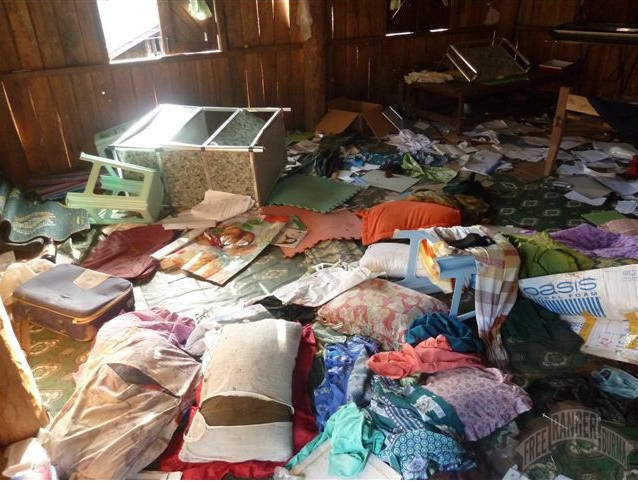 Home ransacked by Burma Army in Prangatung Village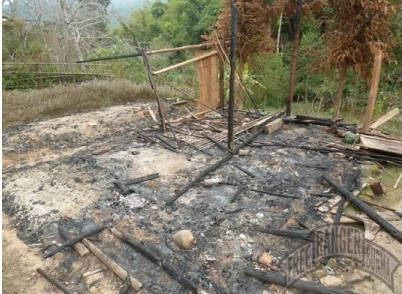 Jang Ma Braung Nan's burned home in Maruyinsun Village
Attack on Nam Lim Hpa Village
Note: This attack was previously documented by Partners Relief and Development and included in a previous report. The following is independent documentation from a Free Burma Ranger team that visited the village in early January 2012.
Burma Army IB 276 and Battalion 74, with a combined strength between 180 and 200 soldiers, attacked Nam Lim Hpa Village on 8 October 2011 at 11:30 am. First they shot 60mm and 81mm mortar rounds as well as small arms into the village causing the
villagers to flee. Three of the houses were damaged by mortars and four people were killed in the attack:
1. Palai Nan Naw, a 9-year-old boy, was hit in the chest by mortar shrapnel. He was killed on 8 October 2011 at 11:30 am.
2. Pausa Naw Din, age 17, was killed on 8 October 2011 at 11:00 am. He was shot by the Burma Army as they entered the village.
3. Brang Nan, age 34, was killed on 9 October 2011 at 11:00 pm. He was shot by a Burma Army patrol on the road as he was returning to the village.
4. Wa Je Myuli, age 17, was killed on 9 October 2011 at 11:00 pm; shot by a Burma Army patrol on the road as he was returning to the village.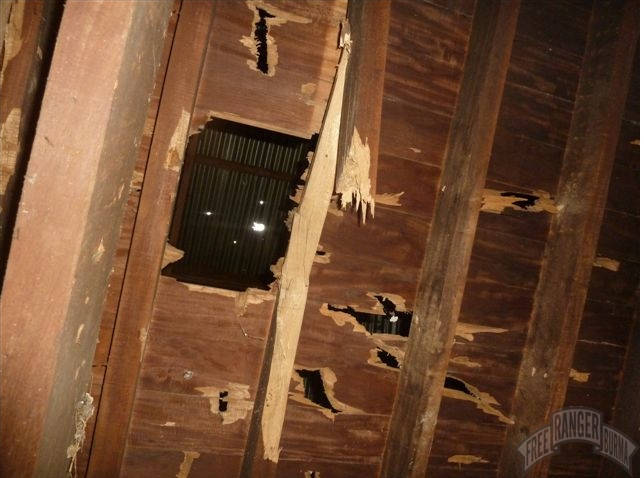 House damaged from mortar
During the attack, the Burma Army locked 33 village women and 6 babies in the pastor's house behind the church, and locked 20 men in the church. The women were forced to cook for the Burma Army. Some of the men were beaten in the church. The hostages were freed after 11 days except for 5 men who were taken to Si U Burma Army camp. They were freed after 2 weeks.
The BA burned a house belonging to Lah Pai Sham Lum, age 61, on 8 October 2011. He began building his house again near Hka Hpraw IDP camp along with one of his daughters and one grandson. During the process of building his new house his grandson died of malaria. He buried his grandson near the new house. However the man was so saddened by his grandson's death that he couldn't stay at the new location and moved 300 meters to another location in the jungle.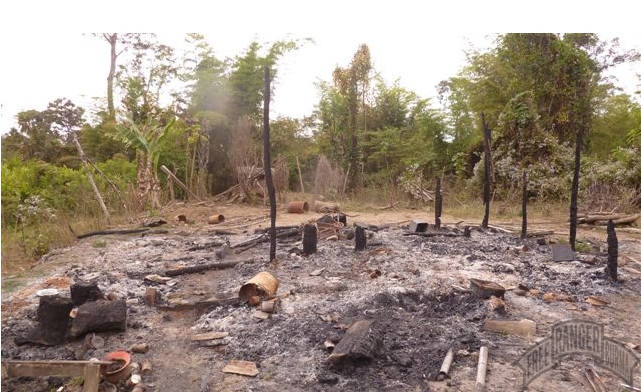 Nam Lim Hpa Burned House
The village headman was not well and before the village was attacked he went to Ba Maw Town to get treatment. After the attack on the village the Burma Army knew the headman was in Ba Maw and went to see him. They told the village headman that the village was attacked because there was 50 KIA soldiers in the village. He was told that the villagers that were hurt and killed were not the fault of the Burma Army; they were just caught in the middle of the fight. Even though the attack happened on 8 October they told the headman that the fighting started on the 9th because that was when the KIA arrived in the village. They made a list of what they claimed had happened and had the headman sign it. They told him to go back to the village and collect the headmaster and other village leaders to make a proper report and then give it to the authorities so the blame wouldn't be on the Burma Army. The headman returned to the village but did not make the report after the villagers told him what had actually happened.
Before the attack there were 1,800 villagers in 286 houses in Nam Lim Hpa Village. 1,400 villagers fled to Ba Maw Town, but there are still 400 people in the jungle near the village. These 400 villagers have divided into 3 camps. The major sicknesses in the camps are malaria and diarrhea. Two villagers who are medics are caring for the people but only have a little medicine. Villagers are still able to work their farms but then return to sleep in the jungle because they are afraid the Burma Army may return.
Attack on Nam Hpu Village
Battalion 105/47 containing 220 soldiers attacked Nam Hpu Village on 16 July 2011. The villagers fled to Bhamo and IDP
camps. There are a very few families that are living in the jungle near the village. Some of the villagers returned back to the village to check on their houses and belongings. Two or three of the 20 houses had been ransacked.
Burma Army forces Maji Gung villagers to carry loads
Four men from Maji Gung Village were captured by Division 99, which has 156 soldiers. These men were used as porters to carry weapons and ammunition. Their names are:
1. Hpakawn Yaw Han aged 55. Has a family of 7 children.
2. Maran La Sam aged 21.
3. Hpakawn Tang Gun aged 19.
4. Hpauyam Da Wi aged 37.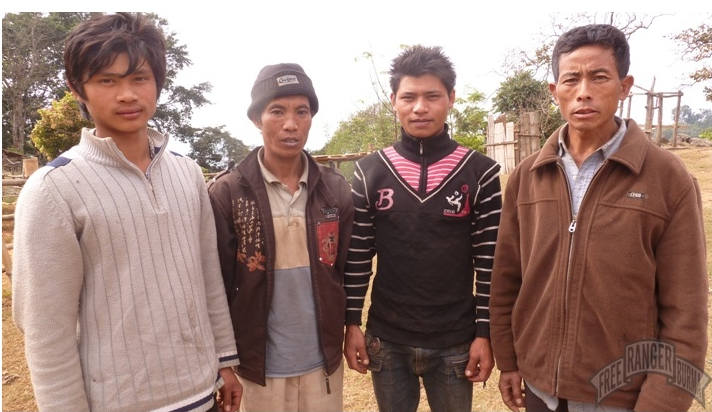 Men forced to porter for Burma Army
Current Overall Situation of Displaced People
Since the fighting started on 9 June 2011 some 40,485 Kachin villagers have fled to Internally Displaced Person (IDP) camps on the international border due to fighting. There is an unknown number of IDPs who have not made it to camps yet and are still in the jungle or have fled to major cities to live with relatives. The IDP camps along the border are as listed below:
Laiza area:12,104 displaced people
Laisen area: 1,642 displaced people
Sadaung area: 5,803 displaced people
North Division: 1,662 displaced people
Eastern Division: 16,635 displaced people
Western Division: 2,328 displaced people
Southern Division: 311 displaced people
Most of the aid for these villagers comes from the Kachin Independence Organization (KIO — pro-democracy ethnic resistance), local Chinese and Kachin businessmen, a Kachin church-based humanitarian group called Wunpawng Ninghtoi, and Partners Relief and Development.
A large number of IDPs have fled to the cities as they are not able to get to the border camps. The Burma Army has set up a camp for these IDPs in the Nam Kham area which is in the 4th Brigade area of the KIA (Kachin Independence Army; defense wing of the KIO). It is not known how many IDPs are in this camp. Burmese President Thein Sein gave the order for these people to all return home because there is no longer any fighting. The IDPs do not believe him and are refusing to return to their villages. However, some IDPs have been taken in by church groups which is a much better situation for them.
There are more displaced people hiding in the jungle in KIA 4th Brigade area, however no one is able to reach them due to Burma Army activity.
Overview of Burma Army Activity
According to KIA records there were 161 battles between the KIA and the Burma Army during December. Since the fighting began on 9 June 2011 there have been 910 recorded battles. The Burma Army continues to reinforce their camps. There are currently 105 Burma Army battalions consisting of 12,075 soldiers in Kachin State. In addition to rifles, the Burma Army is using artillery and rocket-propelled grenade launchers. The most severe fighting is currently around Ya Krung, Chying Ling, Di Ma Mahkrai, Hu Mung and Sama Lamshe Villages, all in different parts of Kachin State. The Burma Army is building camps at Pakang, Sampai, Wuhtau, Lahpai, Talawgyi, Sinlum (a major artillery position) and Nam Lek.
God bless you,
Kachin Free Burma Ranger team