FBR REPORT: Two women and one man killed, 70-year-old woman wounded, and four men tortured as Burma Army attacks villages in Kachin State
Kachin State, Burma
19 January, 2012
---
 

 
 

Burma Army Infantry Battalion (IB) 105, commanded by Major Moe Kyaw, stabbed and shot three villagers to death, shot a 70-year-old woman and tortured four villagers in Mun Si Township, Kachin State.

 
31 December 2011 (original report date)
Attack on Hkin Buk Hra Pra Village
On 8 December 2011, over 100 men from IB 105 arrived to Hkin Buk Hka Pra Village. As the unit approached, 37 villagers fled and spent two days in hiding. On 10 December, the soldiers came again, firing into the village with machine guns and at least five mortar rounds. People in the village ran again.
Two women who each had an infant child with them were missing after the attack. On 13 December, villagers found Sum Hka Roi Tawng, age 38, who was killed by a bayonet stabbed into her left armpit that pierced through out of her right side. Her chest was bruised black. The clothes of Labya Tawng Ra, age 25, were found spread around. She remains missing. The two children were both found in the jungle without food or warm clothing, and they are now cared for by relatives in a refugee camp.
Sum Hka Mayam, age 60, is also missing since the attack on 10 December. The day after the attack her son, Wa Gye Kum Htoi, age 40, began looking for her in the area and then continued to look for her in refugee camps along the border. She is now presumed dead. Her son and grandson are now in a refugee camp.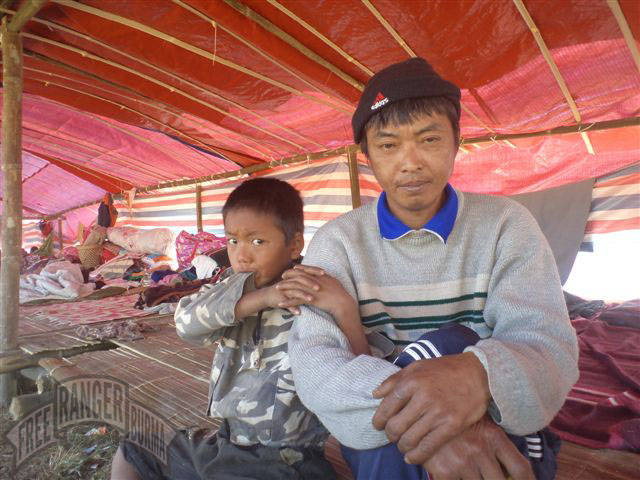 Wa Gye Kum Htoi and his son in a refugee camp, hoping for news of their missing mother and grandmother, Sum Hka Mayam
Sum Hka Kaw, age 70, was hit by the shooting in her hip and left foot. She was afraid and ran away while wounded. After three or four hours, soldiers from the KIA (Kachin Independence Army, pro-democracy ethnic resistance) saw her, treated her injuries and cared for her. Her daughter, currently in a refugee camp, is concerned for family members who have not reached the refugee camp because the Burma Army is blocking the way.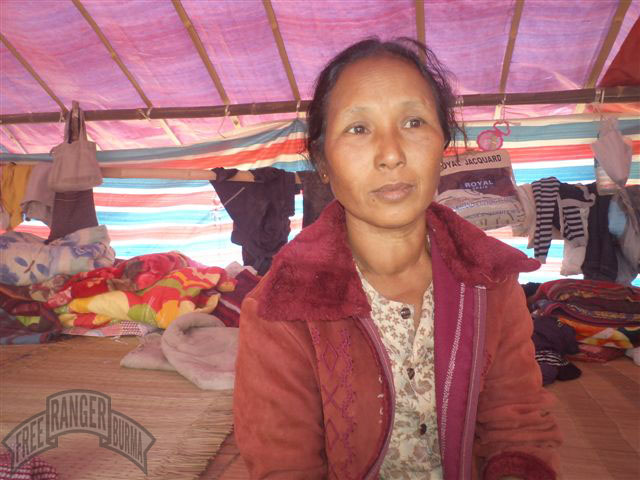 Sum Hka Kaw's daughter Labye Hkawn, age 49, worries about missing family members not yet at the refugee camp
Pastor and farmers captured and beaten
On 12 December 2011, IB 105 captured four men: Brang Shawng of Hka Pa Village, Aung Pu of Nam San Village, Naw Hpang (age 48) and Brang Ja (age 38) both also from Nam San. Aung Pu is a pastor; the other men are farmers. The soldiers interrogated them in a church building, asking if they are KIA soldiers and where their weapons are hidden. They were beaten then released. According to the captured men, the Burma Army is interrogating and beating all Kachin men they encounter.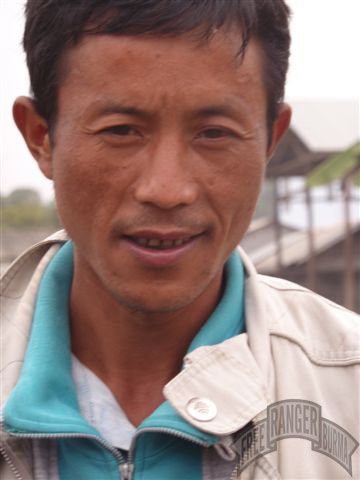 Brang Ja, captured and beaten by Burma Army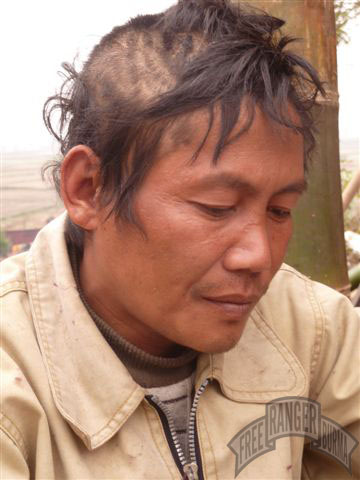 Naw Hpang, hit on the head by a Burma Army soldier's rifle
Woman killed in Man Morn Prang Kawng Village
Over 100 troops from IB 105 divided into 3 columns and burned villages. They took local people's belongings including rice paddy and many other goods. On 16 December 2011 about 18 troops from IB 105 came near Man Morn Prang Kawng Village. Lamung Kaw Seng and her son Mitung Brang Seng, age 12, lived in the village. Lamung Kaw Seng had mental problems. As the soldiers approached, the boy was afraid and ran away to a farm hut to wait for his mother. He waited the whole night but his mother did not come. At 10:30 the next morning he heard gunshots. He believes that the mother's knees were hit so she could not walk, then the troops shot her dead on the road, then dragged her body into the yard of the house and buried her. The boy went back to the house at 5pm and saw smoothly-leveled dirt in the yard. Her body was brought out of the hole, then on December 18, relatives and members of the church held a funeral service for Lamung Kaw Seng. Her son, Mitung Brang Seng, arrived to a refugee camp on December 20. (An initial report of this incident was previously reported in "Burma Army Kills Woman and Continues Attacks in Ba Maw District, Kachin State".)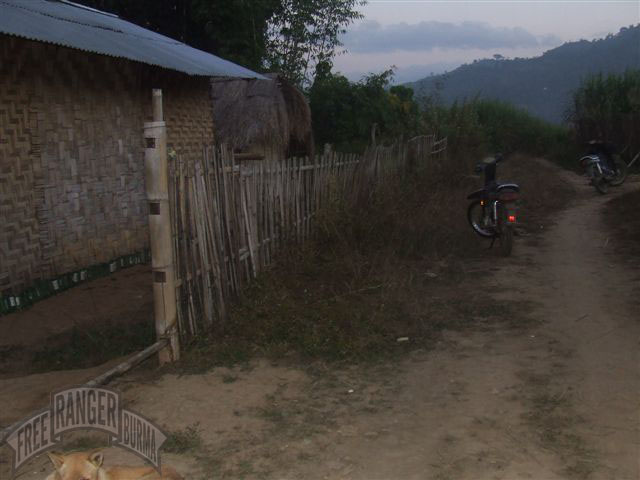 Man Morn Prang Kawng Village, site where Lamung Kaw Seng was shot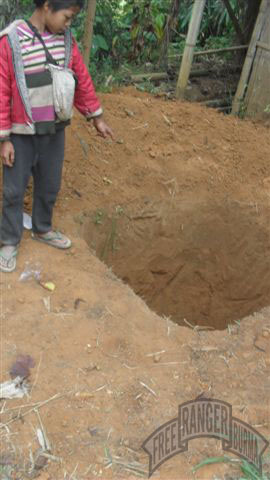 Man Morn Prang Kawng Village, site where Lamung Kaw Seng was shot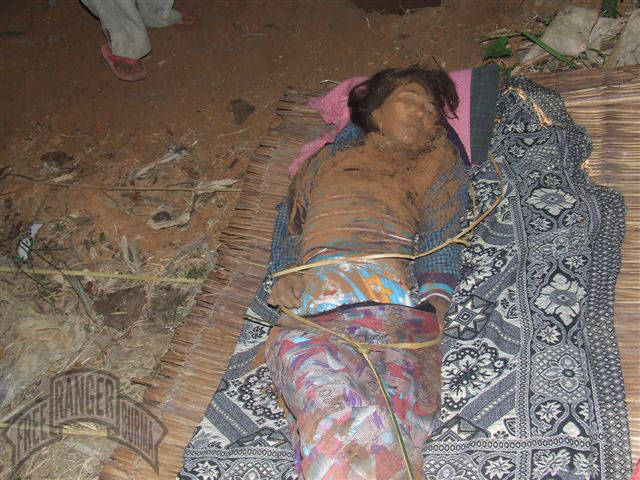 The body of Lamung Kaw Seng
Man killed in hiding area
On 20 December 2011, 62-year-old farmer Hpalu Hkau Sau Naw, of Hka Shawng Kawng Lat Village, and his brother were in a hiding area in the jungle attempting to make radio contact to get an update on Burma Army activity. The radio signal was weak, so Hpalu Hkau Sau Naw went in search of a better signal. His brother then heard one gunshot at 1pm. He found Hpalu Hkau Sau Naw lying dead in a rice field from a gunshot to his forehead. The unit in the area was IB 105. Hpalu Hkau Sau Naw's wife and three daughters are now in a refugee camp; his three sons are KIA soldiers who continue to serve in the local area.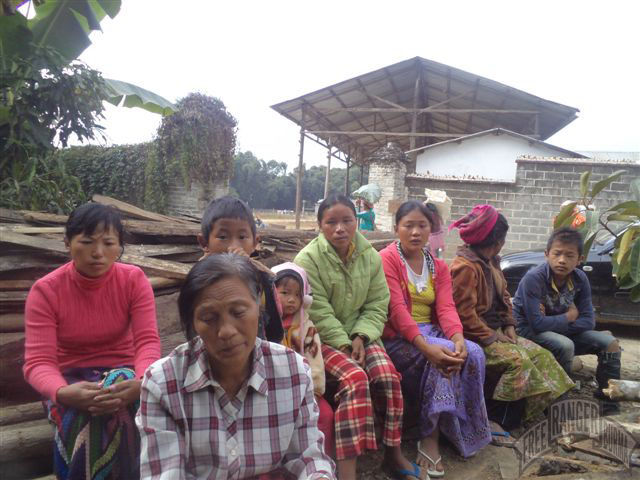 Hpalu Hkau Sau Naw's wife Labya Kaw Lin (front), also age 62, her daughters and grandchildren in a refugee camp after her husband was killed
God bless you,
Kachin Free Burma Rangers