FBR REPORT: Burma Army Kills Woman and Continues Attacks in Ba Maw District, Kachin State
Kachin State, Burma
27 December, 2011
---
The Burma Army continues to attack people in three townships of Ba Maw District, Kachin State: Mun Si Township, Shwegu Township and Ba Maw Township. On 16 December 2011, Burma Army soldiers killed a woman from Prang Kawng Village. The woman, 30-year-old Lamung Kaw Seng, suffered from a mental disability. As Burma Army troops approached the village, all the villagers fled except for Lamung Kaw Seng. When the soldiers found her, they killed her and threw her into a toilet pit.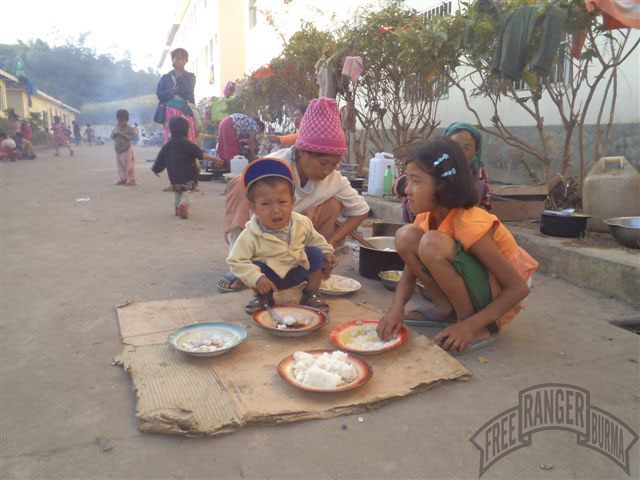 Displaced Kachin children, 15 December 2011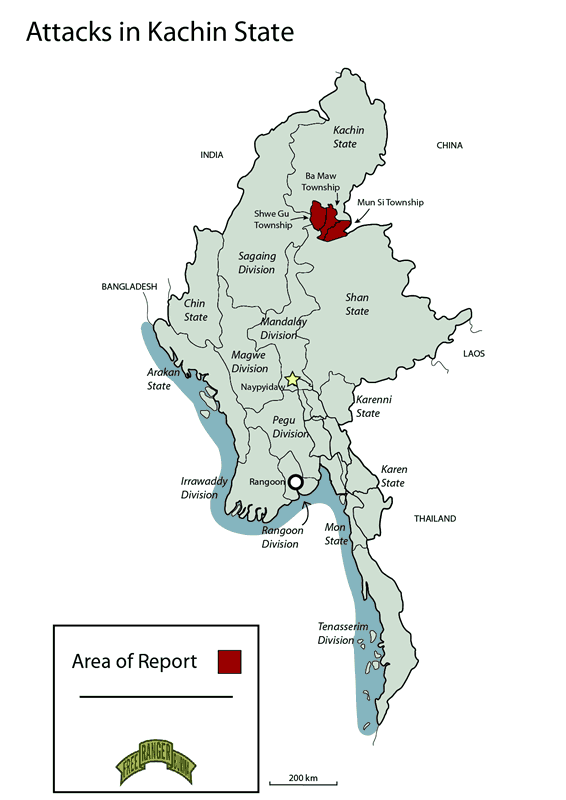 Map showing area of report
Local people have left their homes and moved to Internally Displaced Persons (IDP) camps near the international border because of the fighting, which continues to happen every day in this area. There are 6 IDPs camp along the border:
Yang Lu Camp
Law Hpai Camp
Hka Dawng Pa Camp
Nga Nawng Pa Camp
Na Kawng Kawng Camp
Lung Kawk Camp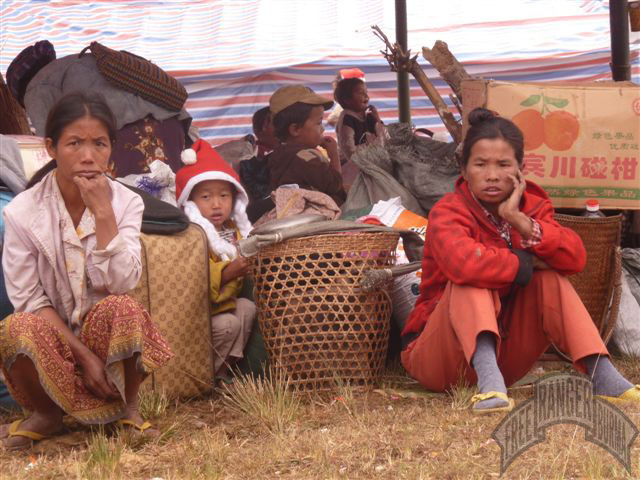 Displaced people at Yang Lu IDP Camp, 17 December 2011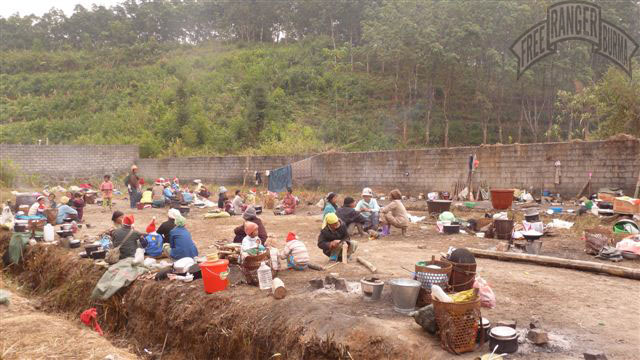 Law Hpai IDP Camp, 17 December 2011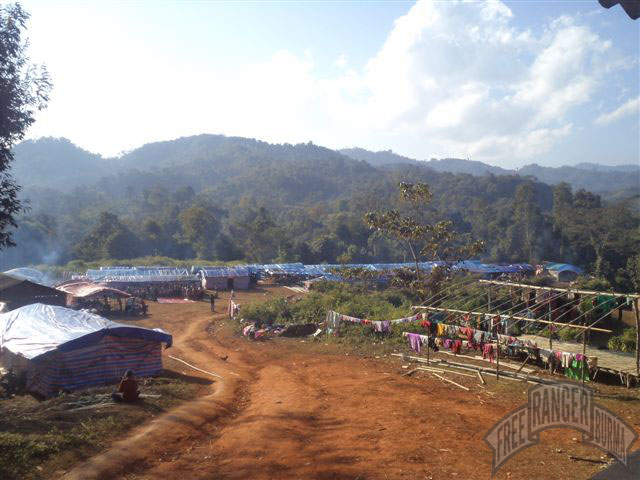 Na Kawng Kawng IDP Camp, 16 December 2011
There are 3,998 people in those 6 IDPs camps. They arrived at the border area between 27 and 28 November.
There are 2,442 displaced people in 3 IDPs camps in Mun Si Township of Ba Maw District.
1) La Na Zup Camp

2) Dung Bung Camp

3) Manwing Camp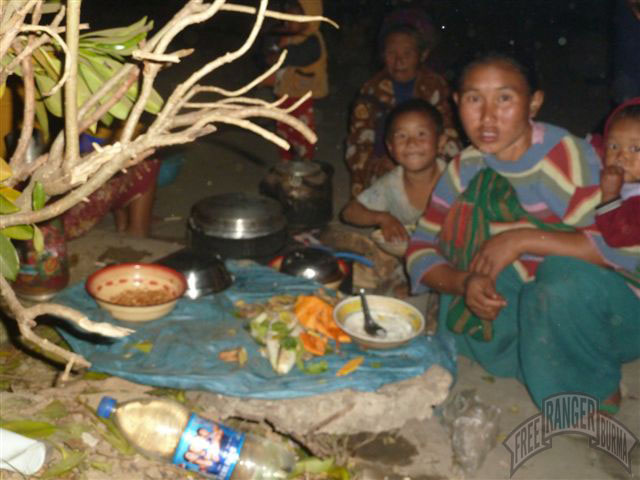 Displaced family at La Na Zup IDP Camp, 15 December 2011
]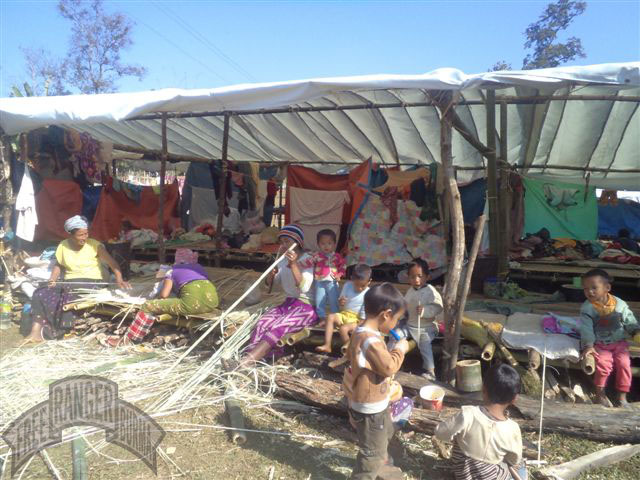 Dung Bung IDP Camp, 16 December 2011
There are 7,058 IDPs from 123 villages that left their homes in Ba Maw, Shwegu and Mun Si Townships. The Kachin Independence Army (KIA, pro-democracy ethnic resistance) and WPN, a local Kachin humanitarian aid group, are taking care of these people by supplying food, medicine, warm clothes, and blankets, though the supplies are not enough to meet the needs. The most common illness for children under 5 years old is the common cold, and diarrhea is the most common illness for children above 5. Adults above 40 years old are especially suffering from high blood pressure. WPN is currently treating them. The children are not able to go to school.
The Burma Army started their offensive in this area by entering from northern Shan State in October with 500 troops from Light Infantry Battalions (LIB) 504 and 506 under Division 66. Later on the Burma Army sent reinforcements from Divisions 33, 77 and 99, totaling 2,000 troops at present. Burma Army troops are torturing and killing villagers, burning houses and rice barns, and destroying or stealing villagers' belongings. The Burma Army has divided into 4 or 5 columns and is attacking the KIA using 60mm, 82mm and 120 mm mortars; M79 guns; 0.5-caliber machine guns and other small arms, and using helicopters for food supplies. Specifically in these townships, the Burma Army is not building new camps, but is occupying the KIA's Battalion 27 Camp after taking it over. Currently there is not heavy fighting but small clashes continue every day. A total of over 30,000 Kachin people have been displaced.
CORRECTION TO PREVIOUS REPORT: In the recent report "Burma Army Continues Attacks in Kachin State as of 14 December 2011", the information in the first three paragraphs and the photo of the Burma Army mortar were collected by FBR teams on the ground in Kachin State. All information beginning with "On 8 October 2011," until the end is courtesy of Partners Relief and Development, compiled first-hand by Partners investigators. In the report only the photos had been credited to Partners.
God bless you,