FBR REPORT: Burma Army Shoots Villager in Pa'an District and Continues Construction on Toh Boh Dam in Toungoo District, Karen State
Karen State, Burma
22 December, 2011
---
Pa'an District,
Central Karen State
On the morning of 29 October 2011, Light Infantry Battalion (LIB) 230, Column #1 commanded by Than Thait Soe, left Kler Day Burma Army Camp and arrived in Htee Ma Kyu Village. There they shot into a hut multiple times and killed 36-year-old Saw Pah Kok, with three bullets entering his leg, torso, and head. After killing Saw Pah Kok, soldiers confiscated items from his home including six pairs of earrings, one finger ring and 10,000 Baht. Htee Ma Kyu Village is in Kler Day Village Tract, Lu Pleh Township, Pa'an District.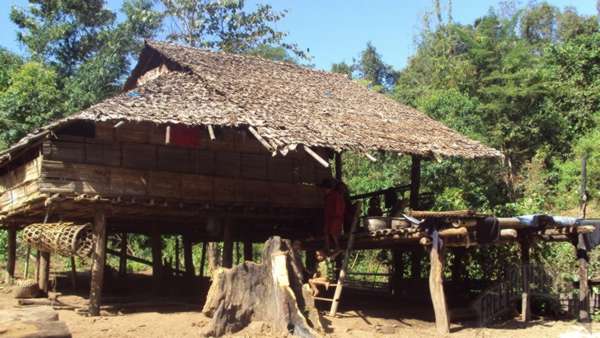 Saw Pah Kok's House which was shot multiple times by the Burma Army
After their departure, LIB 230 was ambushed by the Karen National Liberation Army (KNLA – pro-democracy ethnic resistance) near Klay Mo Kee Village, Wa Mi Klar Village Tract, Ta Kreh Township; two Burma Army soldiers were killed and six wounded. In response to the casualties, LIB 230 shelled Klay Mo Kee Village with two 60 mm mortars. Soldiers then entered the village, beat four women and forced 32 villagers to travel with them to serve as human shields, porters and guides all the way to the Klay Mo Hta Border Guard Force (BGF) camp. They were held for one night before they were released.
Before leaving Klay Mo Kee, soldiers forcibly took the following items from villagers:
Naw Mu Pree – 70 years old – 5,000 Baht and 1 large tin of rice.
Naw Pi Eh – 52 years old – 2,000 Baht, 20 cans of sardines, 1 box of Ma Ma noodles, 1 kg dried fish, 30 bottles of lemon juice, 1 flashlight.
Saw Tin Ler – 41 years old – 1 knife, 1 flashlight.
Naw Mu Htoo – 38 years old – 2 blankets.
Ma Khin Shwe – 40 years old – 100 Baht, 1 phone.
Naw Ma Ywa – 38 years old – 200 Baht.
Naw Tu Tu – 40 years old – 2 chickens, 1 bottle of cooking oil, 0.5 kg of chili, 1 kg of onions.
Naw Heh La – 40 years old – 1 Karen bag, 20 small tins of rice.
Saw Htu Heh – 36 years old – 200 Baht, 1 big tin of rice, 1 chicken and eggs.
Pah Noh – 35 years old – 1 large tin of rice, 1 hammock.
Naw Mu Au – 28 years old – 1 blanket, 2 packs of AJINOMOTO,
Naw Paw Ku – 29 years old – 1 blanket, 1 Karen shirt, 1 Karen bag.
Saw Pweh Poe – 40 years old – 1 chicken, 1 bottle of honey.
Naw Mya Paw – 35 years old – 16 small tins of rice.
Naw Mu Ku – 60 years old – 100 Baht.
Pah Dah Poe – 26 years old – 16 small tins of rice.
Toungoo District,
Northern Karen State
Construction of the Toh Boh Dam in Toungoo District, Karen State, has displaced one village and will affect 12 villages by its completion in 2012. Asia World Company began building this hydropower dam in 2004 along the Day Loh River (Burmese: Thauk Yay Ka Chaung) near Toh Boh Village (Burmese: Tun Boh), causing all the people in the village to move away. When the project is completed, flooding will affect people in 12 additional villages: Pa Leh Wa, Lay Mine, Mine Na Seh, Swa Lo, Naw Ka Maw, Ngway Taung, Toe Thaw, Tha Hpan Chaung, Tha Ye Ba, Joh Pin Seit, Kyaute Pa Sar and Theh Pyu. Mine Na She, Swa Lo and Toh Boh will likely flood, and people's livelihoods in the other ten villages will be heavily affected. In this area people use this river as their primary transportation route. Local community leaders estimate that over 5000 acres of land will be flooded, including lemon, paddy rice, banana and betelnut fields. Three Burma Army camps — Chay Soe, Pa Na Wah Soe and Yaw Mu Kee — surround the dam. Soldiers from Infantry Battalion (IB) 39, under Southern Command, are in each camp.
Asia World Company has also been involved in the construction of the Myitsone Dam in Kachin State, a project that Burmese President Thein Sein declared suspended in September. The company is owned by Steven Law, also known as Tun Myint Naing. Law's father, Lo Hsing Han, started Asia World Company in 1992, which is involved in construction and energy projects across Burma, as well as alleged drug operations. Both men are under targeted sanctions from the United States Treasury, declaring that says Lo Hsing Han "has been one of the world's key heroin traffickers dating back to the early 1970s".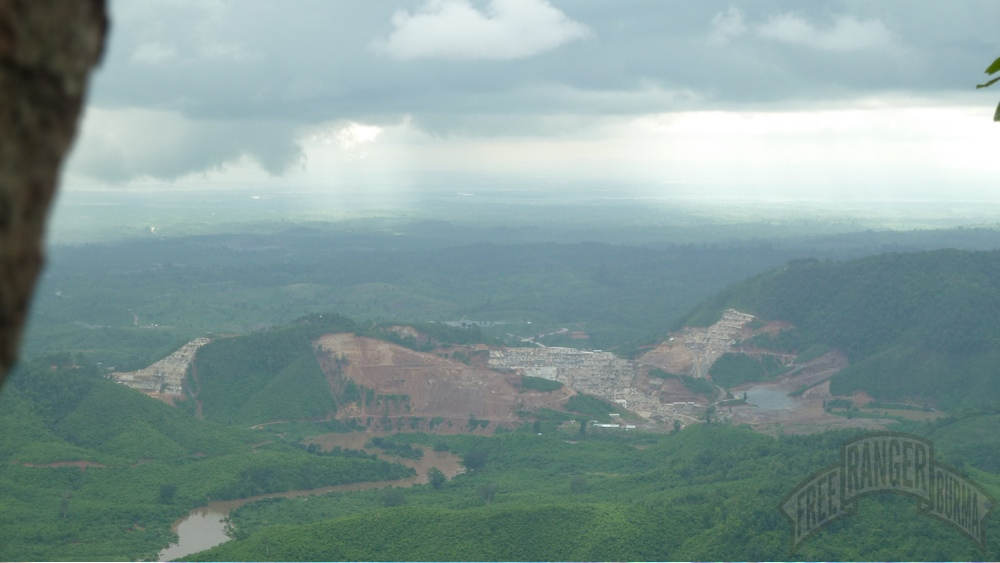 Construction of Toh Boh Dam — 17 June 2011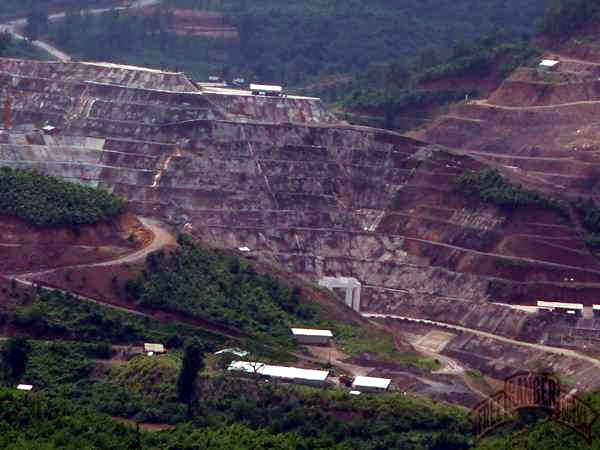 Close-up of Toh Boh Dam — 17 June 2011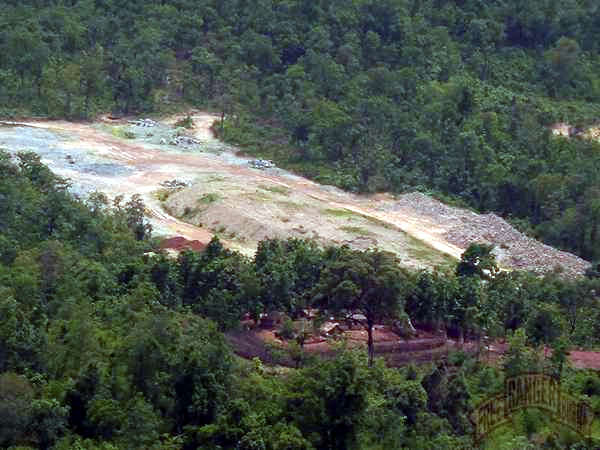 One of three Burma Army camps defending the dam — 16 June 2011
The picture below shows a communication tower at a Burma Army camp outside Kler La (Burmese: Bawgali Gyi) in Htaw Ta Htu Township. This camp is headquarters for Military Operation Command (MOC) 9, Tactical Operation Command (TOC) 1.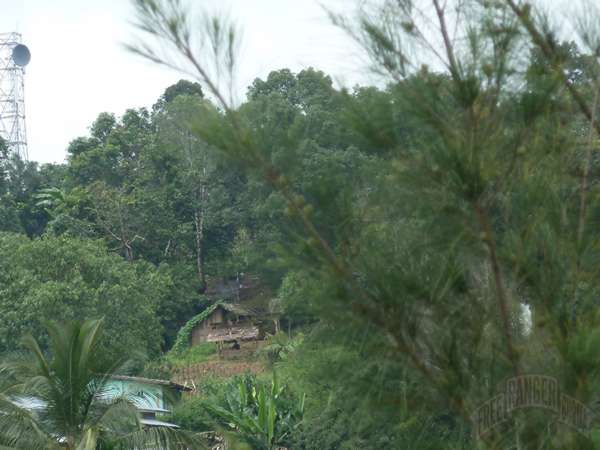 Kler La Camp with Signal Tower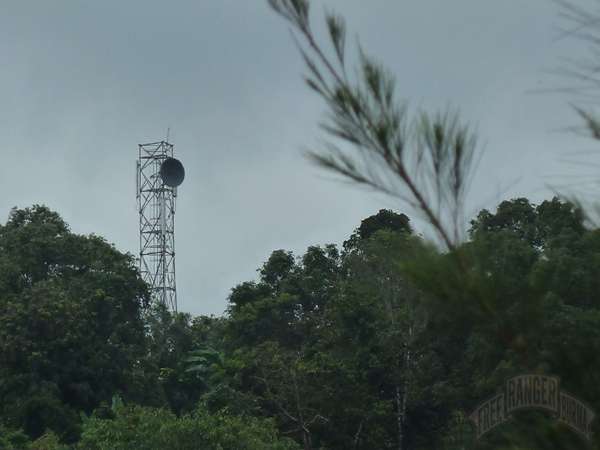 Close-up of Signal Tower
On 23 October 2011, the Burma Army sent one new bulldozer to Htaw Ta Htu Township to work on the Bu Hsa Hkee car road. This makes three total bulldozers in the area, including one in Bu Hsa Hkee Camp and one in Naw Soe Camp that remain since last year. Light Infantry Battalion (LIB) 374 and LIB 379 under MOC 9 protect the road.
According to local Karen National Union leaders (KNU — pro-democracy ethnic resistance), Burma Army LIB 603 and IB 92 came to Hkaw Thaw Hkaw and Htee Tha Saw Villages, in Daw Pa Koh Township, and burned churches and houses on 12 October 2011.
God bless you,
Free Burma Ranger Karen State Teams