FBR REPORT: Relief Teams from 8 Ethnic Groups Graduate and Go on Missions
Karen State, Burma
6 December, 2011
---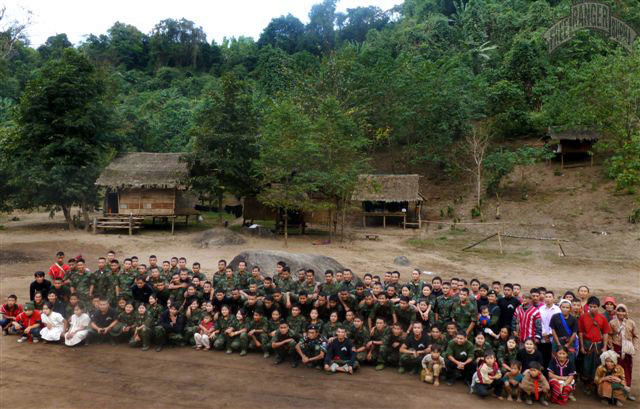 Graduation of multi ethnic relief teams
Dear Friends,
Thank you so much for your love and support. In the midst of new attacks and displacement there are some signs of change from the regime but we do not know where that will lead and still the attacks continue. The attacks are especially bad in the Kachin State, where over 30,000 people have been newly displaced. There we have three FBR Kachin teams and one is in the worst-affected area helping as much as they can and reporting out.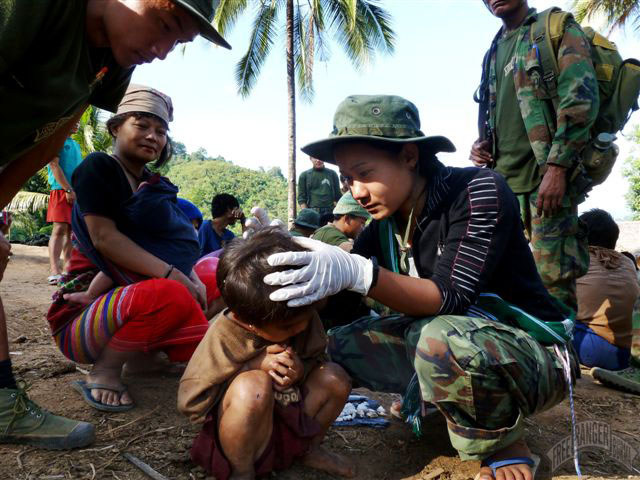 Medic trainees treat patients in nearby village
In the face of these attacks, we wanted to pass on some good news too. We are relaying this out from our training camp in Karen State, Burma, where we have just graduated 13 multi-ethnic relief teams. There are eight ethnic groups represented as we now go on the relief missions together: Karen, Lahu, Mon, Naga, Chin, Pa-Oh, Karenni, Shan and Arakan. Some of the people on these teams are new and successfully completed Basic Leadership and Relief Team Training. Others have already been part of our 59 multi-ethnic relief teams and completed the Advanced Leadership and Relief Team Training. This involved more in-depth study in each team member's chosen area — camera/video, security, Good Life Club counseling, communications, and medicine, as well as leadership.
The days are full, 5a.m. to often after midnight, but the staff and the students are really on it and enthusiasm is high. They are learning they can do more than they think they can. During night swim training, one of the Arakan girls who can't swim and hurt her arm found out that even she too could cross the river at night. She could only use one arm and is just learning at the camp to swim so we put a life jacket on her for the night river crossing. We helped her down the rock cliff so she did not have to use her hurt arm. We then lowered her into the water and then propelled her between 3 of us on the night crossing. At first she was crying but afterwards and again the next day came up and said with a smile, "Thanks, thank you, we did it!" One of our Good Life Club leaders, Htoo Htoo Eh, came up and said, "We all learned a good lesson — Rangers can do anything, we can think and always find a good way to do what looks impossible".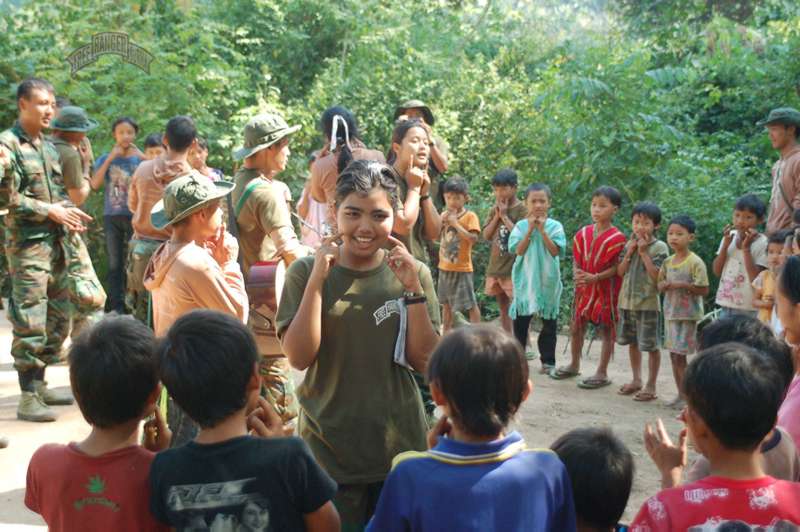 Here in the training camp we have Christians, Buddhist and Animist students and we live and work together like a family. We are inspired that to God all people are equally valuable and that we stand together with the people here for freedom, justice and reconciliation. We were reminded of this by my father who read these words out at an ethnic unity meeting with leaders of the pro-democracy ethnic groups. "God does not show favoritism but accepts men from every nation who fear him and do what is right." Acts 11:3.
May God bless you all,
A relief team leader,
Free Burma Rangers
Karen State, Burma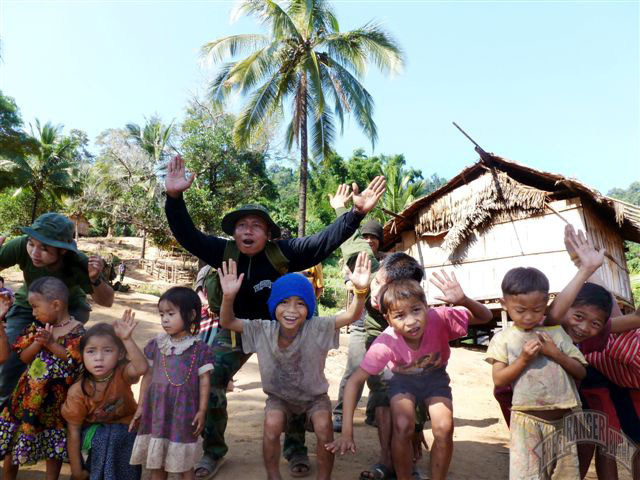 Good LIfe Club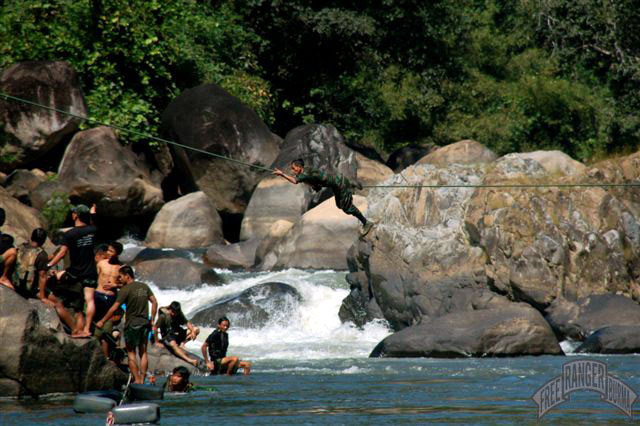 Crossing the gorge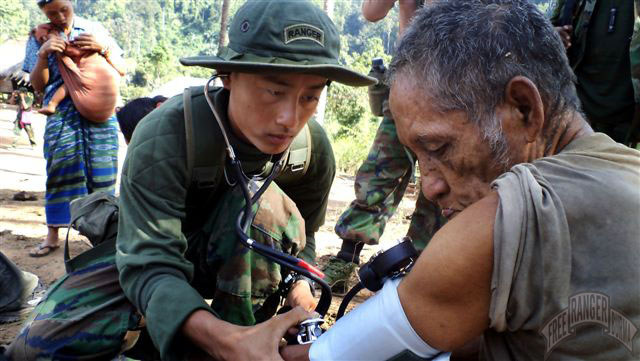 Medical treatment for villagers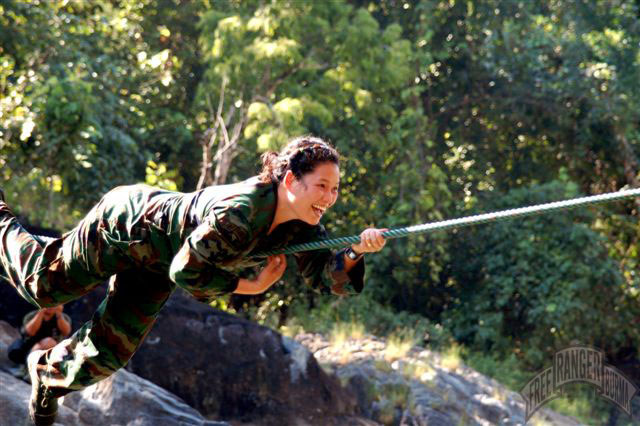 Rope bridge crossing excercise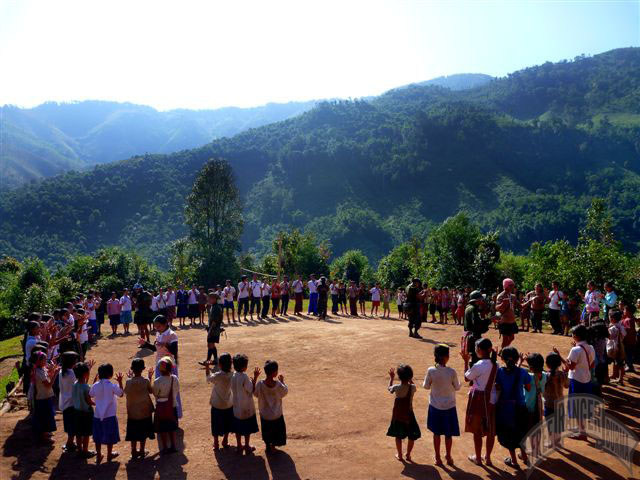 Trainees conduct Good Life Club in surrounding villages