FBR REPORT: Burma Army Kills Villager and Burns Homes While 3000 Flee Ongoing Attacks in Kachin State
Kachin State, Burma
30 November, 2011
---
Update From Kachin FBR Relief Team
Over 20 Villages, 3000 People, Fleeing Burma Army Attacks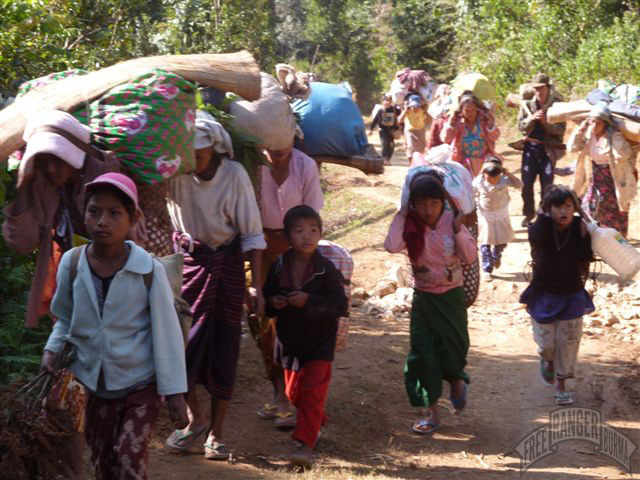 People flee Burma Army attacks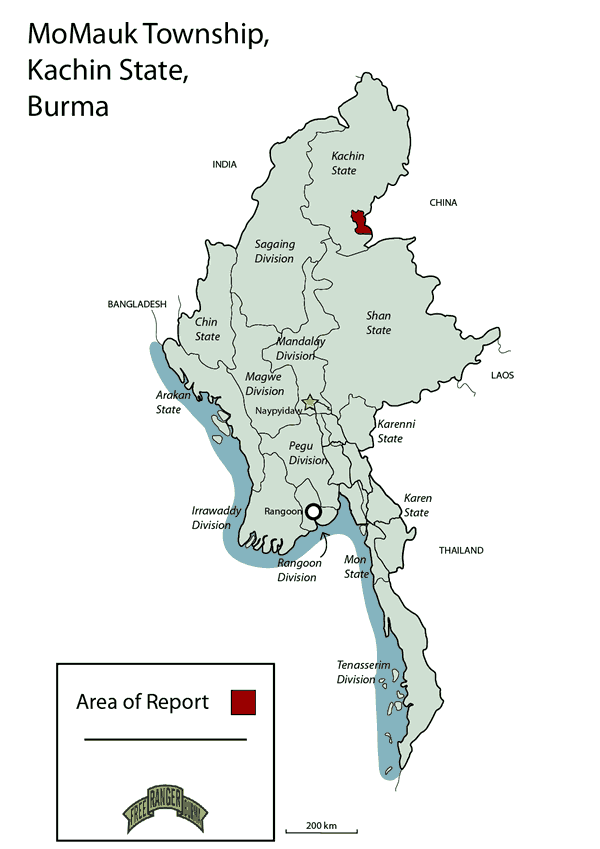 November 30th, 2011 – Kachin State detail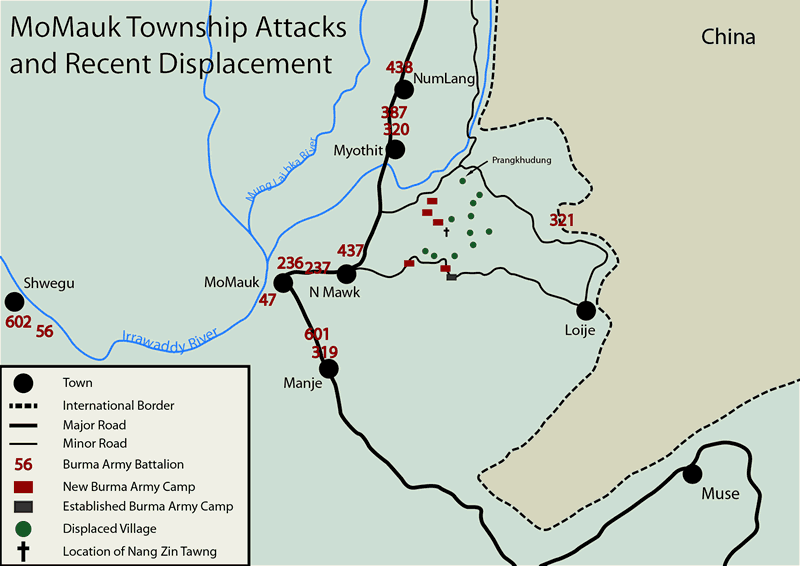 November 30th, 2011 – Kachin State overview
The Burma Army has killed a villager and over 20 villages have fled attacks and mortar fire in Momauk Township, Kachin State. Light Infantry Battalion (LIB) 73 under Division 88 has been attacking villages, with troops from Divisions 33, 44, 66 also entering the area. At least 400 Burma Army soldiers have been involved in the attacks, using 120mm and 60mm mortars and machine guns. Fighting in the area has increased and the Burma Army is building at least four new camps, using forced labor. Over 3,000 people have been displaced.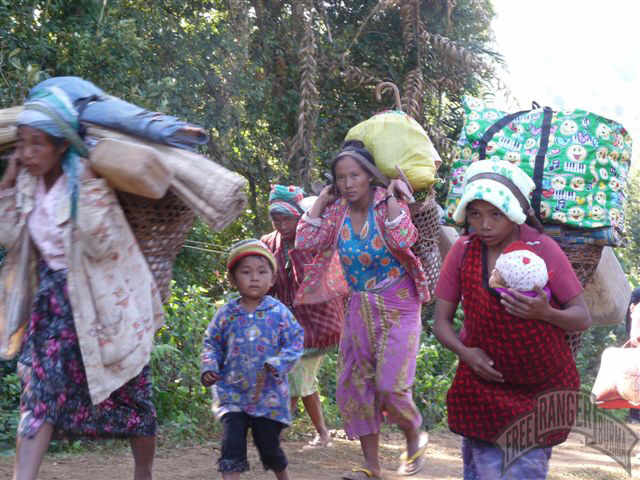 People flee Burma Army attacks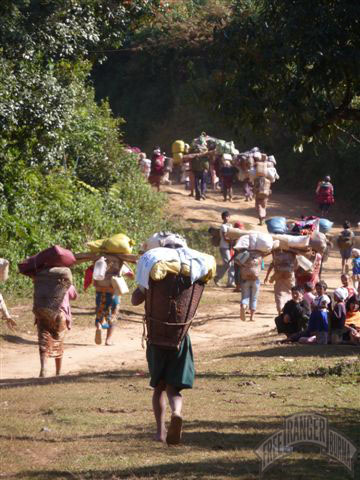 People flee Burma Army attacks
On 18 November 2011 Burma Army LIB 73 under Division 88 fired 120mm mortars at villagers in the KIA Brigade 3, Battalion 15 area (Kachin Independence Army — pro-democracy ethnic resistance). Two hundred Burma Army soldiers came to Hakawn Village on 19 November 2011. Over 20 villages have fled including Hpakawng, Bumwa, Lamaibang, Kadaw, Mandau, Matang, Mamda, Kadaw, Edin Yang, Zinlum Gaji, Pranghkudung, Lawmun, Lawdan, Kawngja Yang, Hkangdung, Kungpi and four other unnamed villages. Some of the houses in these villages have been burned by the Burma Army. People from these villages are fleeing to Kawngrazup, Jahkai and some to Mazuppa Village. There are over 3,000 displaced people in total, some staying in other villagers' houses, some staying under tarps while many are without blankets or tarps for shelter.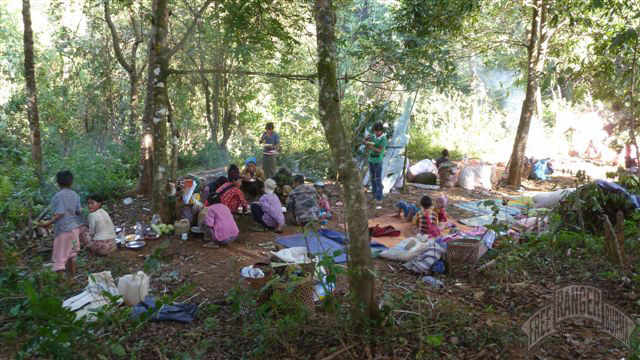 Displaced people in hiding.
On 26 November 2011 the Burma Army fired 300 rounds of 120mm mortar, two rounds falling near the village of Pranghkudung. One round exploded near the nursery school. On 27 November 2011, 300 troops from Burma Army Division 33 burned Man Chyam Village in Man Si Township.
Villager Killed
The Burma Army shot and killed a Kachin farmer, Nang Zin Tawng, age 52, at 4pm on 21 November 2011. Earlier that day, the Burma Army attacked a small KIA force and then came down to a rice field near Kadaw Village.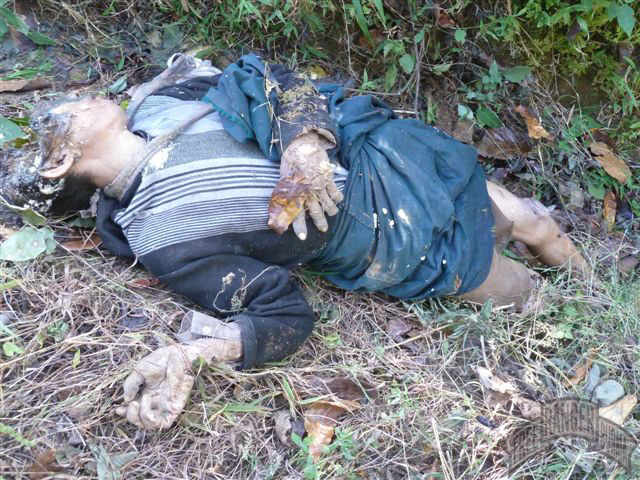 Nang Zin Tawng killed by Burma Army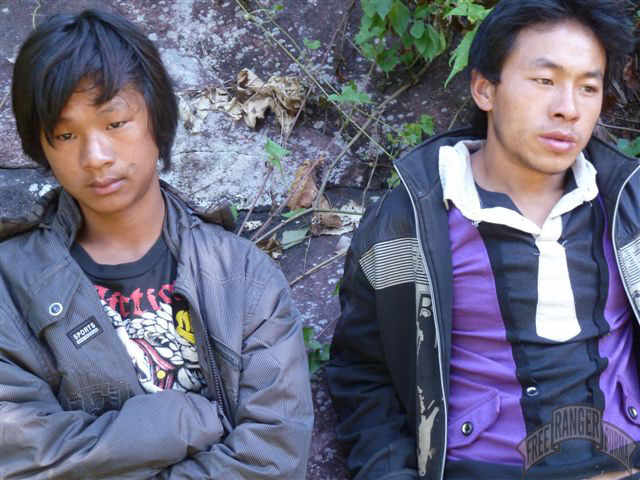 Nang Zin Tawng's sons
Many people, including the family of the man killed, had hid in the fields while trying to finish harvesting their rice. The victim and his two sons Nang Zin Naw, age 21, and Nang In La San, age 15, had stayed together for two or three days in their rice field hut while harvesting rice. That evening at 4pm they went to the rice field. The father went ahead as his two sons followed. He saw the Burma Army and ran, and the Burma Army shot him. The two sons heard the shots and returned to the village
We (Kachin FBR team) went to the location of the attack and took pictures and gave the family 300 Yuan (USD 47) to help with funeral costs.
God Bless You,
Kachin Free Burma Rangers,
Kachin State, Burma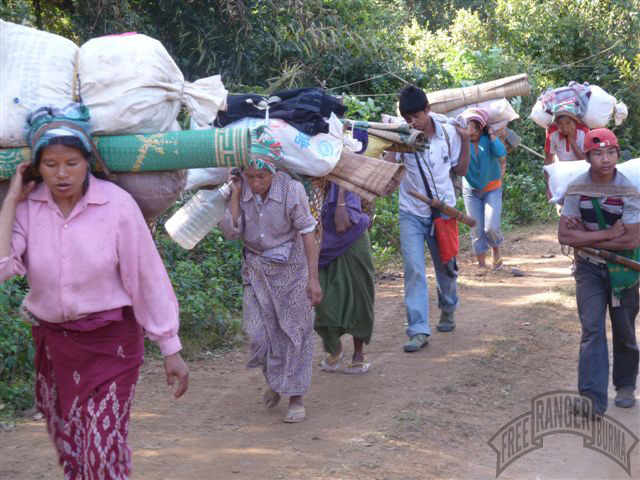 People flee Burma Army attacks