FBR REPORT: Landmines, Victims and Flooding from Burma Army Dam Project Displaces Multiple Communities
Nyaunglebin District, Karen State, Burma
17 January, 2011
---
 

 
 

Flooding from Burma Army dam project displaces multiple communities
Burma Army burns house, plants landmines: one man loses leg
FBR Nyaunglebin teams' mission report

Map showing area of report (click on map for larger image)

 
Burma Army Burns House and Plants Landmines in Mone Township: One Man Loses Leg
On Christmas day, 25 December, 2010: Burma Army soldiers placed landmines on trails and village land, as well as burning down one house near a Karen National Liberation Army (KNLA)- ethnic pro-democracy resistance- outpost in Mone Township in northwestern Karen State. The KNLA sent one soldier, Saw Kweh K'Baw, to demine the area; he discovered and disarmed four mines before stepping on and detonating a fifth. He lost his left foot in the explosion and was treated by FBR medics. Over 200 villagers fled the Burma army mine laying patrols.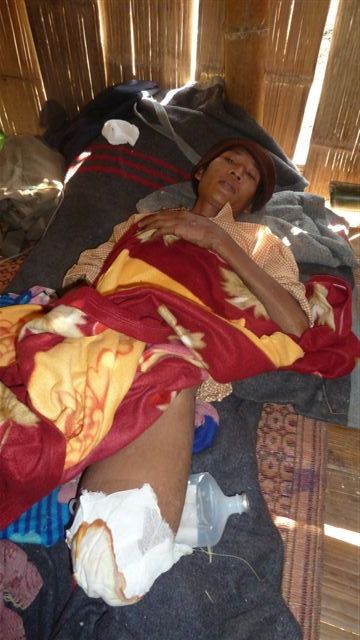 Kweh K'Baw, after receiving initial treatment after stepping on landmine. (see more pictures at end of report)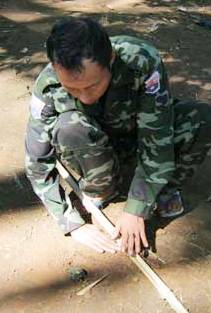 Pro-Democracy resistance forces remove landmines placed near a village by the Burma Army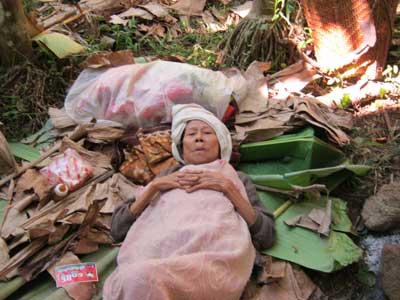 IDPs from recent attacks in Mone Township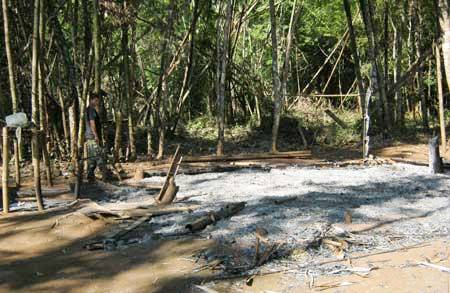 Building burnt by Burma Army in Mone Township
Communities Displaced Due to Flooding from Dam Project
Entire communities in northwestern Karen State have been displaced due to extensive flooding from a new dam project on the Shwe Gyin River. This project was initiated by the SPDC government in Burma and is due to be completed by the end of January, 2011. FBR relief teams on a mission in the area conducted a reconnaissance of the nearby Burma Army Mae Zaung camp. The unit there is Light Infantry Battalion (LIB) 349, which is responsible for security of the Shwe Gyin Dam project. According to one villager who once lived where a lake now stands: "I lived at Mae Zaung Ywa and my family survived by planting orchards. I planted dogfruit trees and lemon trees, and every year I made a living and never worried for myself or my family. Since the SPDC started the Shwe Gyin dam construction, all my orchards were flooded and I had to leave my village. I now live in Shwe Gyin town. Many of my friends in my village fled anywhere they could, and some went to a refugee camp. I have had to restart my life to survive, and now I do not have a regular income. I just work day by day and worry about my future."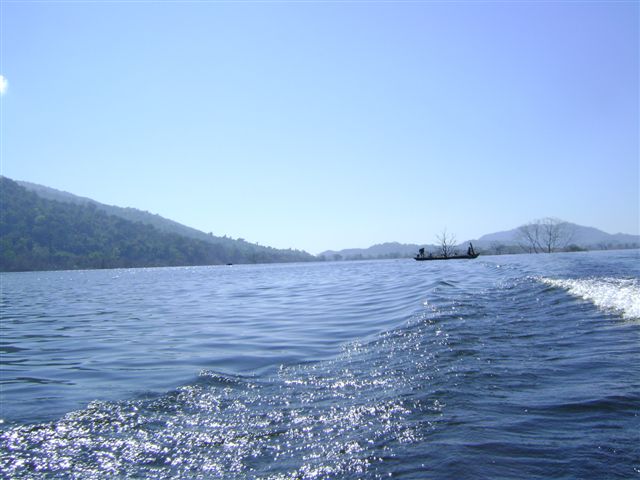 Extensive flooding resulting from a dam project on Shwe Gyin River
Nyaunglebin District teams' mission report
MISSION SUMMARY:
Five Karen relief teams went on a mission to provide humanitarian assistance and bring help, hope, and love to villagers and displaced people in northwestern Karen State. The mission ran from December 5th, 2010, through December 24th, 2010. They went to villages in the Shwe Gyin (Hsaw Hti) Township area of Nyaunglebin (Kler Lwe Htoo) District. The teams set up a program outside each village, and villagers would come there to receive medical aid and participate in Good Life Club programs for children. The teams were able to give medical aid to more than 250 villagers. The teams also conducted reconnaissance of Burma Army camps in the area, photographed them, and recorded the names of the battalions and leaders stationed at each camp.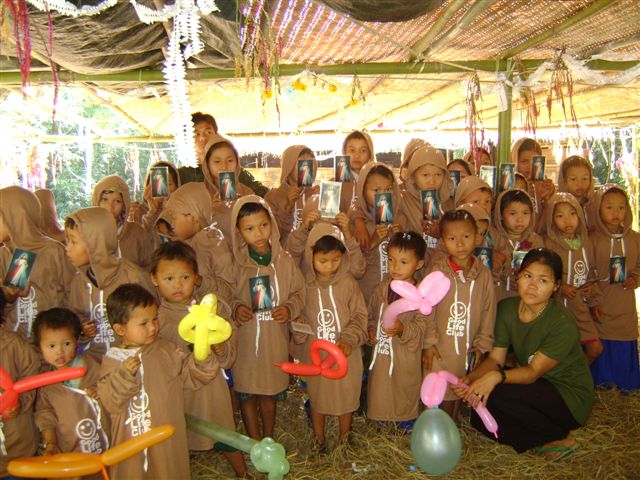 GLC program in Doo Pa Lae village
BURMA ARMY ACTIVITY:
There are multiple Burma Army camps in and around Hsaw Hti Township. This area saw attacks and displacement in early 2010, but Burma Army activity is currently minimal. Camps in the area and corresponding units include:
Thay Kay Mae Soe Camp — LIB 350
Kyo Daw Goe Camp — LIB 349
Mae Te Ta Camp — LIB 589
Lae Ya Camp — LIB 589
Ler Tau Thoe Camp – LIB598
Ko Pet Camp — LIB 350
U Pao Chaung Camp — LIB 350
Thei Kay Mae Soe Camp — LIB 350
Mae Zaung Wa Camp — LIB 349 IB
Wa Ko Law Te Camp – LIB 349
Ler Kyo Kgo Camp — LIB 349
Aut Mae Zaung Camp — Infantry Battalion (IB) 57
Kae Kge Ko Camp – IB 57
Zalu Chaung Camp – LIB 598
Wingalone Camp – LIB 589
From Mae Zaung Wa to Ler Wah there are no Burma Army camps but troops are patrolling the area from Military Operations Command (MOC) 16. The commander's names are Lt. Col. Thet Kheing – LIB 589; Maj. Aung Zaw – LIB 350; and Maj. Tha Zin Aung – LIB 349. The Wa Ko Law Te camp is led by Thet Oo. The Strategic Operations Command (SOC)is led by Myo Win.
VILLAGER SITUATION:
Currently there are no new IDPs in this area; however the Burma Army is near every village. The situation remains unstable. There were schools in most of the villages the teams visited, however, education in the area remains intermittent due to attacks this year and continued threats. For example, from January through December 2010, the people in Hti Blah village had to flee once and had to prepare to flee another four times. In Doo Pa Lae village they did not flee during the year, but had to prepare to flee four times — in January, February, July, and September. Villagers are getting food primarily from subsistence farming. The common medical conditions that the teams treated were: common cold, urinary tract infections (UTI), hypertension, intestinal worms, anemia, chronic joint pain, beri beri, malaria, malnutrition, skin diseases, acute respiratory infection (ARI), eye diseases, diarrhea, and dysentery. Mosquito nets were also distributed.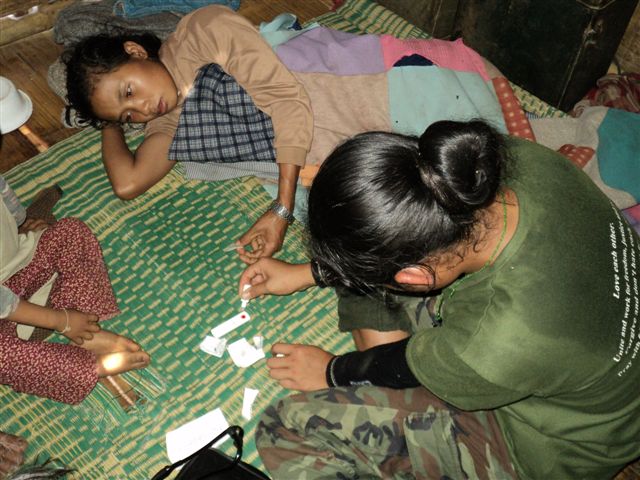 FBR medics treat patients on a mission in central Karen State
TEAM SUMMARY:
The teams interviewed villagers and conducted Good Life Club programs, which included teaching basic health, supplying maps and books to schools, singing songs, and playing games. They gave medical aid, encouraged the villagers, and shed light on the actions of the Burma Army.
Thank you for your support in helping these teams make a difference bringing help, hope, and love to the people in Karen State, Burma.
Thank you and may God Bless you,
FBR Nyaunglebin District Teams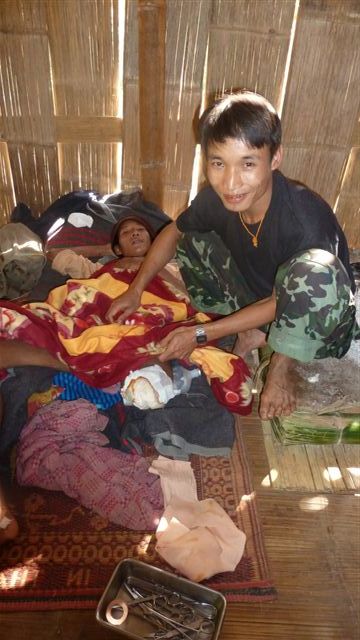 Local medics treat Kweh 'K'Baw, man wounded by landmine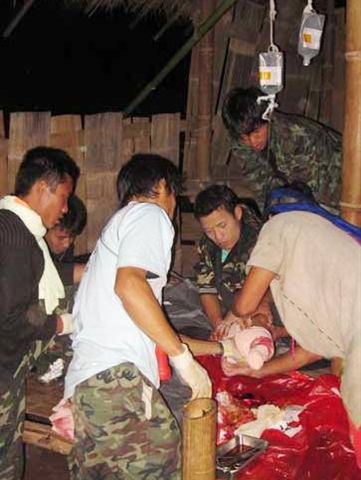 Saw Kweh K'Baw, wounded by a landmine placed by the Burma Army