FBR REPORT: A Closeness Born of Gratitude, Common Purpose and Love
Karen State, Burma
20 December, 2010
---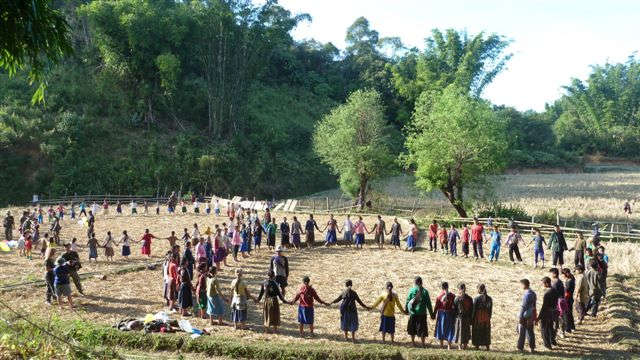 Children from 4 villages gather for a GLC program
Dear friends,
Thanks so much for how you help us and for how you care about the people of Burma. We are relaying this out from Karen State and want you to know how grateful we are for each of you.
A few days ago in a village we had visited before, the headmaster of the school came up to me and, smiling broadly, said, "We thank God for you, you are such a blessing to us and are always bringing us the good things that we need. We pray that God will bless you and that you will keep coming here!"
I replied, "Actually I do not have very much. It is my friends from around the world who give these things to us to give to you. Without them we could not do this. So they are really the ones to thank."
"Oh yes, I understand," was the headmaster's reply. "We thank God for them and pray God's abundant blessing on them. Please tell them all how grateful we are and how they send the things we need. We see how they help you help us. Please tell them we will pray for them!"
So I am writing to let you know how you are a crucial part of this team. We are each in our different places and in our different roles, working together to help make a better Burma. Not only that, this service helps us to be the kind of people we want to be. Your encouragement and support makes us want to live up to the highest standards of love, courage and honor.
Earlier, on December 6, our team held a medical treatment, fun run and Good Life Club (GLC) program in a rice field valley near Tha Dah Der village. The village had been burned by the Burma Army in July, 2010. It was the fifth time the village had been overrun by the Burma Army since 1958 and the third time it had been burned. In spite of these attacks there was an overwhelming feeling of joy as over 450 children, from four different schools, gathered here for the program.
I would like to have two of the team members describe this day; one is 'Ant,' part of the GLC team, and one is my father who, at age 81, traveled by foot, mule and elephant to be part of the training of the teams and the first mission after graduation.
GLC member 'Ant':
"Members from 17 newly-trained FBR teams led the program that included a Run for Relief, singing, games and health lessons for the students, and a medical clinic. In many ways things seemed the same as other years — the heat of the sun over the field, the laughter and smiles of the children, the local parents and leaders and old people gathered together to cook sticky rice and hot tea for everyone, FBR team members running around with cameras and video cameras, recording everything. The feeling of joy that lit up the day contrasted with the charred posts of burned homes just up the hill and the sound of shooting in the distance by the Burma Army earlier in the morning.
Hundreds of children ran a race for fun over fields they had been fleeing through months earlier. Their families are rebuilding their homes and church around these fields. In a year where elections news has focused on how fractured Burma is, the children's and medical programs were led by Kachin, Karen, Karenni, Lahu, Mon, Naga and Pa-Oh team members — young people who joined FBR to help their people and their country. They sang songs and acted out the story of David and Goliath; they taught physical health and nutrition; played games and handed out a GLC shirt to each child; they talked about how forgiveness and God's love bring new life.
The day ended and the students from different schools began the walk back, talking and laughing, the rangers packed up, a game of Frisbee broke out. A victory of sorts had happened: I felt that there is a great force for hate out there, but that the power of love was stronger. The picture I had was of a rock in the ocean that is constantly beaten by waves – but the waves break on it every time, and every time the rock reappears."
My father:
"Children, youth, and adults had come together for the races, songs, Bible stories, drama, health training and medical examinations. After the races the Karen Brigade Commander, General Baw Kyaw, addressed the villagers and the 17 FBR teams. The multi ethnic four man teams had come together to this village after completing their 2 months of training at the FBR camp. From here they will begin their missions to other villages further inside.
The General said, "I want to thank God and Tha U Wah A Pa [the White Monkey's father] for bringing joy to our people. With all the pressures and dangers around us we have not been joyful. [Earlier this morning, machine gun and grenade fire was heard from a skirmish on the road about an hour's walk away.] Today I see happiness on the faces of the children. I could not bring this joy, but you brought it, and I am grateful."
Earlier, I talked to two new FBR team members, both university graduates. Daniel, a Karen, had been a concert pianist and the other, Naw Ya, is a Karenni woman. Both had struggled through the strenuous physical part of the training. I asked them, "What were some of the important things you gained from the FBR training?" I was very impressed by their answers.
Naw Ya replied, "Peace! I had peace all through the training because everything was done for and with God. I have attended many training programs but never where we did everything for God and with God. When I return, I will organize my training programs to teach what I learned here – doing everything for God and with God."
Daniel answered, "Closeness! I feel very close to the FBR team members and to the Karen all over Burma. Before I only felt close to the Karen right around me, but now I feel close to every Karen. Now, I feel close not only to my Karen people, but also to the Lahu, Karenni, Pa-Oh, Kachin, Naga and Mon, because they were with us in the training."
Even though we are far away from you dear reader, we also feel a closeness to you. This is a closeness born of gratitude, common purpose and love.
May God bless you all,
A Relief Team leader
Free Burma Rangers
Burma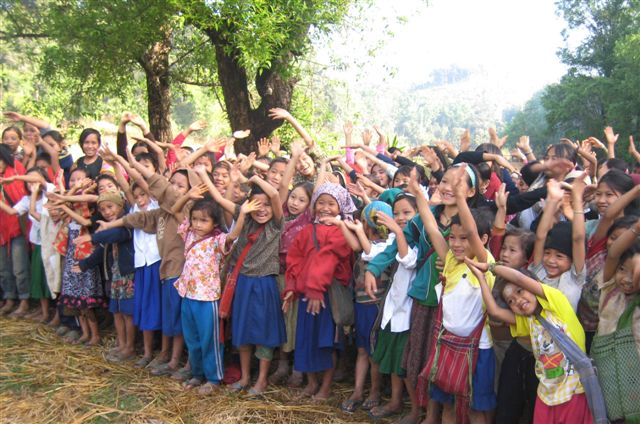 Children laughing and singing at the GLC program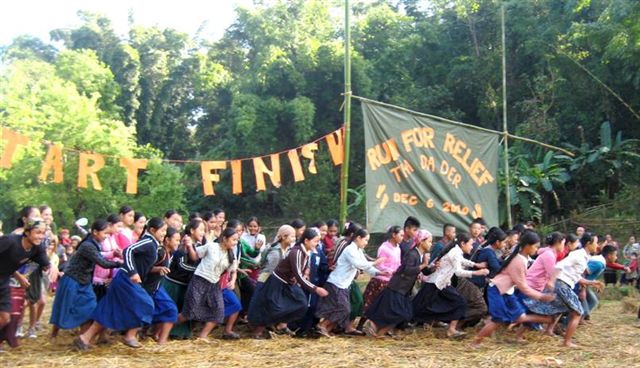 Children take off to begin the Tha Dah Der run for relief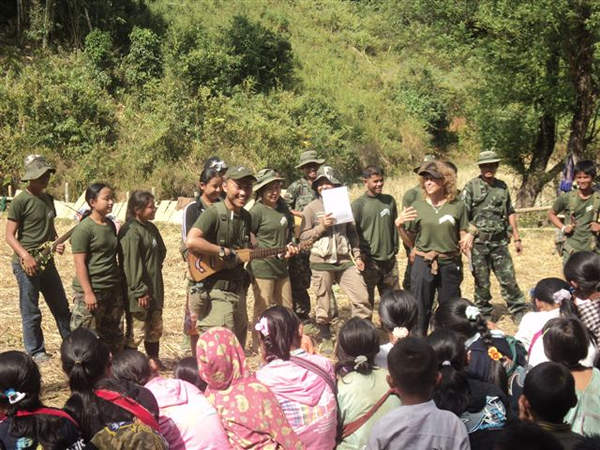 Daniel leads a multi-ethnic team in songs for the GLC program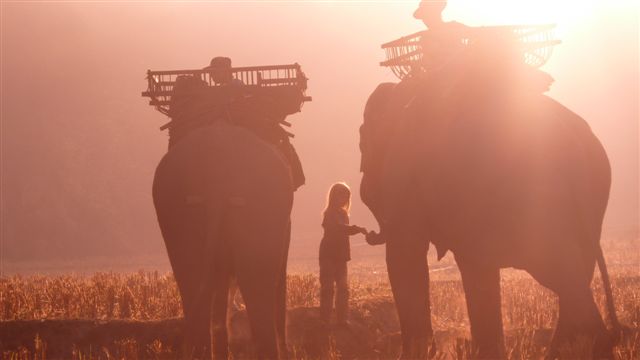 Feeding the elephants at the beginning of the day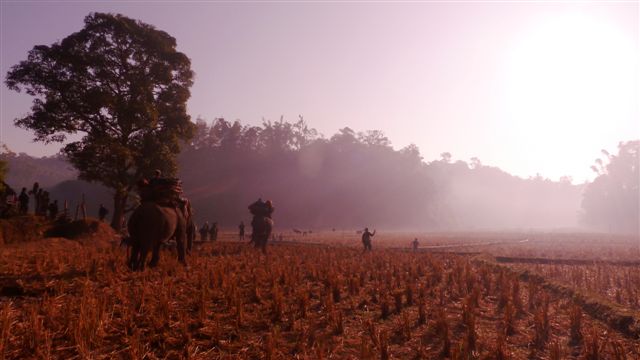 Elephants head out at dawn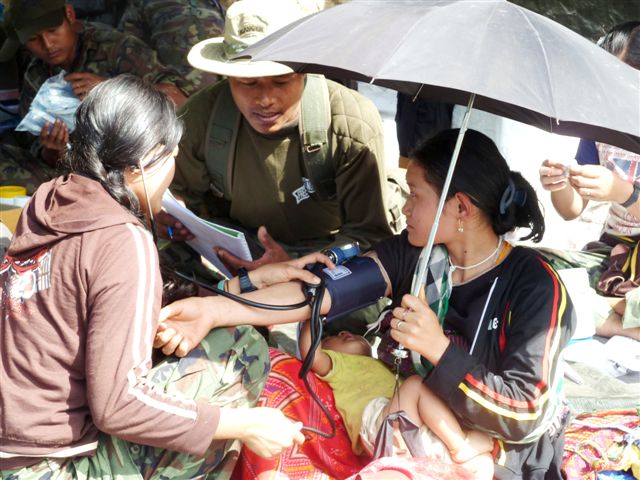 FBR medics treat a patient at Tha Dah Der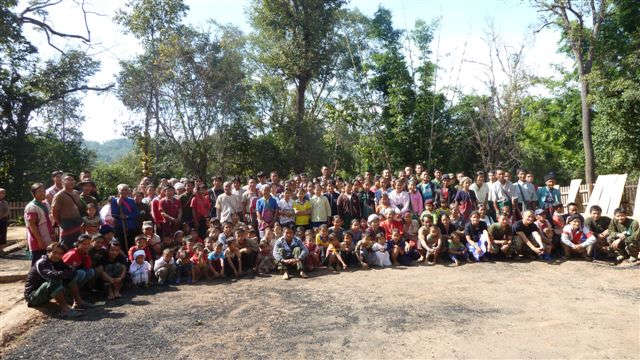 Tha Dah Der congregation at the site of their burned church