FBR REPORT: Cyclone Giri kills 100 in Arakan State, Western Burma
Arakan State, Burma
16 November, 2010
---
 

 
 

Cyclone Giri hits the Arakan coast
Forced labor in Arakan State

 
original report date: 9 November, 2010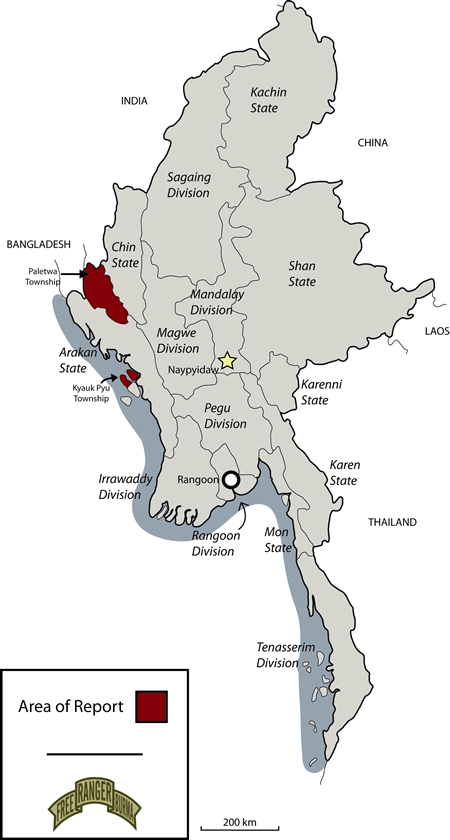 Map showing area of report
Cyclone Giri hits the Arakan coast
At least 100 people have died after Cyclone Giri hit the Arakan coast near Kyaukphyu Township, Arakan State, Western Burma at 5 p.m. on October 22, 2010, with winds of up to 120 miles per hour. An estimated 80,000 people have been left homeless and 130,000 have been affected by the cyclone.
The displaced population has taken shelter in temporary huts 'without proper roofs or water wells. Extensive areas of rice fields and farms, along with dams and more than 100,000 acres of shrimp ponds were destroyed. The timing of the cyclone makes it particularly serious: the rice harvest is only weeks away but the cyclone destroyed thousands of hectares of rice. An estimated 80% of the crops in Sittwe, Myebon, Ann and Kyaukphu townships were destroyed. Many families' fishing boats and nets have been destroyed, and over 400 schools are unusable.
As many as 200,000 people will require food assistance during the coming three months, as well as clean water supplies, blankets and medicine. There is also an increased risk of diseases, especially malaria, which is endemic in the affected area.
Many people affected by the cyclone have appealed to the government for assistance, saying "We are suffering without food and fresh water after the storm struck." The SPDC military government has made no announcement about damage or casualties, but senior military officials at the Ministry of Social Welfare, Relief and Resettlement said there had been at least one death, a girl killed by a falling tree.
Forced labor in Arakan State
Burma Army Battalion 55 is forcing people in the Shanmadin Village area to improve, repair and clean its camp at Labawa Village to prepare for the arrival of the commander of its parent unit. The Burma Army called village leaders from Phwesar Chawn, Sartalunwa, Satchawn, Kuchawn, Shanmadin, Kamtalunn and Labawa villages for a three-day meeting from October 16 to 18. During the meeting they were told that each village must supply 10 people to work on the Burma Army camp at Labawa Village for completion before October 20. Those that did not attend the meeting were required to pay 2000 Kyat to the military – equivalent to 2 USD, or two days' wages for a day laborer in that area. There are similar reports of Burma Army units in upper Paletwa Township forcing villagers to work in preparation for the commander's visit.