FBR REPORT: Burma Army Soldiers Kill One Villager, Wound 11-Year Old Boy
Nyaunglebin District, Western Karen State
14 October, 2010
---
 

 
 

Burma Army Soldiers Kill One Villager, Wound 11-Year Old Boy
Capture and extortion by Burma Army soldiers
Denial of medical care
Over 310 villagers forced to build camps and clear Burma Army road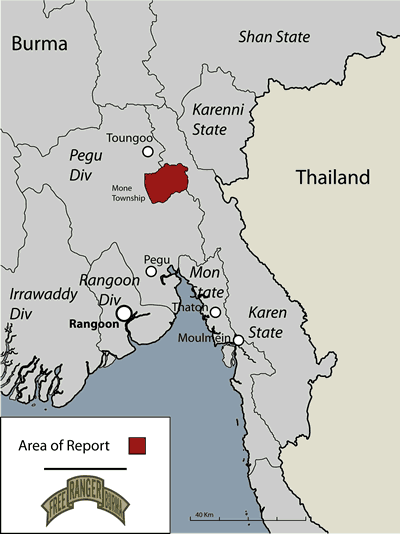 Map showing area of report (click on map for larger image)
Mone Township, 12 August, 2010: Burma Army soldiers entered the villagers' farm at Ter Kweh Lay Ko and shot and killed Saw Hsa Htoo, 35, and wounded Saw Moo Wah, 11. They then killed and ate two of the villagers' cows. The soldiers were from Maladaw camp, Infantry Battalion (IB) 48, and had just replaced an outgoing group of soldiers at Maladaw. After returning to the camp, they ordered the villagers to bring the body of Hsa Htoo and the wounded Moo Wah to their camp; later they ordered the villagers to bring the wounded boy to Tha Pyi Nyut, later bringing him to the hospital at Toungoo, and warned them to not say that he had been shot by the soldiers.
Four days later captain Khin Maung Kyaw from Maladaw camp took 30soldiers to harass villagers in Maladaw, Kyauk Ta, Saw Wah Der and ThaPyi Nyut; they stopped all villagers from traveling and threatened toshoot anyone they saw on the trail. At the same time, the deputybattalion commander at Maladaw, Htay Kyaw, ordered villagers at Maladawto make ID cards and demanded 7500 kyat from each of them.
At the same time, in the plains area at Nge Laut Te village,Burma Army soldiers from Military Operations Command (MOC) 10 capturedSaw Nay Thaw Htoo, 35. On the 17th of August the villagers from Nge LautTe were forced to build a clinic at Haw Ko Gaw. Earlier in the month,soldiers from LIB 439 captured four people from Haw Ko Gaw village,including 2 nurses and one medic. At the same time they shut down allmedical care and banned the buying and selling of medicine in all of theMone Township plains areas, creating serious health problems for thepeople living there.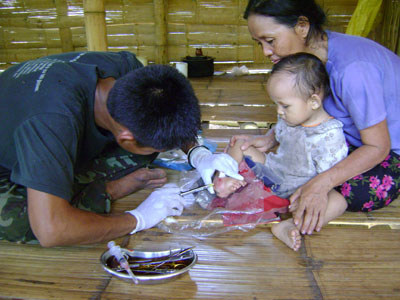 FBR medic treats a child in Mone Township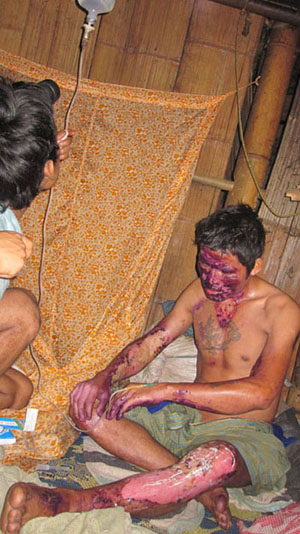 An FBR medic treats a burn patient in Yulo village, October 2010
During the month of August the Burma Army troops patrolling between the plains and mountains where the people work were from LIBs 599, 590 and Infantry Battalion (IB) 48. These patrols regularly capture and otherwise harass the villagers, creating a very insecure situation.
Forced Labor
On September 17, Burma Army troops from IB 60, commanded by WaiPhyo Aung, forced 60 villagers from Ko Pu and Hsaw Mi Lu to build a campand demanded 60,000 kyat from them for food. Two days later troops fromLIB 439 captured a villager and demanded 20,000 kyat for his release.This is part of a general pattern of extortion by Burma Army soldiers inthese areas. Also, on 1 October, 2010, MOC 10 commander Thein Tun forced250 villagers from Ko Pu and Hsaw Mi Lu to clear the car road for 100yards on both sides, from Kyauk Kyi to Hsaw Mi Lu camp. Then, on 6October, four army cars carrying Burma Army came and stayed at Thaw PyiNyut and Kyauk Kyi Pauk.
A letter ordering villagers to vote in the elections.
Burma Army Control of Elections
On October 1, Burma Army IB 48 invited village leaders from Yulo, Kamulo and Maladaw to meet about the elections. They plan to conduct a training for the villagers on October 23rd, about the elections, which will be held on the 7th of November at Thaw Pyi Nyut. The parties running are called Ta Sa Nya, Pyi Khat Phyo, and Kayin Pyi Thu.
Starting in September, the Burma Army took the villagers' boats from the Aung Zin Yat boat station to restrict their access to Tha Pyi Nyut. This has also caused difficulty in getting enough food, so that the villagers are having to share what little they have and cannot survive much longer in this situation.