FBR REPORT: The rebuilding of homes, school and a church – update to the burning of Tha Dah Der village and other attacks in Karen State
Karen State, Burma
6 September, 2010
---
 

 
 

Tha Dah Der rebuilds
Man killed in Toungoo District
Extortion and abuse in Dooplaya District

 
THA DAH DER UPDATE
On July 23rd the village of Tha Dah Der, in northern Karen State, eastern Burma, was mortared and burned to the ground by the Burma Army. Over 900 people from Tha Dah Der, Tha Kaw To Baw and Ti Mu Der, two neighboring villages, fled into hiding. The troops occupied the village through the next day, burning, looting and killing livestock. The troops were from Light Infantry Battalions (LIBs) 370 and 361.
Update: Nearly 400 people, all from Tha Dah Der, are still displaced as a result of this attack. Six families have returned to Tha Dah Der, while the others are in temporary sites nearby as they build new homes. They are rebuilding the church at a site about 100 meters from the original one and next to their middle school. Until they finish, they are meeting in the primary school, which was only partially damaged in the attack. Both the middle school and the primary school are in session. All villagers from Tha Kaw To Baw and Ti Mu Der have returned to their homes, which were not attacked.
FBR teams responded to the attack with medical care, blankets, tarps, and mosquito nets, as well as money for food provision. They also took photographs and video as the situation developed. Below is the report sent out earlier and pictures of the remains of Tha Dah Der, as well as the beginning of the new church.
Report sent out 27 July, 2010
Dear friends,
This week two of the villages we have been in close relation to for 14 years were burned to the ground by the Burma Army. The school and church in the larger village were among the biggest in the Karen State and were beautiful wooden structures set on a bamboo fringed hill. Below the hill and beyond the village stretched some of the most productive rice fields is the area. The villages have withstood many attacks and the church and school were not only well constructed, they were works of art. They were built by the community as places of worship and learning and where the community gathered to celebrate and share the joys of life.
Now the villages, church and school have been destroyed and the stench of the rotting carcasses of livestock killed by the attackers fill the air.
"We do not want to go back to rebuild, how can we?", were the words of one villager. "We had our whole lives here in the village, the school, and church and now it is all gone. Gone too are our livestock, chickens, pigs, goats, cows and water buffalo. We do not know what to do. "
I was told all of this by satellite phone and it was painful to hear and what was even worse was that we were not close enough to give immediate help. We could only pray and start sending relief supplies for teams in that area to help.
Yesterday there was a meeting between the villagers and the local leaders – the Karen resistance. Before the meeting a leader called me and told me the villagers were very sad and did not have any energy or desire to rebuild the villages. Many wanted to leave and never come back. We prayed together on the phone and asked for God's help. The next morning those of us at a headquarters meeting prayed for the villagers.
Later on we received another satellite phone call. The local leader told me, "It was amazing, this morning we all gathered together at the foot of the village and prayed together. Then the villagers all agreed to stay and rebuild the village. And they decided the first thing they want to rebuild is the church. We start today."
I thanked God and was filled with love and hope for our Karen families.
Thank you all too, for your prayers and for your help. We are sending in help through the FBR team there and Partners is also helping us in meeting the needs there.
I wanted to close with the letter we sent in to the people who are now rebuilding.
27 July 2010
Dear friends and family at Tha Dah Der and Tha Kaw To Baw,
We are praying for you and know God is with you. I am so sorry for what the Burma Army has done. It is evil. "Vengeance in mine says the Lord, I will repay ". These are God's words.
We will do all we can, we have already sent out the news all over the world and I will be there to see you after we finish the other missions.
Now we are sending in whatever we can, tarps, blankets, and medicine.
We also are sending money for the new church, school and for some food. We are sending out the story and hope that many people who love you will send more help.
The work of God is to build up, the work of the devil is to tear down. Don't worry, God will help you rebuild and those who tear down will themselves be torn down. We are inspired and filled with joy and hope that you have already started to rebuild the church and your village. We love you and thank God for your faith, perseverance, generosity and love. We will help you rebuild.
Ta U Wa, Tha Thoo Poe, Baw Tho Po, Tha-u Wa -A Mo, all the teams and I love and pray for you and look forward to seeing you soon. Until then, don't give up, we and others will help you and most of all God is with you. God was willing to send Jesus into the world to save us and people took this gift and killed Jesus. But Jesus rose again and is our salvation. God loves us that much. So God is not afraid to suffer, we do not need to be afraid either. He will lead you and bless you and remind you that, "What man means for evil God will bring for good. Genesis 50:19-21
We love you and are behind you,
God bless you,
Tha U Wa A Pa, family and teams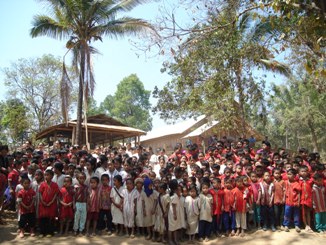 Tha Dah Der students in front of their school and church before the attack.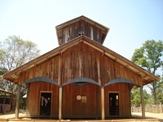 Tha Dah Der church before it was burned.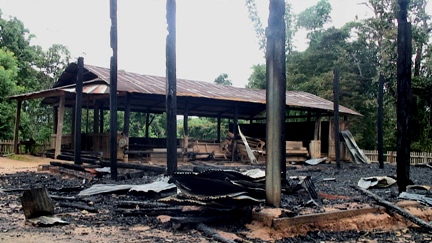 Tha Dah Der church after the attack.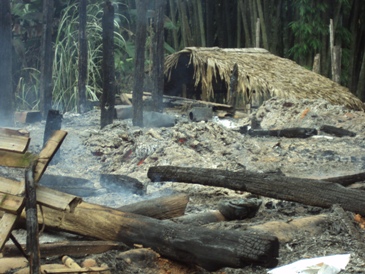 House burned down by Burma Army.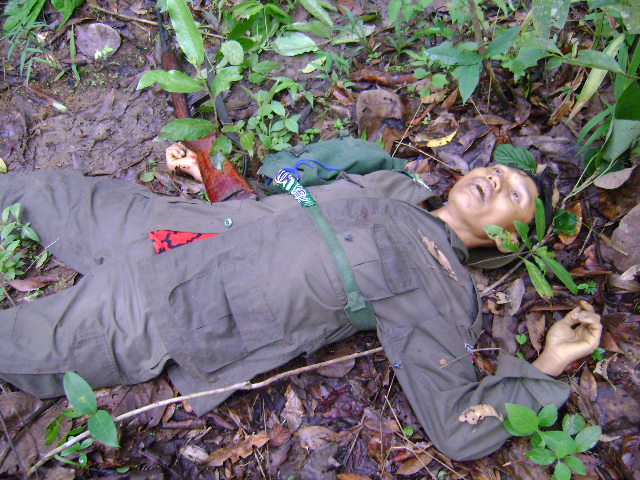 Karen soldier killed while defending the village.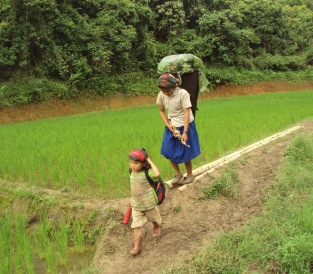 Children flee to a hide site, carrying what they can.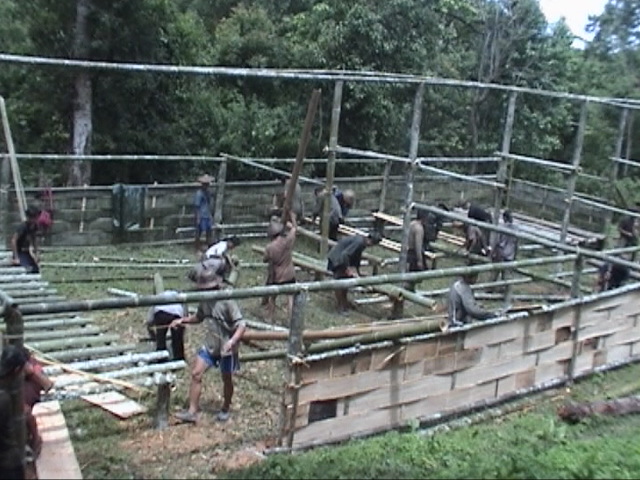 Villagers begin the new church.
Toungoo District, northern Karen State: Burma Army troops shoot and kill 40-year-old man
25 July, 2010: Burma Army soldiers shot and killed Saw Matthew, 40 years old, as he returned to his village in the evening. They shot him as he stood under the church. Matthew was in Aye Kyaw village, in Toungoo District. The soldiers who killed him are from Burma Army Infantry Battalion 48/73.
The Burma Army exploits civilians in Nyaunglebin District, northwestern Karen State
Forced labor, arbitrary taxation and destroyed property
On June 1, Burma Army camp commanders from Light Infantry Battalions (LIBs) 439 and 599 demanded the villagers in Naung Bo village tract, Mon Township, to pay 5000 kyat for permits to stay at farm huts close to the fields where the villagers work. The camp commander of LIB 439 is Aung Min Soe Kyun Bin Seik while the camp commander of LIB 599 is Khin Maung Oo Aung Lung Sein. This is an ongoing practice and to-date totals paid by other village tracts in Mon Township are:
Ta Caut Pya village tract: 500,000 kyat
Wei Swae village tract: 350,000 kyat
Ko Nee village tract: 350,000 kyat
Noh Nya La village tract: 500,000 kyat
In another case of exploitation, on June 10, Burma Army (BA) LIB 323 demanded five sacks of rice and four new soldier recruits from all village tracts in Ler Doh township's plains area. Additionally, from Shwe Gyin to Ler Doh the BA has been forcing villagers to build security huts on every car road and on every bridge. While doing this, the villagers must also set up security under the strict order of the BA that nothing is to disrupt the construction work of these security huts.
In Hsaw Hti Township, June 27: BA units burned down village farm huts and farming materials in Kgo Kga Lo area. A few days later on July 1 and 2 BA troops based at Ler Kyo Kgo and Saw The Ki moved forward and shelled mortars and used machine guns against the local resistance's Hsaw Hti headquarters. The BA troops have since pulled back, but the situation for villagers in this area remains unstable.
Dooplaya District, south-central Karen State. The Burma Army retaliates against civilians following fighting with KNLA (the Karen resistance).
Key developments:
Following a clash with the KNLA, Burma Army's Light Infantry Battalion 401 burns down huts and shells villagers in Dooplaya District, southern Karen State.
On June 20, the first and second column of Burma Army's light infantry battalion 401 met and fought with the KNLA. The clash happened at the Htee Kay Klo river, between Par Pra and Noh Kwe village inside Winn Ye Township, Dooplaya District. After the shooting had stopped, LIB 401 burned down four huts close to the site of the fight.
The four huts burned down were as follows:
The hut of Naw Kaw La Mu, 30 years old. In the fire 50 cans of rice, 10 cans of paddy seed, all other hut materials as well as 1,000,000 kyat were lost.
The hut of Saw Tee A'Klo, 70 years old, with 100,000 kyat worth of belongings.
The hut of Saw Gay Wah. All materials in the hut went up in flames assessed to have been worth at least 100,000 kyat.
The hut of Saw La Del Kaw. Again it is estimated that the materials lost had a value of at least around 100,000 kyat.
Following the fighting and the destruction of the four village huts, LIB 401 continued on to Par Pra village. Close to the village, LIB 401 shelled three 60mm mortars down upon Par Pra. No villagers were harmed by these mortars.
The following day, June 21, LIB 401 demanded a villager to go and get the Noh Kwe village headman named Zaw Wine. Upon his arrival, Zaw Wine, 40 years old, was ordered to go to Par Pra village to acquire intelligence about the KNU. After returning back to LIB 401, second column commander Aye Aung Khin Oo forced Zaw Wine to wear the KNLA uniform and tried to make Zaw Wine pose for pictures wearing the clothes of this insurgent army. However, Zaw Wine knew from past experience that this was a trick played by the column commander. Three years ago, the Burma Army IB 36 commander Minn Htite captured four villagers and forced them to wear KNLA uniforms for photographs. After the photo session was completed, the four villagers were murdered. With this in mind, Zaw Wine told the column commander, that he wanted to meet the LIB 401 battalion commander first and after that he would come back to pose for photos. On his way to meet the battalion commander, Zaw Wine managed to escape the LIB 401 soldiers. The day after on June 22, Zaw Wine made his way to the local KNU leader and reported the story told here.
Thank you for your care, prayers and help.
May God bless you,
The Free Burma Rangers