FBR REPORT: Burma Army shoots at and beats villagers: Patterns of Abuse in Dooplaya District, Karen State
Karen State, Burma
12 March, 2010
---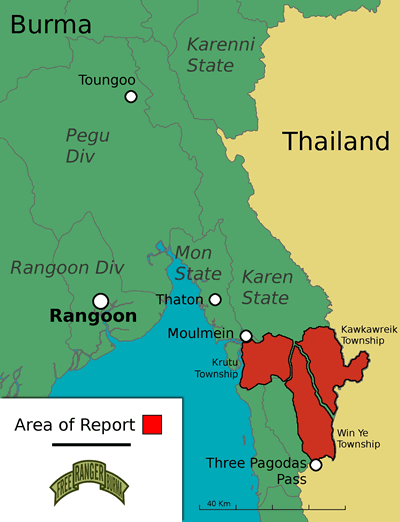 Map of Dooplaya District, Karen State (click on map for larger image)
Thank you very much supporting and praying for us.
On 23/4/2010, at 9:00am, soldiers from Burma Army Light Infantry Battalion (LIB) 401, led by Battalion Commander Aung Khine Cho, shot Saw Par Leat, a villager from Pa Ya village. Saw Par Leat was able to flee after the gun attack, but as he fled the troops fired mortars at him. The explosions of the mortars then set fire to three rubber fields and a total of about 1880 rubber trees were burned down, constituting a major loss of livelihood for the owners of the trees. Pa Ya Village is in Win Ye Township.
On 14 April, 2010, during the Burmese water festival, Saw *** **** was beaten in the head by a Burma Army soldier from LIB 408. He had been visiting Poe Si Mu village to celebrate the festival. The soldier hit him in the head with a wooden stick; as he fell to the ground after the blow, a friend came to help and was also beaten by the soldier. LIB 408 is lead by column commander Win Lin Maung and Lieutenant Commander Nyi Nyi Lwin, under Military Operations Command (MOC) 8, commanded by Than Soe. Poe Si Mu village is in Kawkawreik Township, Dooplaya District.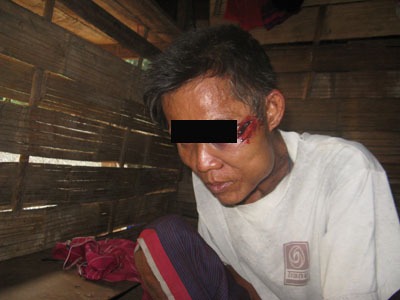 Man beaten by Burma Army soldier during water festival.
Krutu Township, Dooplaya District. This is now part of the white zone (see Zones of Control map). The Burma Army controls nearly everything in this area, basing from two camps. The people living here are mostly Karen, but also Burmese, Muslim and Mon. While there is little fighting because of the Burma Army control, the people are subjected to forced labor and arbitrary taxation, as well as arbitrary abuse such as that described above. There is no access to health care in most villages in this area, and so the people are very happy to see us when we come.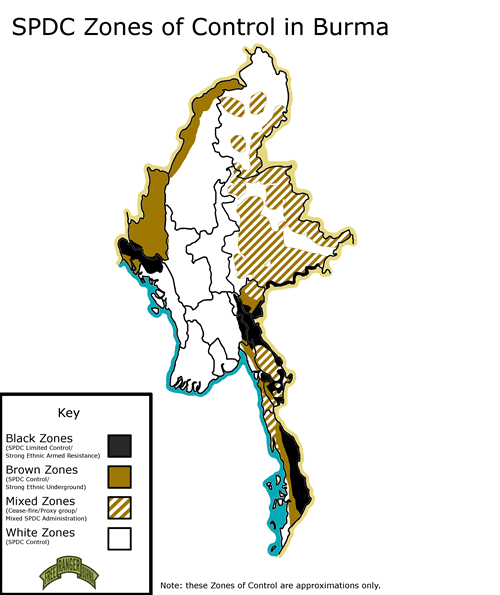 Zones of control in Burma (click on image for larger image).
The Democratic Karen Buddhist Army (DKBA), Karen National Union Peace Council (KNUPC) and the KPF all have a presence in this area, but for the most part aren't fighting.
Other examples of Burma Army abuses include the following, from early March:
On 2/3/2010 Burma Army LIBs 404 and 409 came to Lay Wah Ka village, Kya Inn (Noh Ta Kaw) township, demanded the villagers to gather and abused them.
1. Saw Ka Htoo 48 years old, was beaten, punched, and kicked.
2. Saw Kaw Ku was punched twice.
3. Saw Lell, 30 years old, was kicked and beaten on the head.
4. Saw Kay Bway was punched in the mouth.
In addition to the beatings, the following two women had livestock stolen from them: Naw Tray Paw, 47 years old, three ducks were taken and a pig of about 15 kg was killed and taken. Naw Pyi Htoo, 50 years old, had a pig of about 45 kg killed.
The Burma Army took nine villagers in Lay Wa Ka, five villagers in Mae Kwaw Kee, and four villagers in Wor Loo. The villagers were released on 5/3/2010.
In Ler Mu Koh village, an accidental fire destroyed 33 out of 55 homes, along with all the property with those homes. While the people here are trying to rebuild, they expect major difficulties for food and clothing in the next month. In places like this, the tenuousness of daily life is such that it is difficult to survive an unexpected accident such as this. The village headman asked us to help them find a way. In this village of 500 people the school goes up to 4th grade but receives no support from anyone. There is no clinic or medic. We will give them medical treatment and GLC t-shirts and some gifts. The people here are very happy to meet us and get medical treatment. We also can help the other ethnics, not only Karen.
God bless you,
Dooplaya District FBR team
Karen State, Burma