FBR REPORT: A Story of a Ranger's Time in Prison
Arakan State, Burma
17 April, 2010
---
Dear friends, This is a story about a good friend and teammate in the Free Burma Rangers. His name is Soe Naing and he is the leader and coordinator of the three Arakan FBR teams providing relief to IDPs in Arakan State, Western Burma. He attended his first FBR training in 2002 and then with very little support trained three relief teams of his own and conducted numerous relief missions to help Arakan people who were being attacked by the Burma Army.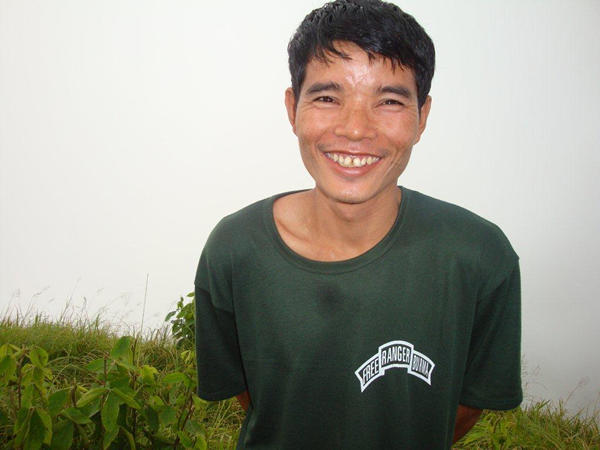 Soe Naing, Leader of the Arakan State FBR
In 2007 Soe Naing was arrested on the Bangladesh/India border and spent 11 months in a Bangladeshi prison for helping a journalist to do a story on the situation of the displaced people of Arakan State. He had finished escorting the journalist on a relief mission in Burma and was taking the journalist' camera equipment back across the border thru Bangladesh. He was arrested at the border and charged with illegal border crossing. We prayed for him, advocated for him and the journalist helped to pay a fine to get him out When he was released 11 months later, he immediately went back into the Arakan State of Burma to help people under attack of the Burma Army. He then helped us to coordinate the training of all western Burma FBR teams- Kachin, Chin and Kachin. We met again at this training and I said, "I am so sorry about your time in prison, we prayed for you and tried our best but could not get you out very fast ".
Soe Naing replied, "It was a good experience for me, don't worry about it. It was a good opportunity for me. When they put me in prison right away I prayed and began to get to know the other inmates. I encouraged them and told them that there were many productive things that could be done in prison. I told them, that we should not give up and do our best. I encouraged the Arakan prisoners and helped to strengthen their morale and to organize them. We developed a good information network in the prison and organized the inmates into political action teams for when they were released from prison. We encouraged many of them to join the Arakan pro-democracy resistance and they began to be happier and to have a new purpose in their lives. Seeing this change in attitude and the reduction of problems among the prisoners, the prison guards were grateful and soon gave me my own room, a TV and a cell phone! So you see, God took care of me and I was able to use that time to raise up more people who wanted to work for freedom in Burma. Thank you for your prayer, and God worked out my prison time for good."
I wanted to share this story because it inspired me and helped me to live with more faith and to remember that God can bring good from every circumstance. I also wanted you all to know what kind of people you are supporting and how the light of love, faith and courage is bright in Burma.
Thank you and God bless you,
Dave, family and teams
FBR