FBR REPORT: Follow-up story: to story of Children Shot and Killed by Burma Army
Karen State, Burma
31 March, 2010
---
 

 
 

Follow-up to story of Children Shot and Killed by Burma Army
Landmine kills two boys
Other Burma Army Attacks

 
WARNING: GRAPHIC IMAGES BELOW
The following is an update to the story of children killed by the Burma Army and includes the death of two boys by a Burma Army landmine and other killings and forced labor in Karen State.
On the 22nd of March two children and one woman were shot and killed and their village was burned by Burma Army soldiers in Ler Doh Township, Nyaunglebin District, western Karen State. The mother of the two children who were killed, Naw Pah Lah, was also wounded. She was treated by FBR medics and has since shared her story of the attack.
Naw Pah Lah is a Ko Lu villager who had traveled to Ler Taw Lu to visit her parents. On 22 March she was returning home with her 5-year-old daughter and 5-month-old son. As she neared Kaw Hta village, soldiers from Burma Army LIB 369 (from MOC 10) attacked. Her 5-year-old daughter, Naw Paw Bo, was shot in the head and Naw Pah Lah was shot in the back as she carried her 5-month-old boy (Saw Hta Pla Htoo); the baby was hit in the thigh. She said, "I tried to hold my daughter's hand and pull her but she was already dead so I left her on the trail. First, I thought I will run quickly and warn the Kaw Hta villagers, but because I was hit I could not make it. When I ran, two of the Burma Army soldiers came to me and said 'run run' in Karen language, but I couldn't so I heard more gun shots in the village."
One other woman was killed in the attack, Naw La Pwey, shot in the back by Burma Army soldiers. The Burma Army set fire to all 11 houses in the village, completely destroying 6. The 5-month-old child did not die immediately, but two and a half hours after the 4:30 p.m. attack. Naw Paw Bo, the 5-year-old girl, died immediately from a shot to the head and her mother was forced to leave her on the trail as she ran for her life and to save her son. Naw Paw Bo's body was later found where the Burma Army had thrown her into the bushes and partially covered her blood left on the trail with dry leaves.
THE FOLLOWING PICTURES ACCOMPANIED THE ORIGINAL REPORT OF THIS ATTACK
Other Attacks by Burma Army in Karen State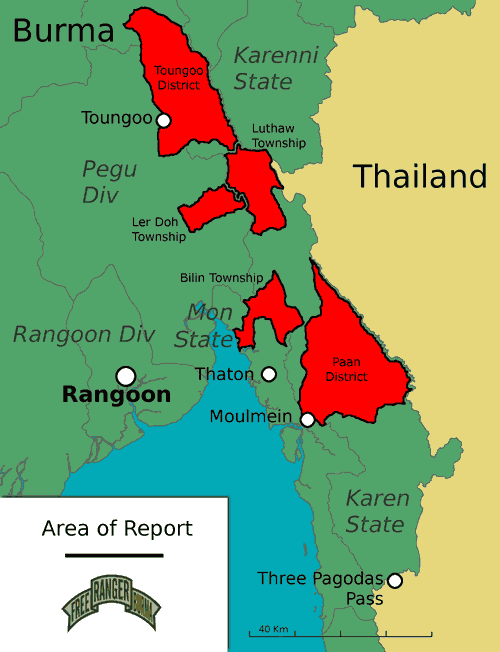 Map of Karen State; attack areas mentioned in this report are in red.
Toungoo District – In two separate attacks, Burma Army shoots and kills two men, wounds one woman; 230 people forced to work
9 March, 2010: Burma Army soldiers shot and killed Saw Be Htoo, 38 years old, from Sha Shee Bo village. Troops from LIB 440, staying at the Sha Shee Bo camp, captured Saw Be Htoo while he was traveling between villages and killed him immediately. Sha Shee Bo village is in Toungoo District, northern Karen State. LIB 440 is under the Southern Command.
On 23 February, 2010, Burma Army soldiers from LIB 427 shot at Saw Da Doh Wah, 52, and his 27-year-old daughter, Naw Htoo Sen. Saw Da Doh Wah was killed instantly; Naw Htoo Sen was hit in the leg but was able to escape. The soldiers took an icom radio and a rifle from the dead man. The next day, Burma Army troops fired 3 mortars into the Play Hsa Lo village area. No casualties were reported.
Earlier in February, Burma Army troops from MOC 7, LIBs 421 and 261, forced villagers from Klaw Mee Der to carry food for them and cut bamboo poles for their camp. They also shot at villagers from Saw Wah Der as they came to Kaw They Der to buy food, and stole items from 6 people. On February 15th, LIB 366 commander, Yan Naing Oo, settled at Ker Wei camp and forced 170 villagers from Thandaung Township to carry loads to his camp.
Forced Labor Summary:
February 9: Soldiers from MOC 7, LIB 261 from Play Hsa Lo camp forced one household to cut bamboo; soldiers from LIB 421 forced 30 men to carry loads from Klaw Mee Der to Ler Kla Der.
February 11: Burma Army soldiers shot at villagers who had come from Saw Wah Der to buy food in Kaw They Der and stole items and cash from 6 people.
February 15: Soldiers from LIB 421 forced 15 men and 15 women to carry loads from Klaw Mee Der to Ler Kla Der.
February 21: Yan Naing Oo, battalion commander of LIB 366, forced 170 people to carry loads from Day Lo to Ker Wei camp.
Muthraw District – Burma Army shoots and kills villager, mortars village and burns villagers' farms.
On 15 March Burma Army soldiers from Pla Ko camp shot and killed Saw Ka Prae. Pla Ko camp and Ku Dae village are in Luthaw Township, Muthraw District. That same day, soldiers from MOC 21 fired mortars at Bee Lo Kee village, but no one was wounded. They also burned down several farm huts near Saw Mu Plaw camp.
Thaton District – Burma Army soldiers shoot and wound two men; two boys killed by Burma Army landmine.
26 February, 2010, Bilin Township: Burma Army soldiers shot and wounded two men, Khen Pyu and Kyaw Khen, both 25 years old, who were hunting close to their village; after shooting them, the soldiers tied them up and beat them. The next day they returned the men to Lay Hkit village but refused to allow the villagers to treat their wounds, saying they would take them to the town for treatment. The soldiers are from Burma Army LIB 703, lead by Min Htun Aung. The men are from Lay Hkit and Kler Koh villages.
On 10 February, 2010, 2 15–year-old boys were killed instantly when a landmine exploded. They were looking for frogs in a lake close to their home when they detonated the Burma Army mine. Their names are Aung Win Soe and Saw Mai Oo. They are from Ta U Ni village in Bilin Township.
Pa'an District – Burma Army and DKBA force villagers to work on their camps, under threat of torture.
Burma Army and DKBA soldiers force villagers to build their camps, cut bamboo, and carry supplies on a regular basis. Farmers are unable to prepare their fields for the upcoming rainy season, meaning food supplies will be affected in this area. Additionally, since the attacks at Ler Per Her nearly a year ago, there has been no school for children in this area. The Burma Army and DKBA organize the labor through the local village headmen. If they encounter a problem, the headman is beaten, as happened in January 2010, when the headman from Klay Mu Kee village was tied up and tortured because the villagers were late to carry loads. They had been conducting a religious ceremony.
Thank you and God bless you,
The Free Burma Rangers