FBR REPORT: Who Will Stop the Dictators?
Karen State, Burma
17 November, 2009
---
We are putting together this Day of Prayer for Burma from inside an ethnic area of Burma that is under attack by the Burma Army. We are training multi-ethnic relief teams and going with them to bring help, hope and love to the displaced. The people of Burma live in terror and are attacked, raped and killed by their own government. Who will come to their aid? Who will help them? As talks are held, who is defending those under attack? In Burma, no one protects except the pro-democracy resistance. In spite of this, there is no large scale support for the resistance groups and thus no way to provide adequate protection to the people under attack.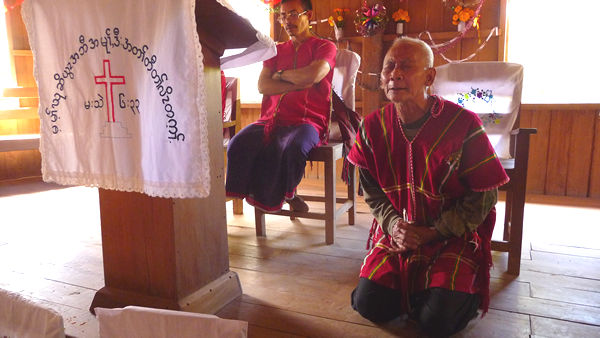 Karen Elder, Saw Maw La, prays at New Year prayer service
All relief in the IDP areas is only possible because of the pro-democracy ethnic resistance forces. Humanitarian relief is crucial and lifesaving and it is our mission, but it treats symptoms not the main problem. The problem is the dictators of Burma: their Army that attacks, displaces, uses torture, rapes and kills its own people with impunity.
As we prepared to go on this mission we felt that Jesus was saying "follow me". To us this means Jesus is going ahead and we need to follow and obey. We have a small but precious mission to share God's love, give help and stand with these people. When we are out of supplies, we can still love and be with these people. If the people cannot run we do not run. This year, while on a relief mission in a village south of us the Burma Army raped and then killed a 7 year old girl. No one there could protect her. No one was held accountable.
As we help the families under attack, we ask ourselves and we ask God, "Would we do more if these were our own children"? If we continued our work as it is and did not try to stop the Burma Army; meeting God in heaven, maybe God would say, "If your own children were killed, your wife raped, your home burned, would you not try to stop the attackers. Would you not try to stop them from hurting others? Would you just sit by and watch? You hypocrite, all you care about is your reputation, your funding and to keeping yourself safe". But if we decided to attack the Burma Army to prevent them from attacking these people, maybe God would say, "Who told you to attack the dictators, it may be the right thing but it is not what I called you to do, you were not serving me.
" We seek God's will for us and put all at His feet- our lives, fortunes and honor. In answer to our prayers we still hear, "feed my sheep" not "march on Rangoon". For us it is right to stop the Burma Army, but it is not our role. Our role is to serve those in need, to comfort them, to stand with them, and to bear witness to what is happening to them. When they cannot run we stand with them and face the attack together. Some of our team members have died. We pray for the dictators but we cannot stop the Burma Army. Who then will stop them, who will bring justice?
This is a call to pray and to ask God what He wants each of us to do about the oppression of His children in Burma. God's love and justice is worked out though people. God uses us to bring about justice, to defend the cause of the fatherless, the widow, and the oppressed. The dictators have committed their lives, fortune, and honor to keeping power. If we want to be a part of freedom in Burma, we can do no less.
When under pressure most of us ask the question, "What will become of me?" The real question is "What should I do." We find the answer in love. We go compelled by that love in heart, mind, and soul. We love the people of Burma and we are helping them, this is our heart. We believe that oppression is morally wrong, this is our mind. We go because the people of Burma are God's children and it is right to help them and to be with them. This is our soul. Thank you for your partnership with us for freedom, justice and reconciliation for Burma.
May God bless you,
a Relief Team Leader
Free Burma Rangers