FBR REPORT: Update on Rape Victim
Karen State, Burma
5 October, 2009
---
The report below, of two women raped by a Burma Army commander, Khin Maung Hsit, was initially sent out on September 6, 2009. The FBR teams on the ground have now sent a photograph of one of the rape victims, Naw Eh Hla (names have been changed), pictured below. According to her testimony, the commander came into the village on August 18, forced her to drink alcohol and then raped her. The other woman from the earlier report could not be interviewed because she was afraid to leave her clinic, as it is located in an area frequented by local Burma Army soldiers. Commander Khin Maung Hsit has now rotated out of command in this area and been replaced by Commander Tain Win.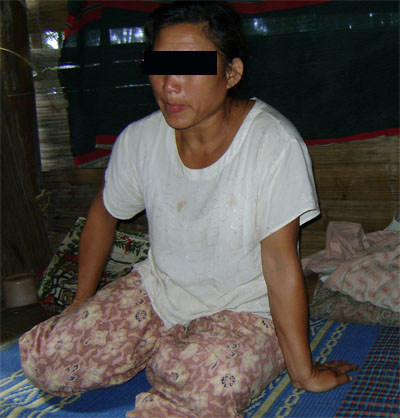 Woman raped by Burma Army Commander Khin Maung Hsit.
Burma Army Commander Khin Maung Hsit Charged with Rapes, Numerous Other Abuses
Commander Khin Maung Hsit has raped two women and engaged in numerous other abuses since he took control of Military Operations Command 5 (MOC5) operations in the area of Kler La (Bawgali Gyi) in Toungoo District, northern Karen State. Since taking command of the camp on August 15, Khin Maung Hsit acted with impunity in violating and abusing the residents of Kler La. The following are examples of his recent actions.
After drinking one village's alcohol, he took the local teacher, Naw Paw See (all names have been changed), ordered her to strip, and proceeded to rape her.
He also raped Naw Eh Hla, after forcing her to drink alcohol and give him a massage.
After losing at a game of cards with the villagers, he arrested Saw Thoe Pan and had him tied up at Kler La Camp.
Again, after losing a game of Snooker, he had Saw Poe Ju arrested and taken back to Kler La Camp.
Every time Commander Khin Maung Hsit comes to one of the nearby villages, he demands 3 bottles of whiskey. Each bottle is worth 30,000 kyat (approximately $30).
According to the FBR team, soldiers from Light Infantry Battalion (LIB) 544, which is under MOC5, also raped Naw Eh Wa and Naw Blu Paw, both from villages in the area of Kler La.