FBR REPORT: Burma Army Troops Rape Four Women as Abuses Continue Against Villagers in Northern Karen State
Karen State, Burma
26 August, 2009
---
 

 
 

Burma Army commander Khin Maung Hsit (MOC5) charged with rapes, numerous other abuses.
Troops from MOC5 also perpetrating additional rapes of villagers.
Photos of landmine victim from Saw Wa Der area.
Increased Burma Army Presence in Wah Tho Kho Area.
Burma Army soldiers continue to defect from their units across areas of eastern Burma.

 
(Report first published 4 September, 2009)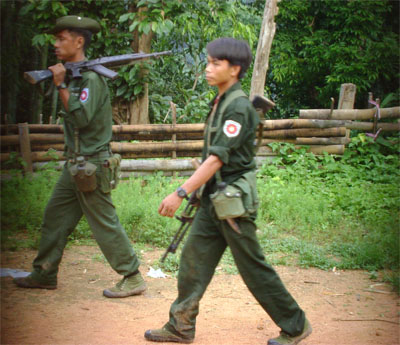 Soldiers patrolling near Wa Tho Ko
Burma Army Commander Khin Maung Hsit Charged with Rapes, Numerous Other Abuses
Commander Khin Maung Hsit has raped two women and engaged in numerous other abuses since he took control of Military Operations Command 5 (MOC5) operations in the area of Kler La (Bawgali Gyi) in Toungoo District, northern Karen State. Since taking command of the camp on August 15, Khin Maung Hsit has acted with impunity in violating and abusing the residents of Kler La. The following are examples of his recent actions.
After drinking one village's alcohol, he took the local teacher, Naw Paw See (all names have been changed), ordered her to strip, and proceeded to rape her.
He also raped Naw Eh Hla, after forcing her to drink alcohol and give him a massage.
After losing at a game of cards with the villagers, he arrested Saw Thoe Pan and had him tied up at Kler La Camp.
Again, after losing a game of Snooker, he had Saw Poe Ju arrested and taken back to Kler La Camp.
Every time Commander Khin Maung Hsit comes to one of the nearby villages, he demands 3 bottles of whiskey. Each bottle is worth 30,000 kyat (approximately $30).
According to the FBR team, soldiers from Light Infantry Battalion (LIB) 544, which is under MOC5, also raped Naw Eh Wa and Naw Blu Paw, both from villages in the area of Kler La.
Villages in the Kler La area, already facing extreme difficulty as a result of Burma army demands for forced labor, have to contend with the monsoon rains as well. The rains have damaged many fields as well as the road between Kler La Camp and Kaw Thay Der. Because of the damaged road, the villagers have not been able to obtain food or sell their fruits.
Some of the villagers have fallen ill with Dengue and other fevers, but have been turned away by the local doctor after seeking treatment, who suggested they should try to treat themselves. Village leaders have tried complaining to the local Burma Army authorities but they have been ignored.
Additional abuses and photos of landmine victim:
In an incident initially reported by FBR on 9 July, soldiers from LIB 373 and LIB 372 attacked villages in the Saw Wa Der Area. After the attacks, they laid landmines in the area and returned to their camp. One villager, Saw Ghay Meian, 20 years old, was carrying rice back to his village, Kaw Thay Der, when he stepped on one of the landmines. This was on June 17th, 2009. He later died at the local clinic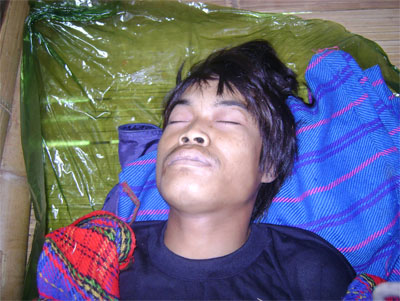 Landmine victim, Saw Ghay Meian, now deceased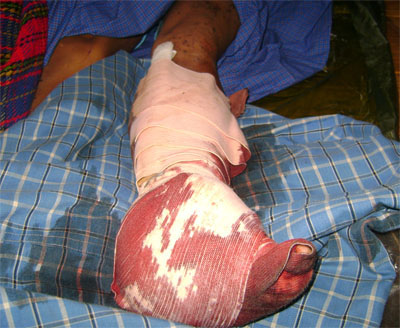 Landmine injury area
Increased Burma Army Presence in Wah Tho Kho Area:
LIB 373, under the command of MOC 5, has been established in Wah Tho Kho under the command of Win Khain.
Also patrolling in the area of Wah Tho Kho is LIB 544. They are based at Maw Koe Der camp under the command of Thine Htet. They forced villagers to carry rice on the 26th of June, 2009. While the villagers were carrying rice, the commander (Thine Htet) took photos.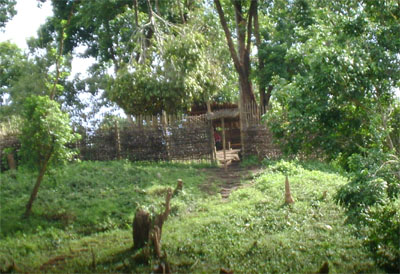 Wah Tho Kho SPDC Camp
Defections:
Burma Army soldiers continue to defect from their units across areas of eastern Burma. On 28 July, 2009, two men from LIB 386 defected and surrendered to Karen National Liberation Army (KNLA) troops. Both men are ethnic Pa O, and when asked why they defected cited insufficient salary and food.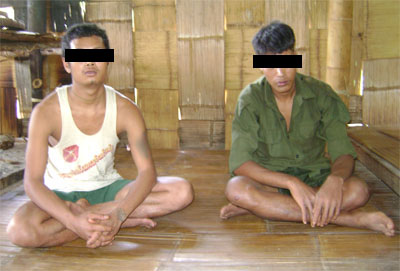 Two soldiers who defected from the Burma Army