FBR REPORT: Two teenaged Karen women, one eight-months pregnant and the other a young mother, raped and killed by Burma Army
Karen State, Burma
15 June, 2009
---
 

 
 

Naw Pay, 18, Naw Wah Lah, 17, raped and killed
Headman of Htee To Kaw village and five of his friends captured, feared dead
DKBA orders villagers who have fled to Thailand to return to Burma
DKBA captures KNLA army bases
Ler Per Her IDP camp reported now under control of DKBA and Burma Army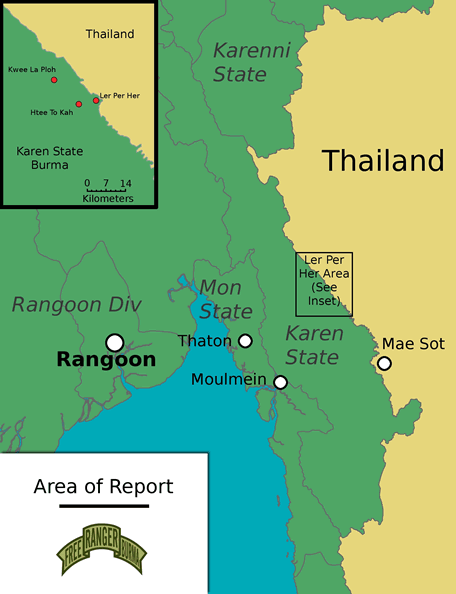 Map showing area of report.
Two teenaged Karen women, one eight-months pregnant and the other a young mother, have been raped and killed by Burma Army soldiers. Naw Pay, 18, was eight months pregnant and Naw Wah Lah, 17, had a six month old baby. The soldiers responsible are from Light Infantry Battalion (LIB) 205, led by Lieutenant Colonel Than Hteh and Captain Kyi Myo Thant. These soldiers are taking part in the ongoing fighting around Ler Per Her IDP camp which is some 15 kilometers from where the rapes and murders happened. When the soldiers arrived in Kwee Law Plo, Lu Pleh township, they found the men had already left because they were afraid of being forced to be porters for the army, making it easier for the soldiers to drag the women from their houses and rape and kill them.
On the same day, Burma army soldiers from LIB 81, led by Major Zaw Myint Oo and Captain Sein Toe Aung captured the Headman of Htee To Kaw village and five of his friends from Takreh township, Paan district. Where they are now is not known and some believe they may already be dead. Every day five people from Htee To Kaw village are forced to work for the Burma Army, cooking food, carrying water and carrying up food and other supplies to the front line areas. Hundreds have fled the villages near Ler Per Her in the last few weeks because of demands from the Burma Army and DKBA to be forced porters in support of the fighting.
The Democratic Karen Buddhist Army (DKBA) which fights alongside the Burma Army, has reportedly ordered villagers sheltering just across the border in Thailand to go back and live under their control. Some villagers reported they were afraid the DKBA will cross into Thailand and force them to go back.
On June 13 the DKBA captured the Karen National Liberation Army (KNLA) base of 21 battalion in Karen State the other side of the Moei River opposite Mae Salit village in Thailand. On June 15 the DKBA captured the KNLA bases of 22 and 101 battalions in Karen State opposite Noh Boh and Mae Plu in Thailand. The Burma Army and DKBA are expected to continue the attack on the KNLA 7th Brigade headquarters and the base of 202 battalion. Latest reports indicate Ler Per Her IDP camp is now under the control of the DKBA and Burma Army.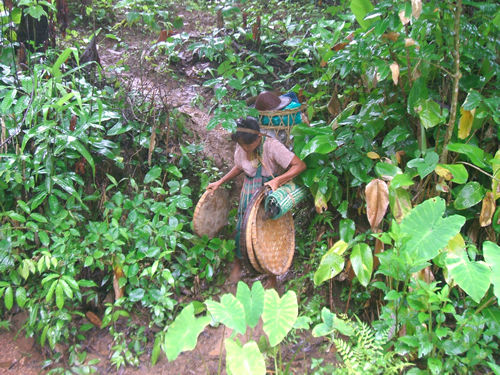 Woman leaving Ler Per Her IDP camp after it came under attack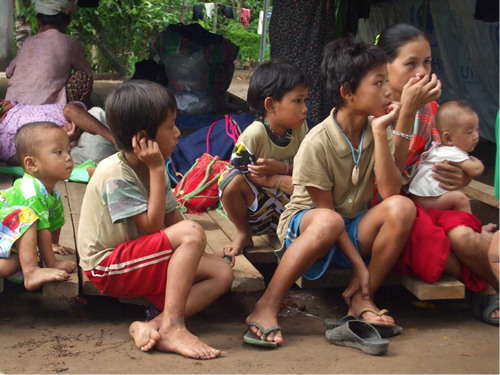 Refugees at Noh Bo temple, Thailand. More than 600 people, mostly women and children are staying at Noh Bo temple, one of the seven sites where Karen IDPs from Ler Per Her and surrounding villages have fled to in Thailand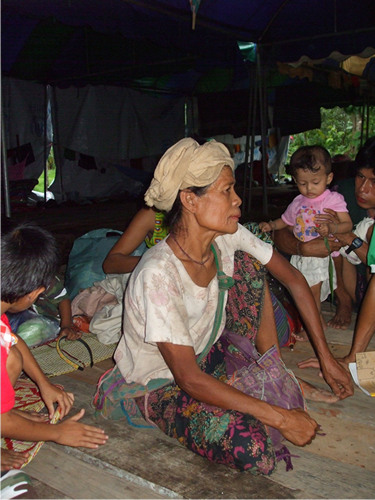 Refugees at Noh Bo temple, Thailand.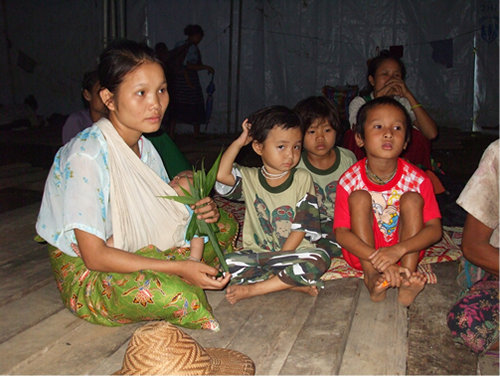 Refugees at Noh Bo temple, Thailand.