FBR REPORT: Girl Gang Raped and Man Has Hands Cut Off by Burma Army soldiers in Shan State
Shan State, Burma
4 June, 2009
---
A 15-year-old girl was raped by 12 Burma Army soldiers in Shan State according to information from the PaO National Liberation Organization. The soldiers from Light Infantry Battalion 426, including battalion commander Nyunt Oo, raped the girl on May 14 in an orange grove where she had been working. She is now in Taunggyi hospital.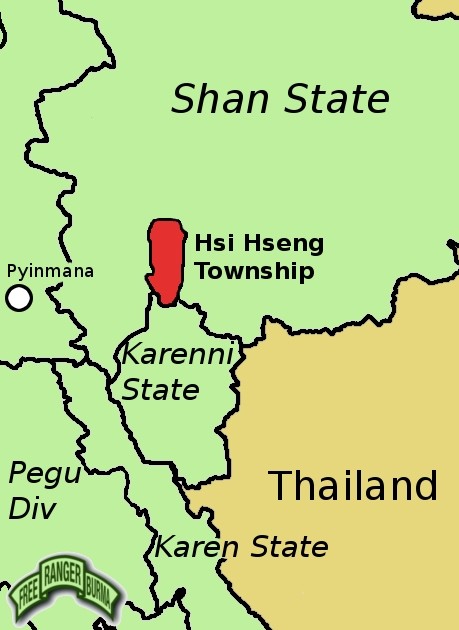 Area of report
Soldiers from the same LIB cut the hands off U Khun Lon, 35, from Kawn Tai village, Tan Yaan village area, Hsi Hseng district, southern Shan state, on May 18. The 13 soldiers forced the villagers together, tortured them and accused them of communicating with the resistance groups. Another man called Win Bo was hit several times with the butt of a rifle and seriously injured. The soldiers also burned down a house and took Win Bo and a further 18 villagers to Chee Ta Lee temple and tied them up. An attack on Burma Army soldiers on May 3 in the same area left 12 of these soldiers dead.
U Khun Main, 43, headman of Pan Nyo village in Sai Khow village area, also Hsi Hseng district, was cut around his head with a machete and beaten with rifle butts on May 23 by soldiers under Captain Sun Aung from the same LIB. He was seriously injured and is confined to his bed according to the PNLO.
On May 20, the LIB 421 led by Major Yae Htut came to Daw Na Kalu village on the Shan/Karenni border and stole from the villagers. They took five and a half kyat Tha of gold (worth approx US$2,619) and 11 silver coins worth about US$70 and 1.57 million kyat in cash (worth approx US$ 1,246). The soldiers also stole animals and told the villagers in East Paung Chaung they could not leave the village between 6pm and 6am.
According to information from the PNLO, since May 24, LIBs 425 and 426 are not allowing the PaO National Organization to go east of the road connecting Ho Pong and Hsi Hseng and are arresting anyone in camouflage clothes.
Some 500,000 PaO live in Shan State. The PNO signed a ceasefire with the SPDC in 1991, but soldiers of the PNLO continue to fight for independence.