FBR REPORT: Torture, Capture, Uprooted Villages and Child Soldiers: Life in Northwestern Karen State
Karen State, Burma
16 May, 2009
---
 

 
 

This report provides information relayed out by FBR teams in the northwestern parts of Karen State, eastern Burma, especially Nyaunglebin District and southern Toungoo District.

Villager tortured when blamed for destruction of bulldozer
Burma Army captures and forces villagers to provide labor and act as minesweepers
Whole villages forced to relocate on Burma Army orders
16-year-old child soldier abducted by Burma Army escapes

 
Villager tortured when blamed for destruction of bulldozer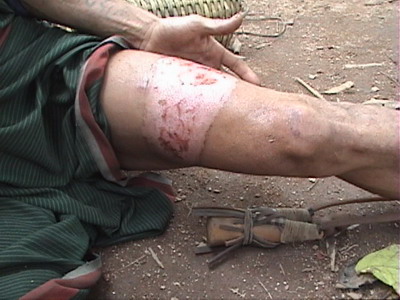 Leg of tortured villager after hot water poured on it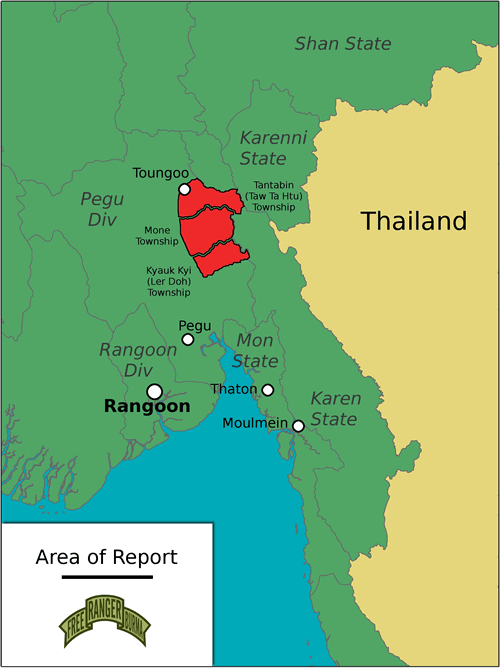 Area of Report
An FBR team spoke to Saw Hla Po (this and other names in this report have been changed for security reasons) who was tortured by the Burma Army after being accused of planting a landmine which destroyed a bulldozer.
The man, 41, from a village in Mone Township, Nyaunglebin District, was seized after a bulldozer was blown up on the Busakee to Tha Pyi Nyut road on April 22.
Later on the same day, he was told by the Burma Army he had three choices – destroy all the village's food crops, burn down the village or pay for the bulldozer (up to 3 million kyats (US$2,400)). Then a pistol was held against the side of his head and shot twice on both sides and then up to six times in front of him. He was then tied to a durian tree and thinking he was going to be killed, he asked to see his wife and children. When they saw his condition, they began crying before being sent away by the Burma Army soldiers. Hot water was then poured on his legs and head and his back was beaten with a gun. He was also smashed in the mouth with a gun by troops whom he said were drunk. The torture began at 1pm and continued until nightfall when he was released.
Capture and Forced Labor
The Burma Army continues to arrest and capture civilians without cause and subject them to forced labor. In early 2009 in this one area alone, the following incidents were reported:
January 5, 2009: IB 53 commander Kyaw Thi Ha captured and tortured Saw Ta Thaw, 21; and Saw Ba Doe, 19; Saw Ku Kaw, 19; and Saw Nay Ku – all of Haw Hta Plaw village – and sent them to Kyaung Bya army camp. They were later released.
March 5, 2009: Burma Army LIB 590 and LIB 599 captured Mg Mg, village doctor for Aung Chan Tha village, and sent him to Ye O'Zin battalion headquarters. On the same day, IB 73 captured Saw Pa Lo of Paw Pi Dor and sent him to their battalion headquarters.
l March 7, 2009: Burma Army LIB 599 captured U Kyi Lwin and his friend, both of Maladaw, while they were looking for a lost cow. The charge was that they did not have permission to venture into the area where they were searching. They remain imprisoned at Ye O'Zin battalion headquarters.
March 30, 2009: MOC 5 led by Kaung Mya arrested four villagers in a grove of betelnut trees – Saw Doh Kain, aged 60; Saw Hai Kler, 30; Naw Hla U, 38; and Naw Thu Lu, 28. They were then forced to walk in front of advancing soldiers as human shields against land mines.
l April 12, 2009: Saw Htee Wah, 40, a village headman; and Saw Tha Ghay, 42, were interrogated under torture by the Burma Army, which demanded that they give away KNU positions in the area. They were tied, beaten, and had boiling water poured on them. They escaped but cannot return to their village.
May 2, 2009: LIB 599 entered Aung Soe Moe village and captured 3 men — Saw Pah Saw Law, Saw Ka La and Saw Nya Plaw Htoo – and forced them to carry supplies to a Burma Army camp.
In addition, here are reported incidents of forced labor in the same area:
March 12, 2009: LIB 590 forced 15 villagers to bring their bullock carts for work for them.
March 13, 2009: MOC 1 forced 10 bullock carts from Ta Kaw Pwa and Wai Swan villages to carry food and military supplies from headquarters at Ton Daw to Mebok camp.
April 4, 2009: Burma Army soldiers forced 18 villagers from Play Hsa Lo to help with construction of a car road.
April 23, 2009: LIB 351 under Commander Shan Nyut demanded 2 new soldiers from each of 9 village areas. Villages that could not send new soldiers had to pay 180,000 kyat (US$144) in place of each person.
At Ton Daw camp as well as at Ye O'Zin battalion headquarters, villagers are forced to farm 500 acres of rice paddy field, from which the profits go entirely to the military. They are also forced to cut firewood and raise pigs and chickens which will be sold to profit the military.
In the lowland areas of Mone Township of Nyaunglebin District, Burma Army LIB 599 and LIB 590 force villagers to work for them every day, especially at times when work is most needed in villagers' fields.
Along the Mone-Kyauk Kyi car road, also in Mone Township, the Burma Army set up eight security huts along the road and nearby villages must send three people for 24 hours a day to each hut to work there. The same villages were forced to help build new camps in the area for LIB 599.
Forced relocation in Nyaunglebin District
One of the ways the Burma Army attempts to crush resistance to its rule in many areas of Burma is by forcibly relocating entire villages. There are multiple reasons why this is done. First, by moving villages closer to Burma Army camps, they can exert more control over the day-to-day lives of the people and further restrict freedoms. Second, those villages become a more convenient pool of forced labor for nearby camps. Third, uprooting communities and forcing them to keep rebuilding over and over again is done in an attempt to weaken the population's will for resistance against the regime, and demonstrate the regime's ability to dictate people's lives.

MOC 1 Headquarters at Baw Ga Ta camp
One example of relocation close to a camp is a group of six villages forcibly relocated to Baw Ga Ta Burma Army camp. The villages were brought together around the new Burma Army camp in the middle. These villagers are regularly forced to help make improvements to the camp and provide additional labor upon demand. In addition, as a result of their displacement, villagers can not farm their fields and often find it extremely difficult just to feed their families. This poverty is compounded by regular extortion by the local authorities. On one nearby road, Burma Army troops charge every bullock cart a 3000 kyat fee to pass, equal to 2 days' wages for a day laborer. A relief team leader says of the villages relocated around Baw Ga Ta camp, "they have to work today to get food for tomorrow". FBR teams were able to provide medical assistance for over 500 people in this area.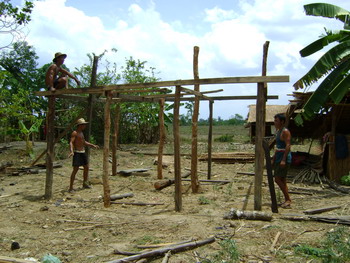 Da Ka La villager rebuilds house after return from relocation site
Sometimes villages that have been relocated are able to return to their original area. This may result from either a decrease in Burma Army presence and scrutiny, the ability of villagers to sneak back without detection, or, in very few cases, permission from the Burma Army to do so. Those who do return must start from scratch, as they usually find their homes gone, their livestock dead or missing, and their fields overgrown. Such is the case for Da Ka La village, which after spending three years in a relocation site were able to return to their home area in April 2009. They returned to find their homes destroyed by Burma Army troops, and now must rebuild everything. They also face food shortages: of the 72 families in the village, only 5 have farms. While in their relocation sites, they often fell into debt paying for medical treatment and still owe those debts.
There are times, however, when a village collectively decides to defy relocation orders in order to keep the limited freedom they have in their existing area. In 2008, the five villages in the Thu Ka Bee area received relocation orders and four complied, but one village refused to move. Said one villager, "Whatever will happen I will stay in my own village, even if I was afraid of the Burma Army I will not run." An FBR team member in the area remarked that "the people in this village are much more united than the other four villages". This parallels a truth evident all over Burma: that a major factor in a community's ability to stand up to external oppression is the strength of its unity.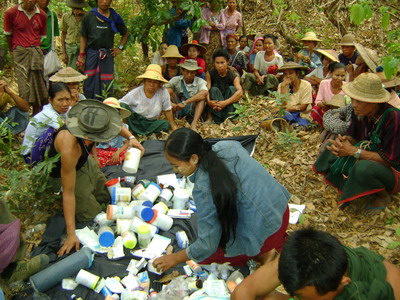 FBR medics provide care at Thu Ka Bee village
16-year-old child soldier abducted by Burma Army escapes
In the midst of accounts of capture and forced labor, one cruel form of this is the kidnapping of children who are then forced to join the military. Such is the case of Myint Myint Win, now aged 16, who escaped from LIB 2XX. He was living near Hla Gone Byone SPDC camp in Dwelo Township, Papun District, when he was forced to enter the army. He was around the age of 15. The older soldiers were very harsh in their treatment and the army officer did not give him his salary. Later on, he escaped and contacted the KNLA. He remembered that his officer told him, "If you dare to run away, you can run. But if you meet the KNLA they will kill you." However, he gathered information from civilians who told him this was false and the KNLA could help him. He believed the civilians and tried to contact the KNLA. On April 26, 2009, he was able to contact the KNLA and arrived to the local KNLA Battalion headquarters, where he surrendered his rifle and three magazines. He was cared for and provided civilian clothes.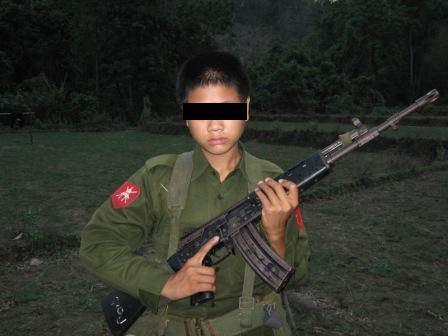 Child soldier Myint Myint Win