FBR REPORT: Kachin told to surrender control over their army and become a border police force under the Burma Army
Kachin State, Burma
8 May, 2009
---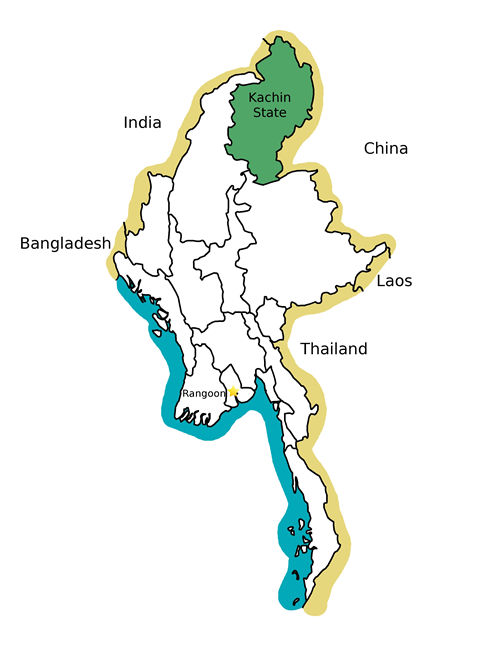 The Kachin Independence Organization was told at a meeting with the Burma Army on April 28 that it has to transfer its military operations into the Burma Army as part of a border guard force. They were told at the meeting with the Burma Army's Northern commander Brigadier-General Soe Win on April 28, that this must be completed by 2010.
The KIO and its armed wing, the Kachin Independence Army, currently controls about 40 percent of Kachin state, mostly in rural areas, but these proposals would massively reduce the territory under their control. The KIO, along with other ceasefire groups, is consulting widely on the proposals before meeting again with Brig-Gen Soe Win on May 20.
Free Burma Rangers joined a representative from Christian Solidarity Worldwide, a religious freedom advocacy charity based in London, on the visit to Kachin State. Together the teams trained a group of Kachin on human rights documentation.
Widespread human rights abuses continue in Kachin State, despite a ceasefire being signed between the Kachin Independence Organization and the SPDC in 1994.
CSW interviewed a Kachin woman who said she had been raped, strangled and left for dead by a Burma Army soldier and despite being able to identify her assailant, was still waiting for justice five months after the event.
FBR spoke to an organization that reports that some 138 cases of mostly women being trafficked in 2006-2009 with 29 cases so far this year. Often young women are promised better jobs in China and are trafficked there, then getting sold on as sex workers. The organization also mentioned the case of an 11-year-old boy being trafficked and fortunately returned to Kachin State.
FBR interviewed a Kachin man who reported widespread land confiscation in the Hukawng Valley. He reported that the Yuzana Company, a Rangoon based business, widely confiscates land and does not offer farmers any compensation. This farmer was able to coordinate a petition in June 2007, signed by 1,300 villagers for the return of 36 acres of wet paddy rice farmland, which he sent directly to Snr General Than Shwe, the Burmese Head of State, and they managed to get their land back. He said some 373 acres of farmland was still confiscated in three townships adjoining the Ledo Road and no-one had received any compensation. He also alleged one Shan man was killed in May 2007 in a dispute with construction workers.
There is also widespread land confiscation around the gold mining industry, Kachin sources telling FBR that the Chinese Northern Star Company was heavily involved in the past. Mercury used to extract gold also has become a major human health and environmental hazard in Kachin State. Several dams are also planned or under construction on the Mali Hka and N'Mai Hka rivers, leading to many being forcibly moved from their homelands.
In Myitkyina, the capital of Kachin State, there is effectively a curfew in place because of random arrests by the police. People are not free to go out after about 9pm because the police often randomly arrest people and seek bribes before letting them free. This is apparently a part of a policy where the police have to show they are pursuing a certain number of cases every month.
Children in schools in areas controlled by the SPDC are not allowed to learn ethnic languages, but have to attend classes in Burmese. There is also an agenda to impose Buddhism on ethnic students, making them recite parts of the Pali Scriptures. The Kachin reported it was impossible to build new churches and very difficult to get permission to repair old churches.
The Kachin FBR spoke to said the election process for local officials was flawed as Kachin delegates did not have equal access to the media and did not have the right of assembly.
Civil society groups such as the Metta Foundation and the Shalom Center are able to operate in Kachin State, and development is able to take place because of the ceasefire. A limited number of International Non-Governmental Organizations are allowed to operate in Kachin State doing work such as on HIV/Aids, development and microfinance.