FBR REPORT: Villagers Forced to Act as Minesweepers as Abuses Continue in Northern and Central Karen State, Eastern Burma
Karen State, Burma
20 April, 2009
---
 

 
 

The Burma Army continues to oppress people across Burma, with this oppression being the most violent in areas under direct attack. In areas such as Tantabin Township of Toungoo District, where more than 8,000 villagers have been displaced since 2006, the violence is both constant and brutal.

Displaced villagers forced to act as minesweepers
Three Karen villagers arrested and held in pit
Karen civilian injured in fighting between Burma Army and DKBA
Continued extortion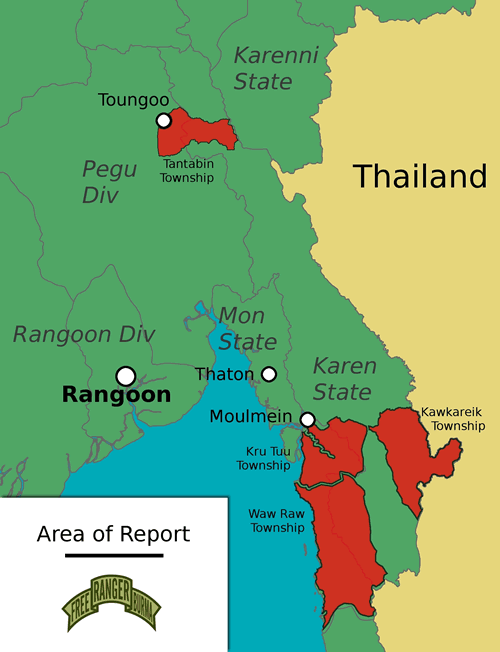 Map of Burma showing area of report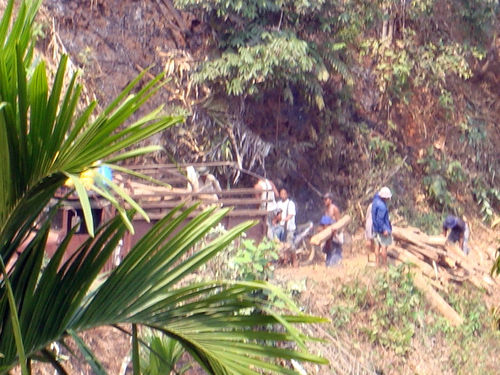 Prisoner porters perform forced labor in Toungoo District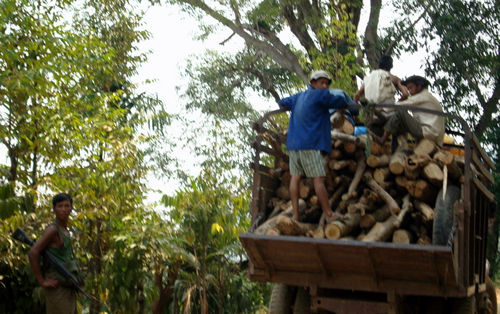 Burma Army soldiers stands guard as prisoner porters depart on logging truck
Villagers captured and forced to act as minesweepers as others are arrested and forced into a pit in Toungoo District, northern Karen State.
On April 2, 2009, the Burma Army from Play Hsa Lo forced villagers in the relocation site there to carry food and walk in front of a bulldozer. The Burma Army often forces villagers to do this in order to explode any mines which may have been placed in the road and to discourage the local Karen resistance troops from attacking.
Similarly, on March 23, the Burma Army arrested four villagers from the Maw Thay Der area. The villagers were forced to walk in front of the patrolling Burma Army troops in order to check for landmines. On March 25, these villagers were then forced to register with the Burma Army and ordered to move to a relocation site. The villagers were from Keh Der, Ler Kla Der, Hu Mu Der and Klaw Mee Der villages in Tantabin Township.
On March 29, the Burma Army went into the area of Kaw Thaw Kho village and burned down a field hut.
On April 3, the Burma Army arrested three villagers, tying them up during the day and putting them in a pit at night. Such arbitrary arrests and torture often are an effort to convince villagers to withdraw their support of Karen resistance troops.
Villager injured in clash as Burma Army and DKBA continue to expand control and extort from villagers in Dooplaya District, central Karen State.
A firefight between the DKBA and the Burma Army on April 1 has left one Karen villager injured. The exchange of fire was reportedly started by the DKBA in Aju village, Kawkareik Township in Dooplaya District, central Karen State. Mu Eh Chaw, 22, was injured. The DKBA is a proxy army of the SPDC and it is unusual for the two armies to fight each other.
On March 30, DKBA and Burma Army soldiers went to Htee Kuh (name changed) village, also in Kawkareik Township, and arrested a 40-year-old villager whose name is withheld for security reasons. He was badly beaten and forced to pay 400,000 Kyats (about US$ 317) before being released.
The Burma Army carries out this extortion at will throughout areas it controls. For example, in March, the villages of Tha May Do, Ku Neh and Wa Ka in Kru Tu Township, Dooplaya District, were each required to supply the Burma Army with a thousand sets of roofing leaves.
On March 15, the Burma Army came to Ta Ku Htee village in Waw Raw Township, Dooplaya District with a bulldozer to make a car road from Ta Ku Htee to Kya In Seik Gyi. Once built, roads allow the Burma Army to more effectively launch attacks and re-supply forward camps, move troops, control the movement of villagers and extort property from them.
The Burma Army has also demanded that eight villages in Waw Raw Township organize defense militias. This requires at least 20 people per village to stand guard in their area, meaning that for set times during the week they are unable to farm their crops.