FBR REPORT: Border Fence and Road Projects in Arakan State Set to Displace Hundreds
Arakan State, Burma
27 March, 2009
---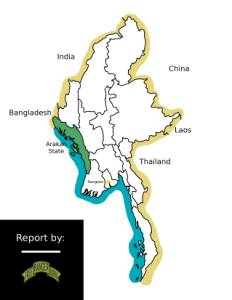 Map showing fence project area (FBR)
The Burma Army is set to build a 240km long fence along Burma's border with Bangladesh and India. The Burma Army Engineer Battalion is involved with this project.
An FBR team leader in Arakan (also known as Rakhine) State has also reported that Burma and India are due to start a National Highway project as part of the Kaladan River development. Compensation for loss of land/property is due to be paid to those on the Indian side of the border, but the team leader reports no such compensation is anticipated for those on the Burmese side. Furthermore, it is expected the Arakan villagers will be forced to provide labor for both projects.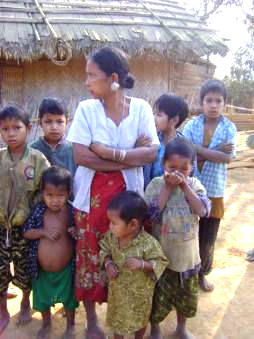 Villagers in Arakan State at FBR rice distribution (FBR)
Arakan and Chin State villagers are still suffering from widespread food insecurity due to the once every 50 years' flowering of the bamboo plant, which has caused a huge increase in the rat population, which in turn devours rice and other food supplies. An FBR team report from February 2009 states that in October last year there were 4,000 Internally Displaced People (IDPs) along the Burma Bangladesh border who needed emergency help. Thousands of other villagers were also suffering from food shortages. It said that in some areas, 70 percent of children left school to try and help their parents generate income. Many villagers are forced to survive on a diet of jungle potatoes, which do not give adequate nutrition. Diseases the team treated during their October mission included dysentery, beriberi, pneumonia and malaria.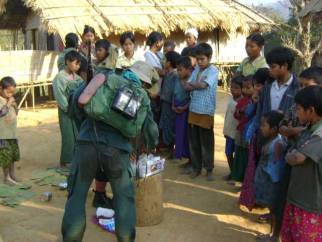 FBR team distributing medicines in Arakan State (FBR)
The report also documents serious human rights abuses including the imprisonment and torture of four villagers from the Paletwa Township area. (This is in southern Chin state. Paletwa Township is considered as part of Chin State but is an area populated by Arakan, Chin and other ethnic groups. Some Arakan consider it as part of Arakan State.) The four were not given food for three days and were only released on February 19.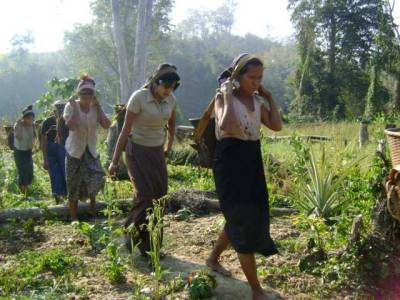 IDPs in Arakan State collect rice (FBR)
The report states: "Due to Burma Army operations, IDPs are in a very bad situation for their security and survival. The number of IDPs [is] continually growing at an alarming rate due to military operations, the food crisis, economic hardship, being forced to move and having their farms taken over for battalion areas and farming. They never have the opportunity to maintain a home or their farms. They also have no access to education or medical facilities. The villagers are unable to harvest rice and have to forage for other sources of food in the forests. Villagers in hiding, for the most part, are unable to travel outside their area of hiding to purchase other necessities, and must make do with what they can find around them. Health is a major concern for people in hiding. Life without shelter or adequate food leads to high sickness and mortality rates due to malnutrition."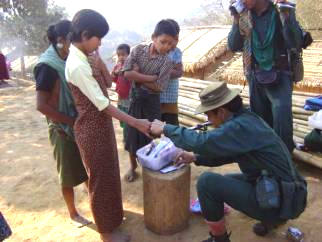 FBR medics test villagers in Arakan State for malaria (FBR)
The report ends with the plea: "We also cannot manage to survive on our own. We need the international community's support and cooperation. That is very important."
The Arakan FBR team also has copies of several demands for money issued by Village Peace and Development Councils (VPDC). These councils are usually controlled by the Union Solidarity and Development Association (USDA), a political tool of the Burmese military. The demands are for taxes on hunting rifles and wood and the provision of people to complete forced labour to construct an army camp. These are in addition to ongoing demands for food and arbitrary taxation. FBR has a photograph of an order given by the headman of the VPDC in Tharyarkum village, Paletwa Township.
This order reads that the village leaders must come to the village and if they don't, then they are to be punished by the Burma Army squadron commander.
Another order dated February 13 from the squadron commander of the temporary Doechawa village camp to the headman of Aumthewa village states: "Anyone who comes to Aumthewa village must give information and 500 Kyat (approximately US$40) to the authority of the village. That money must go to the Village Peace and Development Council. Aumthewa village must provide people for Sarkum (forced labour). If anyone refuses to do Sarkum, the commander of the Squadron must be informed."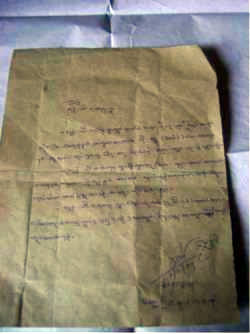 February 13 letter to headman of Aumthewa village (FBR)