FBR REPORT: TWO VILLAGERS SHOT DEAD AND MORE THAN 400 FLEE BURMA ARMY ATTACKS IN WESTERN KAREN STATE
Karen State, Burma
15 March, 2009
---
 

 
 

Two villagers in western Karen State have recently been shot dead by the Burma Army as it continues its drive to dominate and control the people of Karen State.

PLEASE NOTE: This report contains graphic images.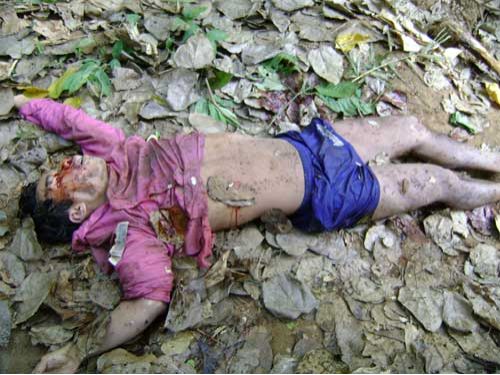 Saw Mu Ra Hai. Shot dead in January.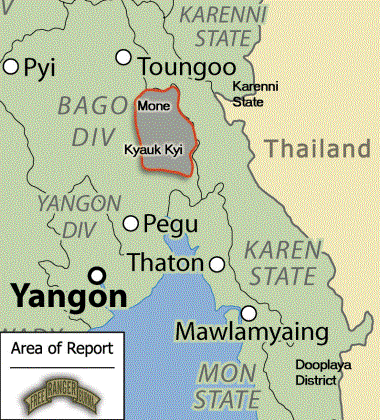 Map of Area Recently Under Attack
MONE TOWNSHIP
On January 17, 2009, Saw Cho Phyo from Aung Soe Moe village, western Karen State, was shot dead while he was on his way to farm his crops. A week later on January 24, Saw Mu Ra Hai, 25, from Saw Ki village was shot dead.
On February 6, the Burma Army fired mortars on the villages of Yu Lo and Play Hsa Lo, wounding four villagers from Yu Lo. On the same day, Saw Maung Kya, 23, from Hsaw Mi Lu village, stepped on a Burma Army landmine at Blah Lay Ko and died immediately from his injuries. The Burma Army often plants landmines around villages it has attacked in a bid to stop villagers from returning to live there or collect their possessions.
KYAUK KYI (LER DOH) TOWNSHIP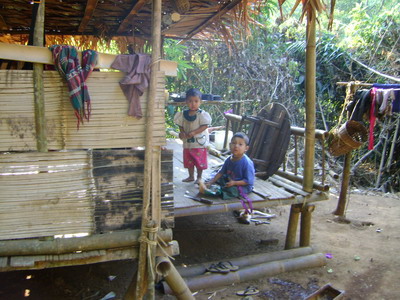 Villagers in hiding site in Kyauk Kyi Township
In Kyauk Kyi Township, just south of Mone Township, the Burma Army moved into the vicinity of Mu Kee, an area with many IDPs, leading them to fear a fresh attack. Between February 11 and 13, two battalions of Burma Army troops did attack in the Kyauk Kyi area, forcing nearly 300 villagers from Keh Der, Ta Kaw Der and Thaw Nge Der villages to flee to the jungle. They returned to their homes, but remained constantly prepared to flee further attacks.
A further patrol on February 15 in Kwi Lah village area at Ka Dee Mu Der and Hti Baw Hta forced these 300 and a further 142 people into hiding. The troops stayed in the area for a few days, searching for the IDPs and their belongings, causing further hardship to the villagers who had already fled numerous attacks.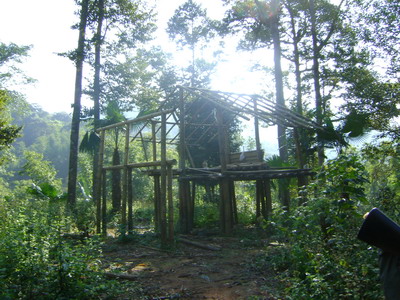 Home burned by down by the Burma Army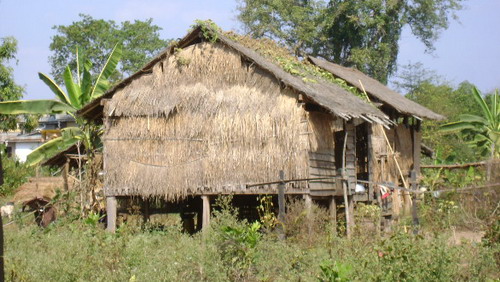 Karen home in forced relocation site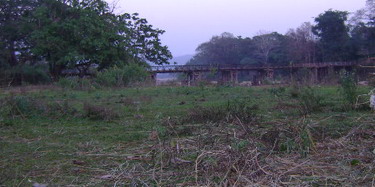 Nathagwin bridge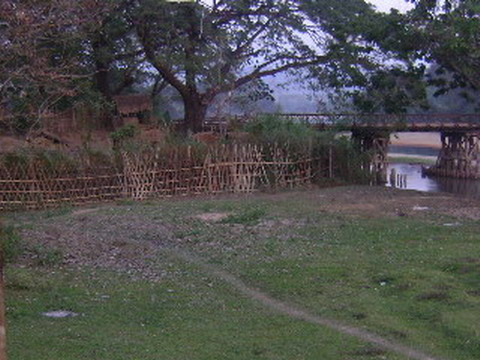 : Burma Army camp next to Nathagwin bridge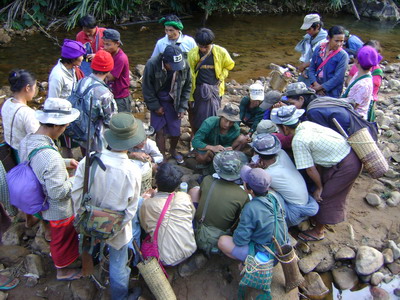 :Teams giving medical treatment in Hsaw Hti Township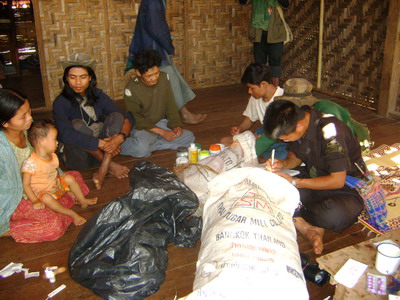 Medics treating sick villagers in Hsaw Hti Township