FBR REPORT: Pictures of Oppression: Attacks, Displacement and Oppression in Karen and Karenni States
Karen State, Burma
19 January, 2009
---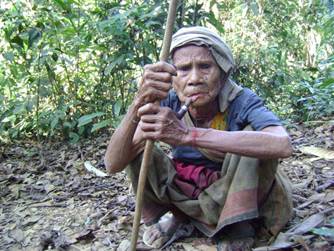 Grandfather in hiding in Dooplaya District as DKBA and Burma Army troops attack
Dear Friends,
Here are some photos and information we are sending directly from the field from our relief teams in areas of northern and central Karen State as well as Karenni State. We hope these photos help to paint a clearer picture of Burma Army attacks and oppression over the last several weeks. All photos were taken in December 2008 or January 2009.
The photos from central Karen State show some of the recently displaced, as villagers are fleeing attacks by the Burma Army and one of its proxy armies, the Democratic Karen Buddhist Army (DKBA). The photos from northern Karen State also show villagers fleeing, in hiding, and relief teams giving medical treatment in the midst of recent attacks in Nyaunglebin District. The photo from Karenni State shows a newly placed Burma Army landmine, one of the main weapons the Burma Army uses to terrorize local populations into permanent displacement.
We want to thank all of you who continue to stand with the people of Burma as they face the attacks and oppression of Burma's dictators.
Central Karen State: Burma Army Attacks in Dooplaya District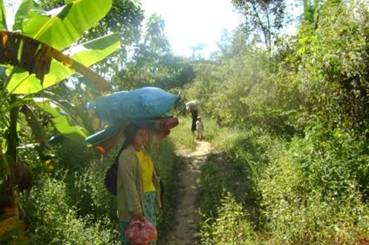 Villagers seek refuge from attacks in Dooplaya District. About 280 villagers have fled attacks in this area.
Burma Army and DKBA troops continue to attack civilians and KNLA troops in central Karen State along the Thai border. Villagers now have fewer and fewer places to hide and, despite the great need, aid is being blocked from reaching them in a timely manner. Hundreds have been displaced, at least one villager has been wounded by DKBA mortar fire, and attacking troops have captured and forced more than 20 villagers to porter loads in support of the attacks. It has been reported that DKBA soldiers have crossed the Thai border and have beaten and molested villagers, making it very difficult for the displaced to find safe refuge, and for relief workers and aid to reach those in need.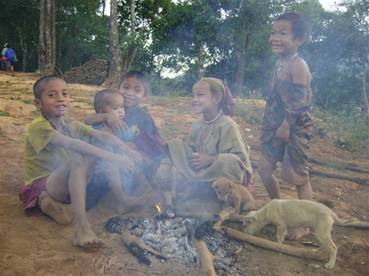 Displaced families moving in search of a secure hiding place in Dooplaya District.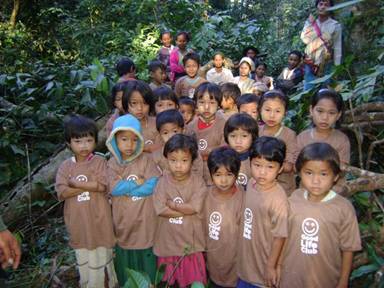 Children recently displaced by DKBA and Burma Army attacks warm themselves by a fire as winter temperatures make life on the run difficult.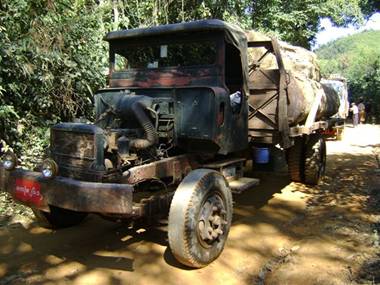 Some newly displaced children gather after receiving relief supplies and Good Life Club t-shirts.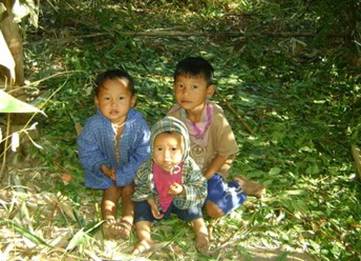 logging truck used by the DKBA and Burma Army in areas of Dooplaya District
A logging truck used by the DKBA and Burma Army in areas of Dooplaya District currently under attack. Access to forested areas for logging purposes and other economic reasons is one motivation for the current attempt to push Karen villagers off their homeland in many areas of Karen State and throughout the ethnic minority areas of Burma.
Northern Karen State: Relief in the Face of Attacks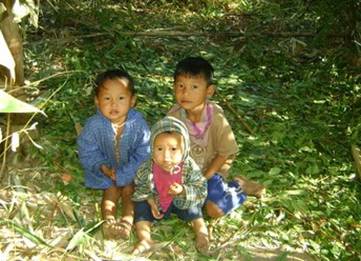 Children hide in the jungle as Burma Army troops seek them out in Kyauk Kyi Township of Nyaunglebin District.
Over 200 Internally Displaced People (IDPs) fled Burma Army attacks in the area of Takawder village in Kyauk Kyi Township, northern Karen State in late December 2008 and Early January 2009. Troops under Burma Army Military Operations Command (MOC) 1 launched attacks and patrols into the mountains of northern Kyauk Kyi Township in search of hiding villagers. Villagers in this area fled multiple times in 2008, beginning when the Burma Army launched major attacks into the villages of Takawder and Thaw Nge Der in April. Villagers were unable to return home as the Burma Army built new camps close to these villages. The Burma Army is now hunting those in hiding in an attempt to terrorize them and force them into areas under its control or into refugee camps. These photos show glimpses of life for those recently displaced and some of the relief that reaches them.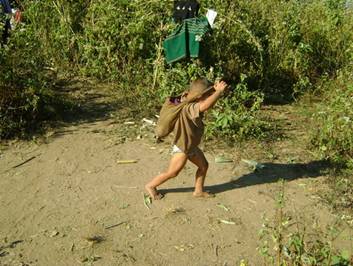 Small Child carries his belongings into hiding as Burma Army troops attack.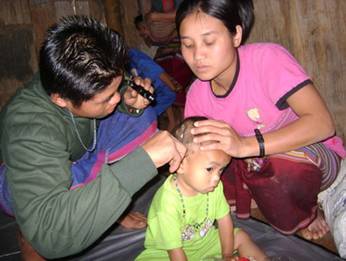 Relief Team medics caring for a sick child recently displaced by attacks.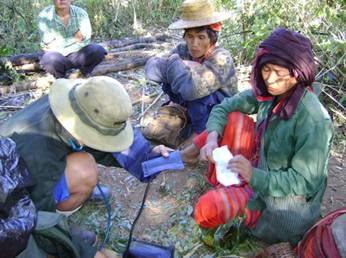 Relief Team medics provide relief for the newly displaced.
Karenni State
In southern Karenni State the Burma Army is trying to terrorize the population into submission by attacking those in hiding, capturing and forcing villagers to act as guides and porters, laying landmines between villages and extorting property from villagers at will.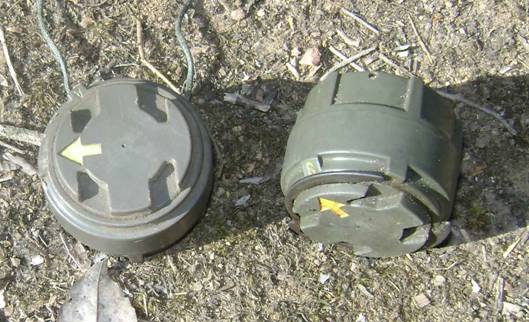 Burma Army landmines (M14 and their copies of M14 landmines) found in January 2009. These landmines are used to terrify villagers into areas under Burma Army control.
On 7 January, Burma Army troops laid six landmines between Bu Koh and Gay Loe villages in southern Karenni State. This tactic, an attempt to scare villagers into Burma Army control and cease all support for the Karenni resistance, was part of a coordinated action by LIBs 430, 428, 337 and IB 135 between 31 December, 2008, and 10 January, 2009. Just prior to this action, in early December, Burma Army soldiers from LIB 337 captured the pastor of Pa Hoe village and two boys from Ka Waw Soe village. They forced them to guide the soldiers during an attack and were later released. During these sweeps for displaced communities and resistance soldiers in January, the Burma Army also laid numerous landmines, and forced villagers to provide food for the troops. In one case, on 6 January, every family from Bu Koh village was forced to give 10 cans of rice to the Burma Army soldiers. The Burma Army remains active in this area.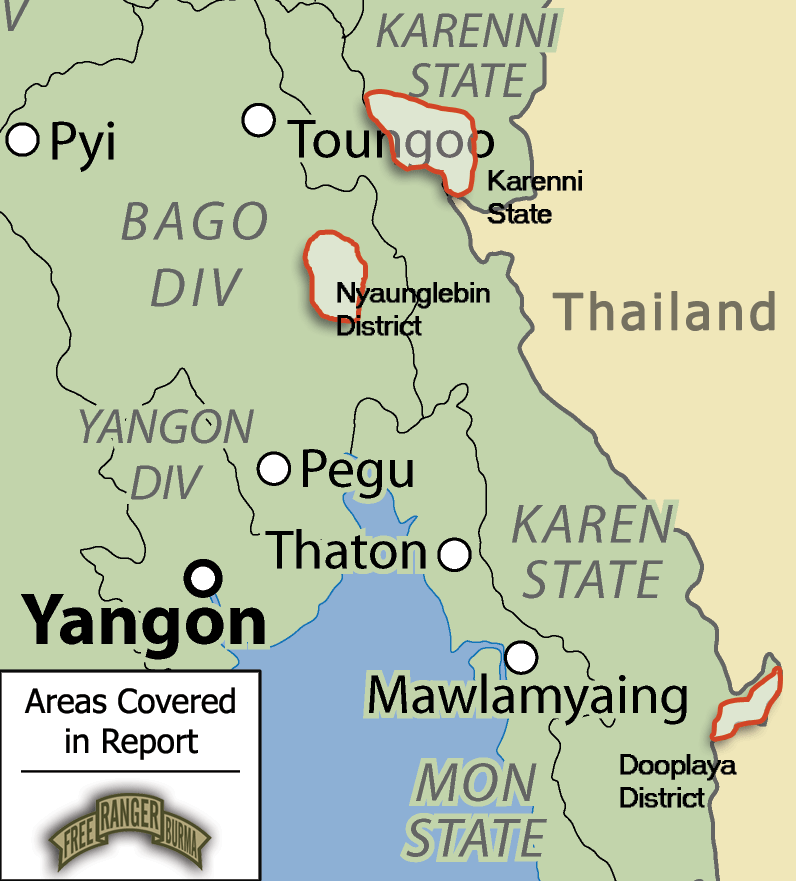 Map of areas covered in report