FBR REPORT: We Tried Our Best to Help them (the British and Allies), Now We Are in Difficulty
Karen State, Burma
30 December, 2008
---
"We tried our best to help them (the British and allies), now we are in difficulty, we wonder if they will help us."
    — WWII veteran, Saw Nya They Mu, 80 years old.
Muthraw District, Northern Karen State, Burma. December 26, 2008.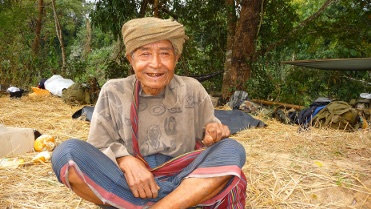 Saw Nya Mu, 80 year old WWII veteran
While on this relief mission we met Saw Nya They Mu who fought alongside the Allies against the Japanese here in Burma. He was smiling and very happy to see us. He thanked us for the help the team gave the people, and told us his story.
"In World War Two, the Japanese invaded here and they killed and tortured us a lot. If they wanted to kill one of us Karen, they just did it.We worked with the British to help them fight the Japanese. They asked us to help them and we did.160 of us joined the British. 80 of us as local militia or home guard, and 80 as a mobile unit to fight alongside the British on their operations.
The British camped here at that mountain over there -The Po Maw Jo– and the British parachuted the rations into that rice field there. There were also British soldiers at many places in the Karen State. They were at Thaw Thi Ko and Kaw Mu Paw, Plako and Kaw Mu Der.
One of us, Saw Tha Na Moo, went out to India, trained there with the British, and parachuted back into here. After the British came we all joined against the Japanese and defeated them.
I knew one of the British Officers well. He was Major Seagrim- Grandfather Longlegs- and was with us all the time. He was captured by the Japanese at Kaw Mu Pwa Der village near here.
As for veterans, only myself and Saw Tha Maw Ye who is more than 80 years old is still alive here. He is up the valley a little way where he had to run after the Burma Army attacked.
As for the British we did our best for them.
We tried our best to help them (the British and allies), now we are in difficulty, we wonder if they will help us."
We gave him a blanket, shirt and some money. We told him that we and many around the world were grateful for his service. We made a presentation and honored him as best we could. He was smiling all the time and thanked us profusely. Then, with a twinkle in his eye and a broad smile, he said, " I must be getting back home, thank you so much again and may God bless you all".
Thank you and God bless you,
A Relief Team Leader, Free Burma Rangers
Muthraw (Papun) District, Karen State, Burma.