FBR REPORT: Villager Killed as 1,971 People are Chased into the Jungle by the Burma Army in Western Karen State
Mon Township, Nyaunglebin District
Karen State, Burma
4 November, 2008
---
.
Burma Army troops from MOC 21 are now attacking with two battalions in northern Mon Township and two battalions in central Mon Township. These attacks have resulted in 12 villages being abandoned, with homes destroyed and looted. The 1,971 people in hiding are in two groups, 983 people hiding in the north and 988 in the south. Due to early warning of the attacks by the local resistance all but one person were able to escape. This one casualty so far, Saw Dah Koo Roo, male, 28 years old, was shot to death as he fled between villages. An FBR relief team is in this area with the people giving medical assistance as well as providing some shelter and blankets for the people in hiding.
The following is a chronology of forced labor and human rights abuses leading up to the attacks as well as information about the attacks themselves.
Also included is a brief report of Burma Army activities in southern Toungoo District which borders Mon Township. Here the Burma Army has captured IDPs who were attempting to carry rice from villages under Burma Army control back to their families in hiding places.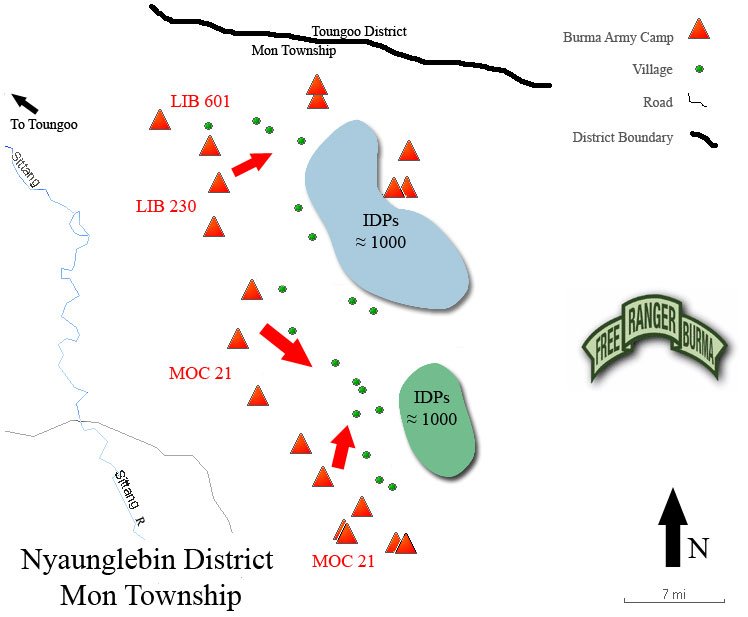 Map of Mon Township, Nyaunglebin District
Chronology of Forced Labor and Human Rights Abuses:
22.10.08 — BA LIB 53, under the command of Maung Toa (commander of Kyo Bin Zeik camp) forced the villagers in the Naung Bo village tract area to rebuild old buildings in his camp and to repair the fence around the camp. Each household had to provide one man without pay.
Also, on the same day, LIB 599 commander Aung Lung Sein (commander of Wai Ga Na camp) forced villagers in the Tat Kon village tract to rebuild old buildings in the camp and to repair the fence around the camp. Again, each household had to provide one man without pay.
The camp commander of Kyaung Bya camp, Myo Thi Ha Kyaw, demanded 7000 kyat from each person who built a hut in a rice field to stay in while farming. This applied to every villager in the Tat Kon and Naung Bo village-tracks areas.
25.10.08 — Soldiers from MOC 21, LIB 601 shot and killed a villager, Saw Dah Koo Roo, 28 years of age, in the Play Kee — See Daw Ko area.
26.10.08 — SOC commander Htun Nyot entered Saw Mee Lu and took 62 villagers and forced them to rebuild Ler Doh to Tha Byo car road. The car road security commander demanded food from the villagers, including rice, salt, fish paste, chicken, and alcohol. The villagers have been required to feed the soldiers providing car road security every day until the date of this report.
27.10.08 — Soldiers from MOC 21, LIB 601 shot at villagers at a farm near Plai Kee. No one was injured.
28.10.08 — The Villages of Ti Ko, Ta Gaw Pu, Saw Ka Der, and Tot Al Pay Der report that rats are destroying many of their rice farms. This is rice harvest season.
29.10.08 — Burma Army soldiers, belonging to MOC 21, LIB 320, (around 200 men) divided into 2 columns. The first column left from Ka Mu Lo Camp and entered Ka Wor Ko village at around 5:00 in the evening. They destroyed houses and food at that village. The villagers of Ka Wor Ko, as well as villagers from Thet Baw Der, Kyauk Pya, Saw Tay Der, Ker Po Der, Na Htee Ko, Kaw Baw Hta, Play Kee, Play Pa, and Ka Ser Kor Hti were able to flee into the jungle and are now in hiding.
The second column of Burma Army soldiers from LIB 320 left from Maladaw Camp and entered Wah Kee market at 10:00 in the morning. There they proceeded to destroy shops and food. While Wah Kee itself is not a village, it is a major market for the villages in the area.
The villagers, as they are hiding in the jungle, are not able to harvest their rice (this is rice harvest season).
30.10.08 – In the plains area, LIB 599, Battalion commander Myit Chi, forced 10 Tha Go villagers and 5 bullock carts to send food from Toe Daw Camp to Kyo Bin Seik Camp. In the meantime, LIB 599 and IB 53 demanded food from Naw Bo and Tha Go villagers in order to feed their patrolling troops. This has been going on since October. The food given by the villagers without payment is worth 250,500 kyat.
31.10.08 — BA LIB 320 stayed in Ka Wor Ko village, destroying the rice fields, the rice stores, the gardens, and stealing everything that they can find.
IB 60 moved into Thet Baw Der, fired their weapons, and found a secret store place of farm materials. They took the materials, and destroyed the store house. The materials taken by IB 60 were: 1 musket, 4 bottles of cooking oil, 5 machetes, 5 packets of seasoning, and 4 packs of dry tea leaves.
1.11.08 — BA sent 2 more troops from Ka Moo Lo to Ko Ka Hta village to reinforce their position there. They also sent 1 troop to Maladaw, roughly 70 men.
Villager Shot:
Burma Army MOC 21 soldiers shot and killed Saw Koo Roo (also called Saw Ko Tro), a 25-year-old Play Pa villager, at 9 a.m. on 30 October 2008. He was on his way to give his friend in a neighboring village a message when the Burma Army soldiers shot at him as he tried to run away. He was hit in the right leg. They captured him five minutes later and then the Burma Army soldiers shot him twice in the head. His death leaves his 24-year-old wife, Naw Sa Pi, and child (almost one year old) alone.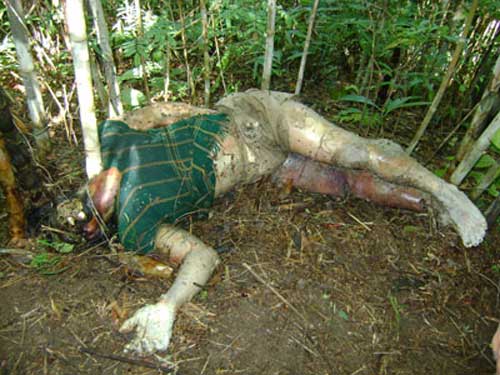 Saw Koo Roo (also called Saw Ko Tro) was killed by the Burma Army in Mon Township on 30 October 2008
Saw Koo Roo's father is Saw Tu Tu and his mother is Naw Dar Plow.
Background:
On 30 October 2008 two columns of Burma Army troops entered Play Pa village, Mon Township, Nyaunglebin District and killed Saw Koo Roo. The rest of the villagers managed to escape and are now in hiding. On 31 October 2008 another column entered Ker Po Dor village. On 1 November 2008 Burma Army troops returned to Maladaw, Ler Wah Day,and Ka Mu Lo camps. The Burma Army operation has now displaced over 1,900 people.
Toungoo District Report:
30.10.08 — Soldiers from MOC 10 captured several villagers who were carrying rice back from Kaw They Der (under the control of the BA) to their hiding spot in the jungle. It is currently unknown how many villagers were captured.
Thank you, God bless you.
Free Burma Rangers