FBR REPORT: New Attacks Force More than 250 People To Flee Across Border, Troops Kill Three Villagers
South Central Karen State, Burma
28 October, 2008
---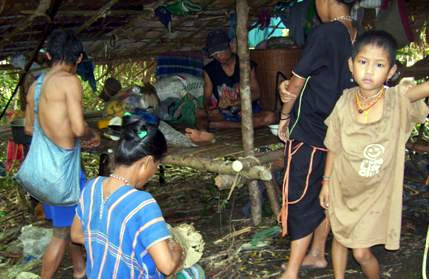 Villagers In Hiding after being displaced in Pa-An District. Oct. 2008
.
Three villagers and one Karen National Liberation Army (KNLA) soldier have been killed in attacks by the Democratic Karen Buddhist Army (DKBA) and the Burma Army; more than 250 people from Dooplaya District have fled into Thailand and set up a temporary camp next to the river at Ta Kaw Bi Klo, some 50 miles south of Mae Sot.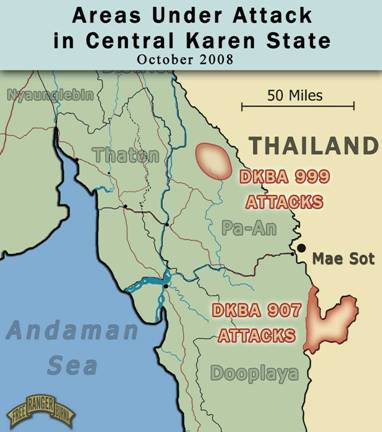 Areas Under Attack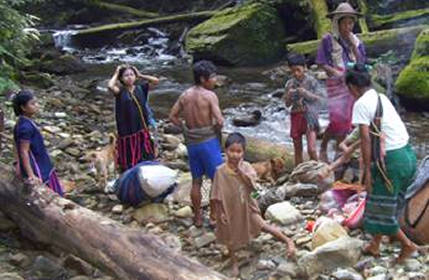 Displaced Villagers resting as they flee attacks in Pa-An District. Oct. 2008
The DKBA burnt houses in Ker Law Lu and Htee Per Kee villages and four villagers were injured by newly-planted landmines. Families from these villages have fled to a hiding site for Internally Displaced Persons in Karen State.
Troops are targeting villagers, shooting anyone they find and stealing or destroying any property they come across. More than 14 houses, 26 corn barns and four primary schools were destroyed at the villages of Khaw Poe Kee, Paw Bu Lah Hta, Oo K'ray Kee and Kaw La Mee. The soldiers are also leaving behind landmines, making it very difficult for villagers to return and salvage food or belongings.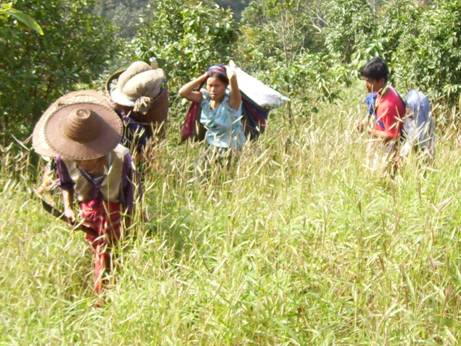 Villagers fleeing attacks. Pa-An District, Oct. 2008
.
Many villagers now in hide sites are without food and all are in urgent need of safe drinking water, medicine, plastic sheets, blankets, mats, mosquito nets and warm clothes. The main diseases they are at risk from are malaria, diarrhoea, dysentery, respiratory and urinary tract infections. A Free Burma Rangers team is in the area buying food and essential supplies.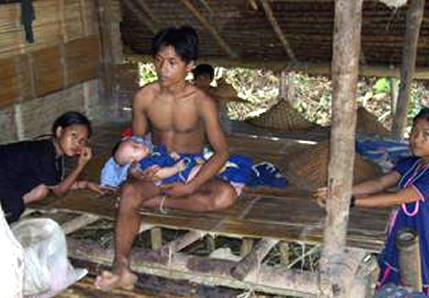 Family in hiding in Pa-An District. Oct. 2008
IDPs are now being squeezed between attacking troops and the Thai border and it is expected the attacks will continue. Due to border sensitivities and travel restrictions, it is now difficult for IDPs to receive relief materials. Naw Xx Xxx Xx, aged 29, said: "When I left the village I could not carry much. I have to carry my three month old son in front of me and my husband carry some stuffs and my oldest son. We cannot carry much clothes and food. It was very difficult for us. We could not get our plastic sheets. The DKBA and Burma Army took all of our stuffs. We came through rain for three days. Now, my older son feels sick. I do not know how to deal with that, because we have no medicine."
Another villager interviewed, Saw Xx Xxx, aged 39, said, "They shot everywhere before they entered into the village. If they capture you they will kill you and if they capture me they will kill me. We dare not to stay there, so we fled. They said they will kill everyone that would like to be friends with the KNU [Karen National Union]. We do not want to live under their control, because they force us to do many things for them. We do not have time to work in our farm. We are simple farmers. We farm corn and we sell it. When we get money. . . we buy rice."
The DKBA and Burma Army, with about 150 troops, began this operation at the beginning of October in Pa-an District and moved south into Dooplaya District, with the aim of controlling the population and gaining access to coal and zinc mines as well as rubber and teak trees.
In a spreading pattern of increased militarization across Karen State, the DKBA and Burma Army are forcing villagers to build new camps in Khaw Thoo Kee, Htee Per Wa, Paw Nya Ku Day, G'law Gaw and Paw Bu Lah Hta. Those living there are not allowed to go out to their fields for more than three days without getting DKBA permission. If they want to stay longer they have to pay a 10,000 Kyat (US$10) fine.
FBR's sources state that Bla To, K'law Gaw, Khaw Poe Kee, Paw Bu Lah Hta, Kaw La Mee, Kaw Hser, Oo K'ray Kee, T'kaw Ka Klo, Hser Poe Pu, Nya Peh Hta, Maw Kaw Kee and Nya Peh Kee near Maw Kee, Kawkareik were all attacked by the DKBA.
Additional Information and Analysis of these attacks can also be found from the Karen Human Rights Group at http://www.khrg.org/khrg2008/khrg08b11.html