FBR REPORT: Villager Killed and More than 200 Displaced by New Attacks in Central Karen State.
Karen State, Burma
14 October, 2008
---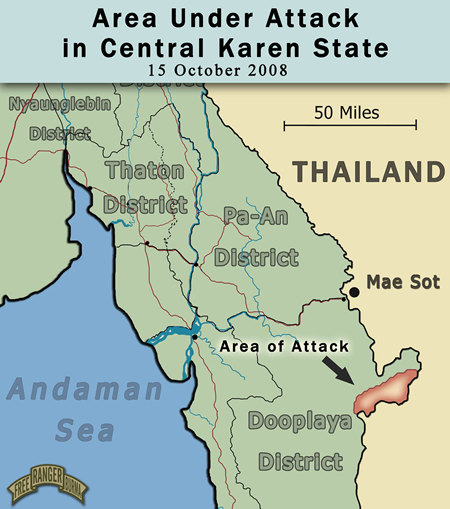 Map of Areas Under Attack
Attacking DKBA troops have killed at least one villager, displaced more than 200, burned homes and destroyed food in new attacks on villagers and KNLA positions in Dooplaya District of Central Karen State. It is even reported that they have crossed into Thailand during these attacks and captured a KNLA soldier. The attacks are being conducted by DKBA battalions 907, 906 and 333, and are being supported with Burma Army weapons, ammunition and supplies. Troops are targeting villagers, shooting anyone they find and destroying all property they come across. The soldiers are also leaving behind landmines after they pass through an area, making it very difficult for villagers to return and salvage destroyed food or belongings.
DKBA battalion 907 is leading the attacks and is lead by commander Blah Na. Battalion 333 troops here are under the command of Thay Way and Battalion 906 is under Yah Sah.
IDPs are now being squeezed between attacking troops and the Thai border. It is expected the attacks will continue along the border, and to the south and west of the area currently under attack. Because of border sensitivities and travel restrictions, it is now difficult for IDPs to receive relief materials. An FBR team is in the area helping villagers and will continue to report on the situation.
Partial Chronology of Events:
1 Oct. 2008 — DKBA troops burn down 4 corn barns belonging to Saw Pla Per Moo, Saw Nay Tha Moo, Saw Paw Jet, and Saw Me Wa from Blah Toe village. Two corn barns were later burned in Kaw Hser village, belonging to Saw Ah Lah and Saw Jet Tha.
2 Oct. 2008 — DKBA troops burn down 20 corn barns belonging to residents of Meh Klaw Khee village. The barns were owned by Saw Tu Nu, Saw Pa Thu Be, Saw Me Nyat, Saw Baw Ler, Saw Pu Lu Soe, Saw Po Doh Kwa (2 barns), Saw Ma Leh Pa, Saw Thaw Thee Pa, Saw E'Si, Naw La Hay Moe, Saw Tay Ei, Saw Thoo Dah (2 barns), Saw Thoo Du, Saw Kyi Pa, Saw Tu Yin Moo, Saw Htoo Kha, Saw Ter Per Ler, and Saw Hser Gay Ler.
3 Oct. 2008 — at 5:30 pm DKBA troops killed Saw Daw Naw Poe, a villager from the area of Meh Klaw Khee. They later burn down a home belonging to Saw Pa Da Ray.
6 Oct. 2008 — five homes are burned down in Gah Law Klu village.
7 Oct. 2008 — eight homes and one primary school are burned down in Da Kaw Ka village.
10 Oct. 2008 — DKBA troops kill Saw Tha Pwee, a KNLA soldier, in Wah Kay Klo village, and then proceed to destroy pots, clothing, soap and other items that had been sent to the village as relief for the villagers.
11 Oct. 2008 — DKBA troops burn down homes and leave landmines in village close to the Thai Border. A Thai soldier is wounded by a landmine when he steps on it as his unit inspects damage to the area.