FBR REPORT: Relief Efforts Continue for People in Hiding. Update from Mergui-Tavoy District (Tenasserim Division), Southern Karen State
Mergui-Tavoy District (Tenasserim Division), Southern Karen State
August 20, 2008
---
Photos and report sent out directly from the field by FBR teams in this area.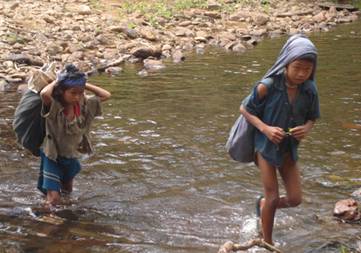 IDP children flee attacks in Kaser Doh Township of Mergui-Tavoy District. Jan, 2008
5,000 Karen people remain in hiding as a result of the Burma Army's long-running and brutal campaign to forcibly expel villagers from their homeland in Mergui-Tavoy District. Relief efforts continue in the face of Burma Army oppression as 46 Burma Army infantry battalions and 12 artillery battalions continue to try to subjugate the people of this area. 50,000 Karen now live under Burma Army control in forced relocation sites and thousands more have fled to refugee camps across the border in Thailand. The Burma Army patrols daily and attacks against the displaced are still common, with the last attack coming in January 2008, destroying homes, food, belongings and displacing over 430 people from five hiding sites. Forced labor, extortion and extrajudicial punishment are also commonplace for those living under Burma Army rule. In the face of this oppression, villagers and those displaced work together to survive and improve their lives. local organizations, the Karen resistance, the Karen National Union (KNU) and relief agencies also do their best to address the many security, dietary, health, and other needs of the people here. This report is an update on the current situation in Mergui-Tavoy District, the area making up the southernmost tip of Burma.

Map of Mergui – Tavoy District, 2008
Burma Army Activity and Abuse
There are now 46 Burma Army infantry battalions stationed in this area; under Military Operations Command (MOC) 8, MOC 13, MOC 20 and the Coastal Command. Active displacement of ethnic minority populations has continued through frequent attacks and the continuous expansion of camps and roads. While not at the scale or intensity of the activity occurring in northern Karen State, the operations are part of the same strategy to eliminate all opposition and active resistance, to cement military rule, and feed the SPDC's military machine through extortion, forced labor and heavy taxes.
In November 2007, Burma Army LIBs 404, 557, and 285 left their respective camps at Htoo Ler, Waythoray, and Bawkato to attack IDP populations hiding in Kaser Doh Township. LIB 404 attacked the area of the Lermu hiding site, burning down homes and destroying property, but withdrew the same day after being engaged by the Karen resistance. LIB 557 attacked the Maw Dta Thoo hiding area, where IDPs had already fled. LIB 285 attacked the area of Htee Law Kee and Htee Po Lay, but did not arrive to either hiding site.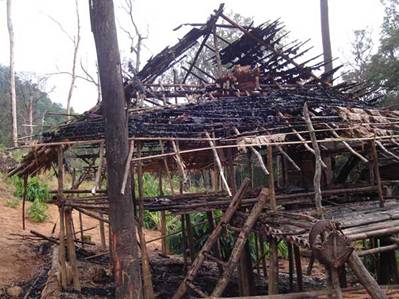 Burned home in Htee Po Lay hiding site. Jan, 2008
In early January 2008, two columns from LIB 557 once again left their camp to attack IDPs in the Htee Law Kee and Htee Po Lay area (N 13° 23′ E 098° 47)'. This time the troops reached the site burning down 11 homes, and destroying over 150 baskets of paddy rice along with other belongings. No one was injured during the attack as all villagers had received early warning and were able to flee.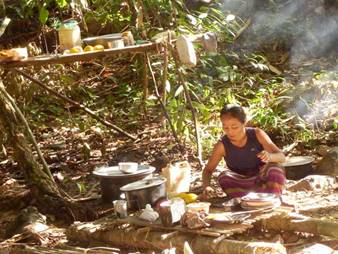 IDP cooking food at makeshift kitchen while in hiding. Jan, 2008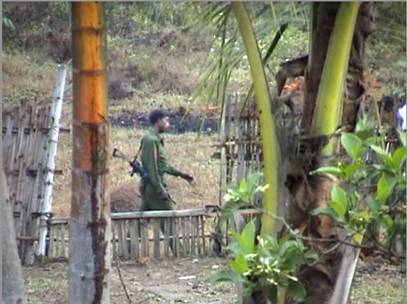 Burma Army soldier patrolling in Htoo Ler relocation site, Mergui-Tavoy District. Jan, 2008
In November 2007, the Burma Army captured, severely beat and interrogated two villagers from a relocation site, allegedly as repercussions against villagers following an attack on one of their forward military camps by the local Karen resistance. The following is the testimony of Saw Bpee Bpee[*], one of the men who was captured and tortured.
"As soon as I arrived there they beat me continuously. I asked them to stop beating me but they told me that "we cannot stop beating you because you are a stubborn man", then they started to beat me again. They accused me of supporting the armed group who attacked their outpost. I told them I do not support any armed group and they told me that Karen people tell too many lies, and then they beat me again. They beat me even though I was telling the truth, so I asked them to kill me but they did not kill me. They covered my head with a plastic bag and beat me continuously. In the afternoon at 3:00 PM they give me only rice to eat, it's like we feed the dog, They asked me to eat but I told them I couldn't eat, then they said that they would kill me but they did not kill me. They beat me till my back was broken and my chest was pain. Then they sent me to militia's quarter guard and detain me 3 days….. There were five rods with which the Burmese Army beat me. They covered my head with a plastic bag eight times, one hour per time till I couldn't breathe; when I tried to breathe they would take off the plastic bag and then cover me again. They covered my eyes, poured water on me and covered my head with plastic so I was unconscious one time. Five soldiers rotated to beat me and the commander interrogated me. They sliced my back then they pour with salty water, it's very hot, but I cannot do anything only suffer with it….. Now, I cannot do the hard work because my chest is still in pain. There are four people in our family. Because of the pain, now I cannot do anything so my wife has to do alone for our family."
Small-scale military road and camp construction continues in Mergui-Tavoy district, although the Burma Army has not engaged in any large scale militarization efforts in the last several years. There are also several projects which, if begun, may make life more difficult for many of the villagers in this area. One is the planned highway linking Kanchanaburi in Thailand to Tavoy on the Andaman Sea. The highway will likely lead to further displacement as communities living close to the proposed route are made more accessible to attack by Burma Army troops. Another is a proposed second pipeline running along the current pipeline from the Andaman Sea, across northern Mergui-Tavoy District and into Thailand. Both projects will likely involve forced labor and maltreatment of local communities as this has occurred in all similar projects previously conducted by the Junta.
The Burma Army is also reportedly planning to build a new air-defense position at Ying Gwe Taung
Health, Livelihood and Education for IDPs
IDPs in this area face severe challenges when it comes to their health, nutrition and educating their children. Years of persecution and attack by the Burma Army have prompted most IDP families to live in very remote areas, often in small groups of two or three families, as a defense against discovery and coordinated attacks. While this isolation improves their general security situation, it makes traveling to areas offering medical services very difficult for those who are sick, and complicates access by mobile health workers. Malaria is a huge problem in many communities, making up about 20-25% of all medical cases faced by FBR medics in this area. Others include Dysentery, acute respiratory infections, worms, skin diseases and numerous other treatable, but often unnecessarily progressed, illnesses.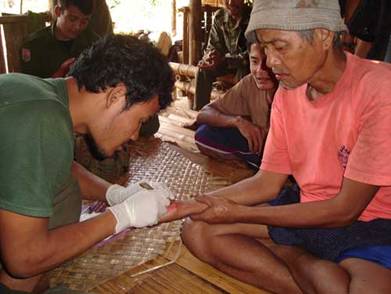 Free Burma Ranger medic providing medical treatment. Jan, 2008
This isolation also means that communities find it very difficult to combine their resources to support a school and teacher for their children. Even in areas where there may be a school, many children live too far away to attend regularly. This is often compounded by the need of many families to use all available hands in the production or procurement of sufficient food for survival. The combined effect of frequent displacement, primitive farming techniques, rugged terrain, and exposure to both weather and pests make feeding themselves very difficult for most IDP families.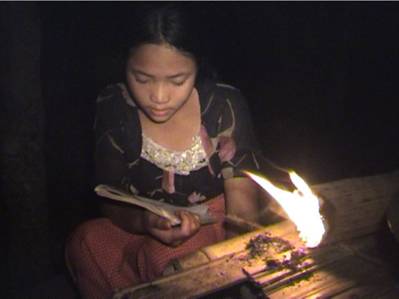 IDP girl studying at night while in hiding. Jan, 2008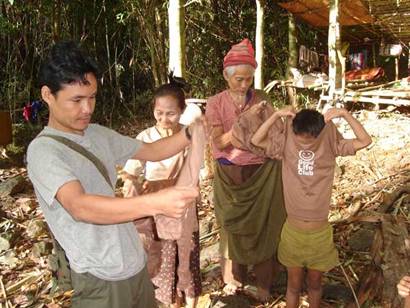 FBR Relief team member distributing Good Life Club t-shirts. Jan, 2008
Forced Relocation
Approximately 50,000 Karen people (11,000 families in 130 sites) are now living in Burma Army forced relocation sites in Mergui-Tavoy District. Not only have these people been illegally forced to move from their homes, under threat of physical violence or imprisonment, but they are now subject to regular and unchecked forced labor, extortion, and physical abuse. As illustrated in the case of Saw Bpee Bpee, physical abuse occurs absent of any judicial process, carries with it no repercussions for those responsible, and often results in further cruelty to the victim's family or community as they carry the weight of medical bills and lost productivity.
Forced labor is especially common during the dry season when the Burma Army is sending supplies to its camps and improving roads. Villagers are neither paid nor fed while providing this labor, and must reimburse the Burma Army for any property that is missing or even partially destroyed during transport. Those living in relocation sites are also frequently forced to give a portion of their rice crop to the Burma Army, which proves very difficult for villagers already struggling to survive on insufficient land and under severe travel restrictions.
The health situation in relocation sites is often not much better than that seen in hiding sites. Reports from the relocation sites claim that some sites have clinics, but that the Burma Army will often force the villagers to provide the money and materials to build the clinic, including a large sign claiming that it is a government-provided clinic, then fail to stock the clinic with medicine. This has also been reported for schools and "libraries" where the buildings may exist, having been built on the backs of forced labor, but the books and other materials are absent.
All farmers living under Burma Army authority, whether in a forced relocation site or on their own land, are subject to the Burma Army's nationwide forced bio-fuel planting program.
Message from a Mergui-Tavoy District FBR Relief Team Leader
"The IDPs who benefited from the medical treatment, encouragement, and clothes distribution were happy when we visited them. Our trip was both moral and physical support for them when they were in trouble. They thanked the team for coming and helping. That's why our team thanks the organization and people who support us with medicine, finances and documenting materials. The funds were enough for the whole trip.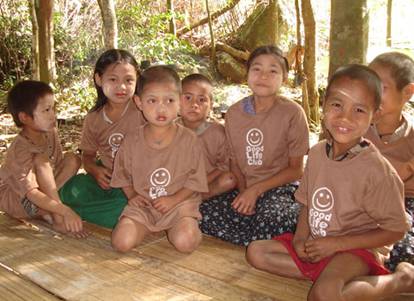 Displaced children, from Htee Po Lay village, after receiving GLC shirts. Jan, 2008
All of the team members regretted that we were not with the IDPs in the first suffering situation. Some of the information we collected in this report was already released, but we hope the pictures will make the information stronger.
The IDPs in this area still have many difficulties, especially IDPs at Hteepolay and Lermu. Almost all of their paddy rice they harvested this year was destroyed and burned by the Burma Army troops. They will really face a food problem in the coming rainy season. Some IDPs are trying to move to the Thai border to overcome their food problem. Health, education and security are the second problem for them. We would like request those who support us to kindly consider and support the needs of these IDPs in the future".
-Message from a local Mergui-Tavoy District Relief Team Leader
Thank you and God bless you,
The Free Burma Rangers
[*] name changed for security reasons