FBR REPORT: Oppression: Burma Army Militarization and the Use of Proxies in Eastern Shan State
Shan State, Burma
July 23, 2008
---
. .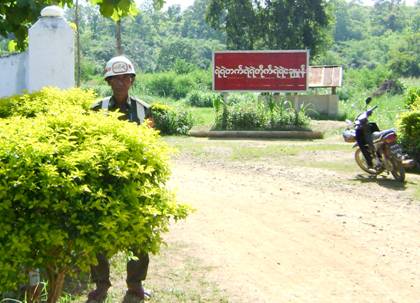 Burma Military Police outside of IB277 military base in Mong Ton, Eastern Shan State.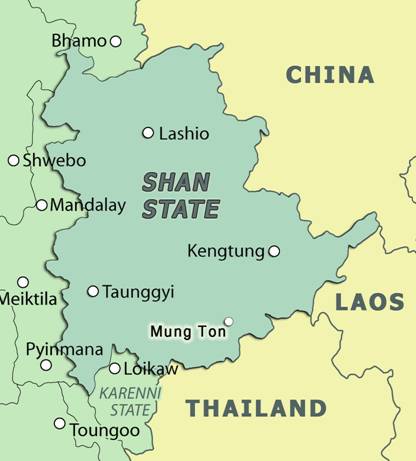 Map of Shan State
This report follows the most recent FBR relief mission to southern Shan State. The photos were taken by relief teams during the mission in June and July, and they provide a small glimpse into the lives of the people in the area near Mong Ton, Eastern Shan State. The three pictures of Burma Army camps show the militarization that has taken place as the Burma Army attempts to dominate all areas of life. There are five Burma Army battalions in Mong Ton Town alone. This significant development in military infrastructure is in sharp contrast to the lives of ordinary villagers here, who continue to live in deprivation, with little access to health care or education. Poverty is compounded by the Burma Army's use of forced relocation, often along ethnic lines, as a means of smothering potential opposition to its rule. A large influx of ethnic Wa into this area after their forced relocation from northern Shan State has lead to the displacement of local populations and has put a significant stress on the local environment. This, combined with the use of drug-fuelled proxy armies, such as the Untied Wa State Army (UWSA) has limited community development and has aggravated already existing ethnic tensions. In this area the Burma Army also uses the Lahu ethnic militia in its attempt to dominate the Shan and further divide the ethnic peoples. The Burma Army suppresses all political rights, which if achieved might allow the people here to begin solving some of myriad economic, social, and ethnic challenges that make life here difficult.
Despite these difficulties, the hardiness and determination of the people here is encouraging, and is a testament to the inability of tyranny to overcome the human spirit. To hear laughter emerge in unison from a gathering of many ethnicities and tongues, all while in the midst of their oppressor, foretells a time when the people of Burma will live together in freedom.
The five new Shan FBR teams did a good job providing care for people of all ethnic groups; Shan, Lahu, Lisu, Palaung, Pa'O and Wa, in this very complex part of Eastern Shan State. Thank you for your prayers and for the very real help you have provided to people in Shan State and throughout Burma. We also want to thank the Shan pro-democracy resistance (SSA), for making this mission possible.
God bless you,
The Free Burma Rangers
Forced Labor
The Burma Army and UWSA both continue to use forced labor to transport supplies and expand military infrastructure, often carrying loads, fetching water and digging trenches. People must pay a fine of 5,000 Kyats if they are unable to provide this labor. Villagers are generally forced to provide labor four times per month.
People in Mong Ton township has been ordered to grow castor oil and rubber plants. This is a Junta imposed project to produce bio-fuels. Villagers have no choice whether or not to participate in this program. Note: 1,200 Kyats is equal to $.1.00.
Narcotics:
Burma is the number two opium producer in the world (after Afghanistan), and one of the leading producers of amphetamines in South East Asia. The Burma Army is involved in the production and trafficking of narcotics and works closely with proxy forces such as the UWSA in order to profit from the trade in opium, heroin and amphetamines. In the Mong Ton area, opium is cultivated and it is not only processed for trade abroad it is also consumed by some local villagers. Opium addiction is taking a terrible toll in this area, sometimes involving the entire family; father, mothers and children. (See photo of addicted Lahu family below).
To begin to approach the solution to this problem, democracy must be restored, ethnic rights and the rule of law upheld and human dignity defended.
Extortion:
Note: The following information came from Oo Zaw Win of Pa Cheh village and Mo Aung Tin* of Paung Lin village who were interviewed on June 30
*names have been changed
After they harvest their rice villagers must sell four baskets of paddy rice from each acre they farm to the Burma Army at a price of 1,500 Kyat per basket. The market price for each basket in this area is 5,000 Kyat. If the farmers are unable to grow enough rice on their own farms, they must still provide this rice to the Burma Army. This means that they must purchase the rice from a market and then sell it to the Burma Army for the reduced price.
In the Mawk Si Li area, which is southeast of Mong Ton, the Burma Army taxes villagers 14 tins of rice for every acre they farm. Farmers usually are able to harvest about 80 tins per acre, but this can vary greatly. Villagers are also forced to transport this rice from their fields to the Burma Army camp without being paid for their labor or gasoline.
In July 2007, Burma Army battalion, IB 225 took over 15 acres of rice field from Pa Cheh villagers, along with additional land. Villagers also reported that all of the land the Burma Army has used to build its offices in Mong Ton, over 20 acres, was confiscated without reimbursement. Some of the confiscated land was also sold to a business.
The Burma Army has also continued to force villagers to grow Castor Oil plants. Each family in the Mong Ton area must grow 1,500 plants in their garden.
In Paung Lin village there is only a monastery school. In Pa Cheh there is a primary school up to 4th standard. The teachers at the school are the wives and family members of soldiers in IB 225. The headmaster or headmistress at the school gets a salary of 40,000 Kyats (US $33), per month. Teachers get 25,000 Kyats (US $21), per month. Every student must also provide one small tin of rice and 200 Kyats per month for their teacher.
The clinic and library in Pa Cheh are nothing more than a building and signboard. If villagers get sick they have to go to Mong Ton for treatment.
IBs 225, 519, and 277 have been patrolling in the Pa Cheh area. Almost every evening, 12 soldiers come to spend the night at the monastery in Pa Cheh. Villagers who own motorcycles must now get registrations for their motorcycles, which cost about 200,000 Kyats. The price for a new Motorcycle is around 500,000 to 600,000 Kyats. Motorcycles that are found without registration are being confiscated. In addition to this tax, every vehicle that travels on the main road through Mong Ton is taxed 30,000 Kyats.
When asked about the referendum in May, the villagers said, "We never saw a ballot. The SPDC official just came to our village headman and went back."
Images: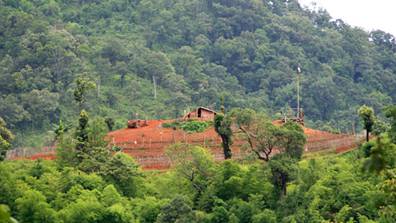 United Wa State Army (U.W.S.A.) position south of Mong Ton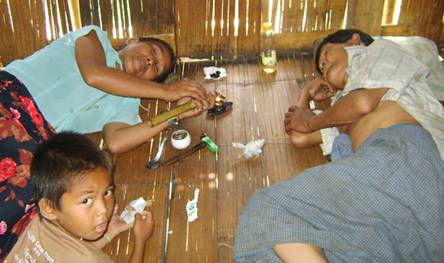 Father, Mother and Son, gather to smoke Opium in a Lahu village in Eastern Shan State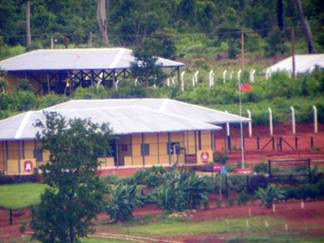 Burma Army IB66 camp, close to Na Kaw Mu village, South of Mong Ton.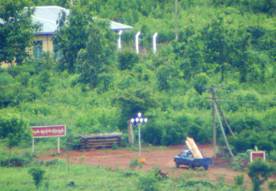 >Vehicle moving building materials to Burma Army IB 66 camp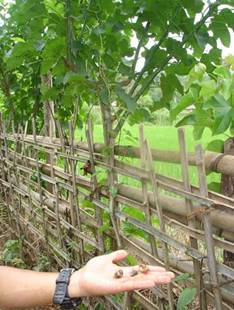 Castor oil plants that the Burma Army has forced villagers to grow in many areas of Shan State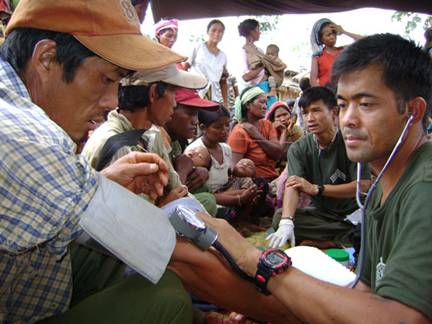 FBR medics providing treatment to Shan, Wa, Lahu, Lisu, Palaung and Pa'O villagers in Eastern Shan State
Thank you again and God bless you,
FBR