FBR REPORT: Woman Loses Leg, Man Dies, Others Maimed as Burma Army Systematically Lays Landmines and Attacks Villages
Karen State, Burma
20 June, 2008
---
 

 
 

Images of land-mine victims, children in hiding

Burma Army Attacking and Displacing over 1,000 Karen People on 4 June 2008

While continuing its attacks in northern Karen State, the Burma Army has been increasing its attacks against people in south-central Karen State

 
Report Summary:
The following are new reports sent from relief teams documenting the ongoing attacks on the Karen people in the mountains northeast of the cyclone-affected area.
The Burma Army is attacking, burning villages, laying landmines and displacing people in eastern Burma. These attacks are part of an ongoing operation to completely dominate and control the ethnic peoples of Burma. This report contains new photos and information sent by relief teams helping people who are under attack now. Thank you for your assistance to the over 40 FBR relief teams bringing help, hope and love to attacked and displaced people in the war zones of Burma.
(Note: Thanks to all of you who also help support the cyclone victims. Although Burma's dictators continue to obstruct aid to cyclone help is getting through.)
Thank you for all of you who are helping the victims of the cyclone, the victims of these direct attacks and all of the people of Burma who are victims of the oppressive regime.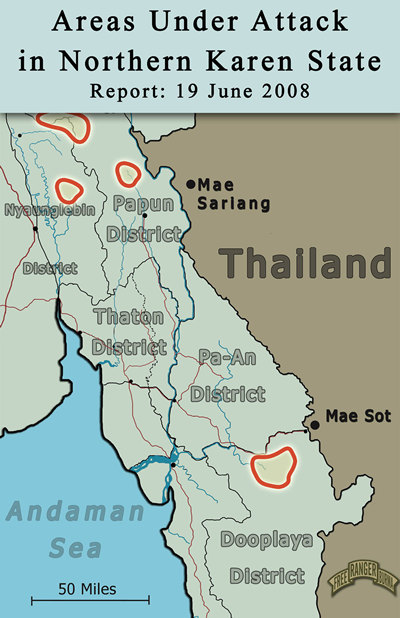 Map of Area of Attack in Karen State
Toungoo District, Karen State, Eastern Burma: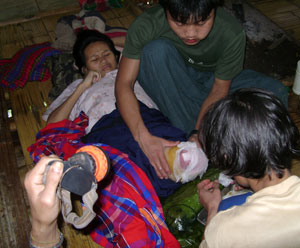 21-year-old girl loses her leg after stepping on a Burma Army landmine on 3 May 2008.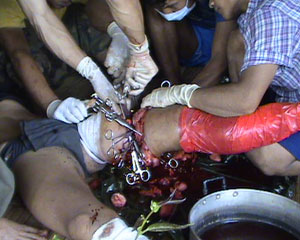 Man who died after stepping on a Burma Army landmine on 22 April 2008.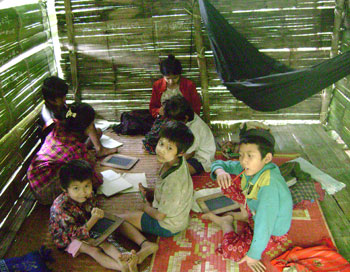 Children in hide site school while Burma Army patrols search for them. June 2008.
Muthraw District, Karen State, Eastern Burma
Burma Army Attacking and Displacing over 1,000 Karen People on 4 June 2008.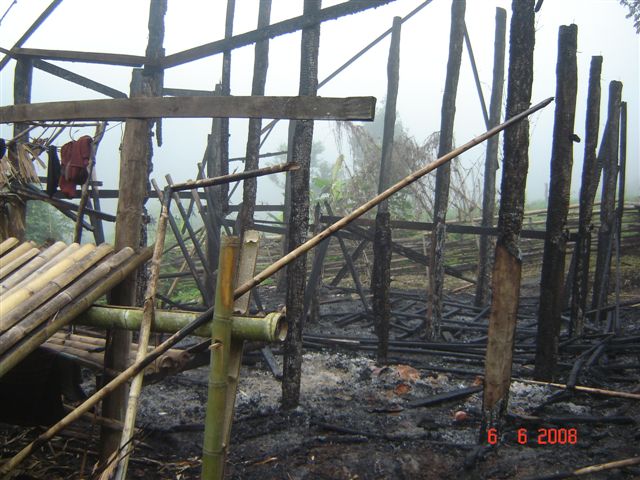 Home burned in Te Mu Der village on 4 June 2008. photo: 6 June 2008.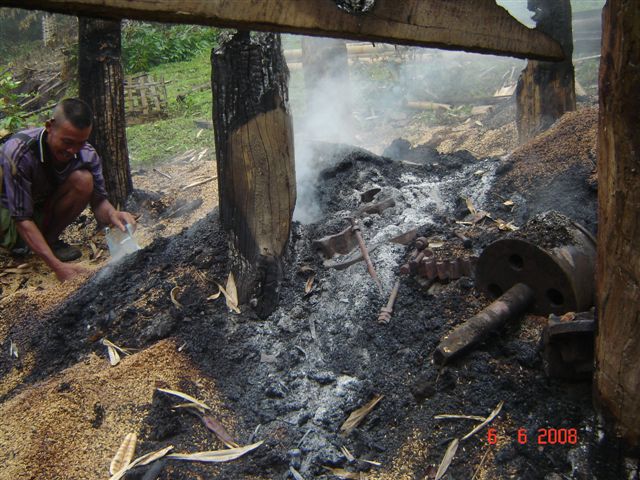 Burned home in Te Mu Der Village.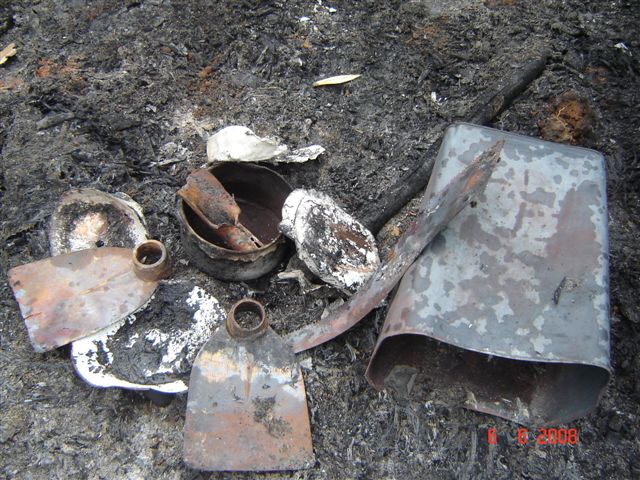 Destroyed household and farming implements.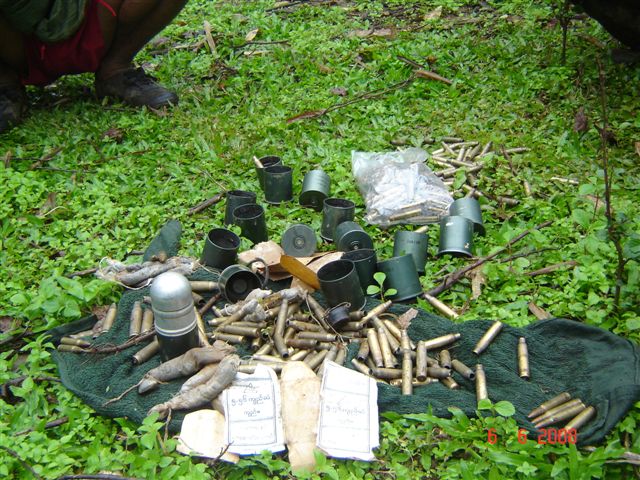 Bullets and shells left behind by the Burma Army after the attack.
The Burma Army has just attacked the village of Te Mu Der, Papun District, Northern Karen State. Burma. Over 1,000 people from this village and the surrounding villages fled. The rains have started and for the families in hiding it is miserable. Three villages were displaced; Te Mu Der, Tha Kaw To Baw, and Tha Da Der.
On 4 June between 7am – 8 am, Burma Army battalion IB 240 attacked, drove the people out of the village, burned rice barns, looted homes, badly damaged the church and destroyed farms in Te Mu Der village in Papun District. Te Mu Der is located at N18 25 05 E 097 17 15, just south of the Kyauk Kyi- Hsaw Hta road in north central Papun district. Villagers ran with what they could carry and the Burma Army looted what they left behind. The Burma Army fired mortars into the village and one round hit the church, damaging the roof. They then entered the village and at the church destroyed one piano, 2 amplifiers, two speakers and stole one guitar. They went through the village, looting and destroying property and fences. The troops burned down three rice barns with over 300 tins of paddy rice belonging to Saw Kyaw Soe 45 yrs, Saw Kwe Lay Moo, 43 yrs and Saw Gwey Hu, 55 yrs. The troops have now pulled back. Two FBR teams are in the area providing assistance. This new attack follows other attacks outlined in last weeks report from this northern area. Please see: "Burma Army Attacks Villages in Eastern Burma as they Obstruct Relief to Cyclone Victims", at www.freeburmarangers.org.
We are now sending more medicine, plastic tarps to shelter the families in hiding, food support and blankets.
At this same time the Burma Army is also attacking Karenni villages three days walk north of Te Mu Der (the attacked Karen village described above).
On 4 June, Burma Army battalions LIB 429 and LIB 531, both under the command of Myo Win Hlaine entered Bwa Doh village. They captured a villager, Saw Ko Blu, 33 yrs old. They beat him until his head split open and shot at another villager who ran away. The Burma Army units then proceeded to Kwa Kee as another battalion, LIB 530 arrived at Kay Kaw village one and a half days walk northwest of Kwa Kee.
Dooplaya District, Karen State, Eastern Burma:
While continuing its attacks in northern Karen State, the Burma Army has been increasing its attacks against people in south-central Karen State.
These photos were relayed at out by the Dooplaya FBR team. They show burned homes and survivors who have fled.
 
Villagers in front of home burned by Burma Army. Dooplaya District, Karen State
 
This is Saw Par Baw, who was tortured and head torn open by Col Tun Tun Htway of the Burma Army 30 May 2008. Col Tun Tun is the same commander who tortured to death the 13 year old boy Saw Wilbur Htoo and 25 year old Saw No Maw. (See earlier report.) Dooplyay district , Karen State.
Thank you and God Bless you,
Free Burma Rangers