FBR REPORT: As Thousands Suffer the Effects of Cyclone Nargis, Villagers Suffer Continued Brutality by the Burma Army in Karen State
Karen State, Burma
9 May, 2008
While survivors of the deadly cyclone in the Irrawaddy Delta and coastal regions of Burma struggle for survival, and the international community struggles through the obstruction and mismanagement of the SPDC to assist them, villagers in many areas of Karen State continue to be the target of the Junta's brutal policy of terror and oppression.
The Burma Army has launched numerous attacks against villagers and IDP populations throughout northern Karen State. Hundreds have been displaced, villages and homes have been burned down and villagers killed as the Burma Army has stepped up its efforts to terrorize villagers into hiding in Toungoo District. Hundreds have also fled in Nyaunglebin and Papun Districts as the Burma Army mortars villages, captures and kills villagers, and continues to expand its network of military camps into the farms and villages of the local Karen people.
Villagers in the mountains of Karen State now hope for respite from the attacks as the SPDC turns its eyes toward the crisis along its coast. In the meantime, families are now trying to rebuild their shattered lives and prepare for the next wave of destruction from the troops of a brutal and oppressive dictatorship.
Nyaunglebin District: Hundreds in hiding as the Burma Army launches attacks and builds new camps.
Kyauk Kyi Township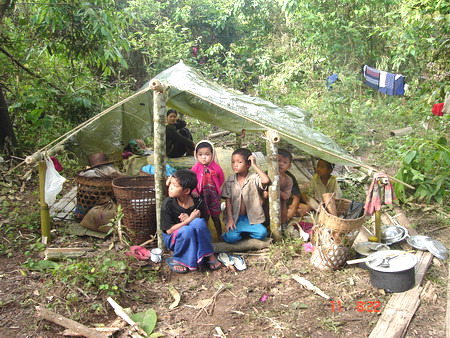 IDP children from Takawder, hiding after the Burma Army attacked their village in April. 11 April, 2008.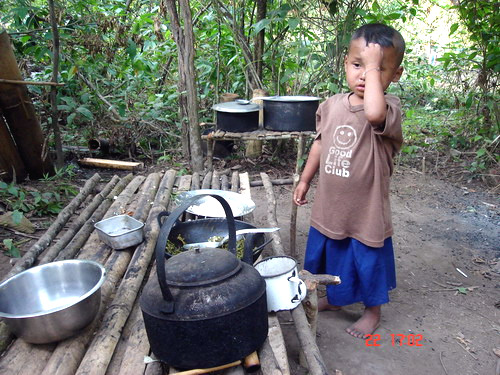 Photo: IDP child from Thaw Nge Der. 22 April, 2008.
Fresh attacks have forced hundreds into hiding as the Burma Army has recently stepped up its efforts to brutalize and make life impossible for villagers in areas of Kyauk Kyi Township, Nyaunglebin District. Beginning in early April, Burma Army troops attacked villages south of the Kyauk Kyi —— Muthey — Hsaw Hta road, forcing 34 families, with more than 220 people, into hiding.
The villagers are now unable to return to their homes and farms as the Burma Army has constructed four new camps in the area. A number of families have lost all of their food stores as their farms and storage barns are located very close to the Burma Army and they do not dare return to retrieve their property. LIB 276, which is under MOC 21, built one camp, located at lat/long N18 19 05 E096 56 45, which is very close to Takawder village. Three battalions from Div. 101; IBs 252, 253, and 257, have constructed camps at lat/long N18 16 58 E096 55 30, N 18 14 58 E096 54 58, and N18 16 35 E096 55 29. These camps mean that it is now impossible for villagers from Thaw Nge Der to return home. The commander of IB 252 is Lt. Col Myo Shwe. IB 253 is under the command of Soe Kyaw Aung, and IB 257 is commanded by Myo Khaing Shwe.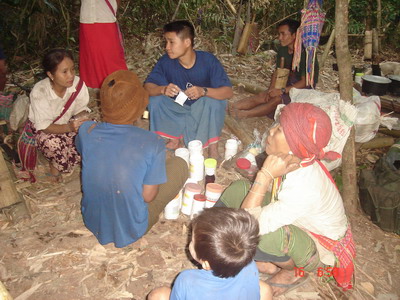 Photo: Ta Pwaw Lay Ko IDps. 16 April, 2008.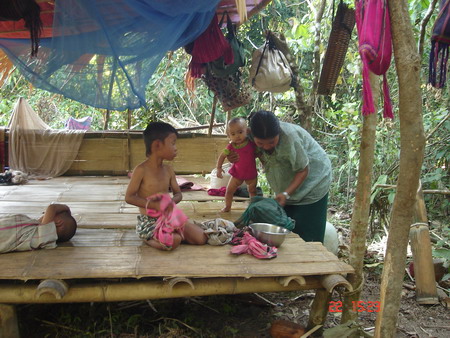 Photo: Thaw Nge Der IDPs. 22 April, 2008.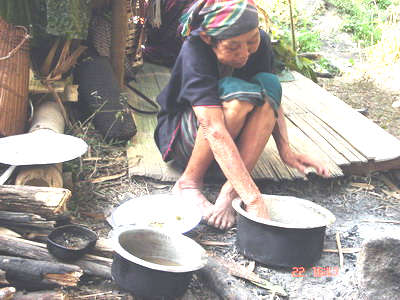 Photo: Thaw Nge Der IDP. 22 April, 2008.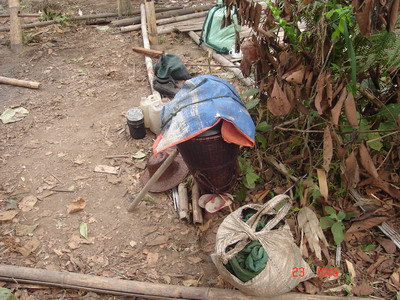 Photo: Belongings packed and ready to move. 23 April, 2008.
Mon Township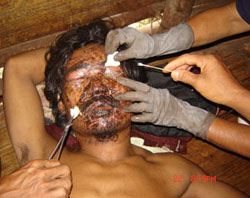 Photo: Saw Maung Aye, injured by a landmine on 19 April, 2008. photo 22 April.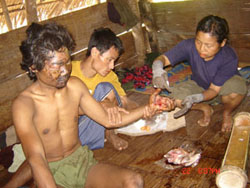 Photo: Saw Maung Aye, being treated for his wounds at a KNU clinic. 22 April, 2008.
On 19 April, 2008 Maung Aye, from Takaw Bpwa village, was injured by a landmine which exploded in his face. Villagers in this area are now prepared to flee, as Burma Army troops have become increasingly active in the area. Villagers at risk of attack in the area include Thay Na Hta, Nya Mu Kee, Kyauk Pya, Nwa Lay Ko, Theh Baw Der, Ka Gaw Ko, and Na Tee Ko.
This photo shows villagers who were forced by the Burma Army to collect bamboo, thatched roofing, and wood to improve the Burma Army's camp at Aung Lung Sein.
This photo shows villagers who have been forced to act as "village security", having to build and man huts at regular intervals along roads between villages and army camps. The villagers are not compensated for this labor, and if villagers are unable to provide this labor, or are caught sleeping on duty, the local Burma Army units punish them with fines.
Burma Army shoots and kills one man; two men step on Burma Army landmines.
On January 21, 2008, the Burma Army shot and killed Saw Di Ka Ri Mu, 25 years old. He was from Sawkader village. No other details are known at this time, but this report will be updated as new information comes in.
On 30 March, Saw K'Lu Htoo was forced with other villagers to walk in front of a Burma Army bulldozer building a road. He stepped on a landmine and was sent to Tantabin hospital. He is from Mawko village. The troops involved are from MOC 21. And on 23 March, Saw Wah Lay Mu stepped on a Burma Army landmine that had been laid near his garden. He is from Aung Soe Moe village. This report will be updated as more information comes in.
Forced Labor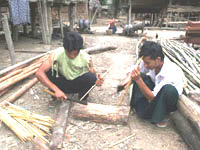 Photo: villagers forced to help build Aung Lun Sein Camp. April 2008.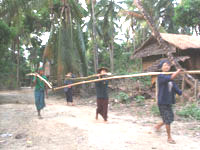 Photo: villagers forced to help build Aung Lun Sein Camp. April 2008.
On 8 April, Burma Army LIB 599, stationed at Aung Lung Sein camp, forced 35 villagers to build fences around the camp. On the same day, the LIB 599 battalion commander forced villagers from 10 villages to take security along the car road from the Kyun Pin Seid camp to the Aung Lung Sein camp. The villagers were forced to build 8 security huts along this road and then required to leave three men at each hut. During the day, one man was required to gather information from the local village headmen. At night, Burma Army soldiers would check on the villagers at the security huts and, if they found anyone sleeping, require one viss of chicken from them. The villages forced to provide people for labor and security are: Wei Swan, Ta Kaw Pwa, Aung Ling Sein, N'Pwa Daw, Shan Lay Si, War Do Kla, Hor Hta Plaw, Koni, No Nya La, Si Pa Ler and Kyun Pin Seik. Additionally, villagers near both Aung Lung Sein camp and Kyin Pin Seik camp are forced to cook, carry water, clean and take care of the animals for these camps.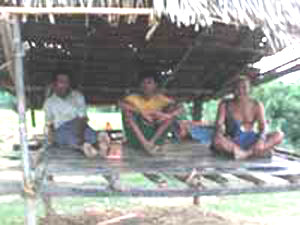 Photo: villagers forced to man security huts. April 2008.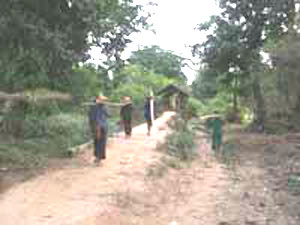 Photo: villagers forced to provide materials and labor. April 2008.
On March 22, 2008, LIB 590 forced villagers to build a new camp. The villagers were from Myaung Oo, Hti To Lo, Paw Pi Dor, Aung Chan Tha, and Si Pin Tha villages. They were forced to work every day until they finished and were under the guard of five soldiers and nine militia men. They finished on 31 March. Saw Moe Win, the 2nd Battalion commander, was the officer in charge.
On March 24, 2008, the Burma Army forced 21 villagers to build a road from Kamulo village to Ler Wah Day. The villagers were forced to follow the bulldozer, cutting trees and constructing the road. Nine villagers were from Yu Lo, two were from Ka Mu Lo and ten were from Maladaw. These are three Karen villages in the area; the villagers were told they had to do the work or pay 40,000 kyat and find a replacement. None of the Burmese villages in the area were required to provide labor. These troops also burned these villagers' gardens, their main source of livelihood. The troops are from Burma Army MOC 21, under TOC commander Chit Oo and intelligence captain Thein Tite.
On 6 February, the Burma Army LIB 599 forced 150 villagers from Wei Gyi and Hor Ko Gaw village tracts to enlarge the camp at Hor Ko Gaw. On this same day LIB 351 TOC commander Khin Soe demanded from the villagers 1800 roof thatches for 420 houses and 200 pieces of bamboo. Later in the week, on the 31st, Khin Soe moved to Kyaung Pya camp and demanded the villagers there to send 7000 more roof thatches. He also demanded 150,000kyat each from 8 wood mills in the area (1,200,000 kyat all together).
On 11 April, 2008, 150 men from Burma Army MOC 21 left their camp at Poroso and entered the Ler Kla village tract. The local resistance KNLA forces fired on them from three places: Htee Lor Plo Day, Mo Ye Lo Klo and Du Mo Thi. This increased the insecurity of the villagers' from Ler Kla and Saw Ka Der.
GPS coordinates for the two new Burma Army camps mentioned in this report:
Kyaung Pya – N 18 26′ 79.8″ E 096 43′ 16.3″
Hor Ko Gaw- N 18 21'10" E 096 41′ 10″
Toungoo District: Burma kills villagers, burns down homes, and shells IDP populations as hundreds flee attacks.
On 13 April 2008, Burma Army troops attacked the area of Ler Ker Der Kho, K'Yeh Yu, Sho Koh, Pra Mu Der, Haw Law Gaw Lu Der, and Naw Kwe Koh villages. After forcing all villagers in the area into hiding, the attacking troops burned down Sho Koh village at 2 pm on the 19th of April. Rather than burn down the village church, the troops destroyed the building with gunfire. Troops from LIB 363, under MOC 10, then burned down Ler Ker Der Koh, Thu Ka Der, and Ku Thay Der villages. The exact number of villagers forced to flee has not yet been reported.
The Burma army then placed numerous landmines in the abandoned villages, and the trails and farms surrounding them. One villager was killed, and at least four were injured, by landmines as they attempted to move around the area that had been attacked, returning to their farms and homes to collect any belongings that may have been spared.
On 3 May 2008, at 9:30 am, Naw Baw Yu, 27, from Sho Koh who has been studying in Toungoo, stepped on a Burma Army landmine as she returned to her village to visit her family. The explosion destroyed her left leg. She is now receiving treatment at the local KNU clinic.
On 20 April, Naw Ku Say, 52, from Ler Ko village was injured by a Burma Army landmine.
On 22 April, Saw Shwe Htet Moo Oo, 28, from Ko Aw Der village stepped on a Burma Army landmine and later bled to death from his injuries. The next day, on 23 april, Saw Lah Pwe, 25, from Ler Ko village also stepped a Burma Army mine. His current status has not yet been reported.
On 26 April, Saw Shee Sho, 25, from Tha Ye Yu village stepped on a landmine which destroyed his right foot.
During these attacks, Burma Army troops also shot numerous mortar rounds in the targeted villages and surrounding areas, hoping to kill and maim villagers hiding in the jungle. LIB 365, under battalion second in command Thaw Hlain, shot into the area east of the Day Lo Klo River from their camp at Maung Nwe Gyi. LIB 363, under Myint Lwin, fired mortars in the area west of the Day Lo Klo from their camp at Ba Der Ka. LIB 364, under Htin Ko Ko, shat at Tha Ba Law Kee village from their camp close to Ku Thay Der. LIB 365 troops also shot at Htee Pu Kee village from their position close to Thu Ka Der. No injuries were reported as a direct result of this mortar fire, however the constant barrage against villagers has made it extremely difficult for people in this area to continue with even the basic activities, such as clearing farms, raising livestock, and the other necessary tasks to survive as subsistence farmers.
On 29 April, Burma Army troops stationed at their camp near Maung Ko Der fired mortars into the village because they saw villagers using flashlights.
Earlier in April, Saw Kyaw Thay, 17, was killed when a landmine exploded as he was trying to defuse it, destroying his hands and severely injuring his face. He later bled to death from his injuries. It is not clear whether the mine was laid by the Burma Army or was placed to protect civilians during Burma Army attacks.
On 8 April, the Burma Army in Bawgali Gyi (Kler La) village killed a local villager named Saw Da Kro Kra, 38. The events surrounding this killing were not reported.
Forced Labor
On 29 April, LIB 603 commander Kyaw Zin Ra demanded forced labor from Ku Taw Plo, Tha Ba Ra, Ka Ye Plo, and Kler Mu Kee villages. A total of 65 villagers were forced to carry food from the Burma Army camp at Thaung Ye Ka to their new camp at Ku Taw Plo.
Papun District: Villager killed and villages mortared
Burma Army Kills villager and steals property
On 5 April, 2008 Burma Army troops from LIB 106 captured and killed Saw Maung Ngwe, 33. These same troops then captured and stole various possessions, including flashlights, shirts, knives, blankets, rice, tea and cheroots, and other belongings from the following villagers: Saw Ah Htoo, Saw Lay Baw, Pu Daw Deh, Pu Toe Chin, Pa Hter Du, Maung Ni Laing, Saw Shwe Htoo, and Saw Chit Myit.
Burma Army mortars village
On 5 April, 2008 LIB 106 entered the area of Do Prai Kyo village and fired 13 mortar rounds into the village. No one was injured during the attack, however 3 buffaloes and 2 pigs were wounded.
In March, the Burma Army also constructed two new military camps in Papun District. One was constructed at Htee Mu Kee and the other has been built at Klo Khi, near May Way.
Appendices
Appendix A: Burma Army demands from villagers in Mon Township, January-March, 2008
| | | |
| --- | --- | --- |
| Date | Subject | Value in kyats |
| 1/1/2008 | General cost: Cigarettes, food, etc. | 35,340 |
| 7/1/08 | Food for Aung Lung Sein and Kyin Pin Seik camps | 9,200 |
| 20/1/08 | For LIB 599 Headquarters | 24,000 |
| 21/1/08 | For LIB 599 patrolling soldiers | 2,000 |
| 24/1/08 | Food for Aung Lung Sein camp | 10,850 |
| 24/1/08 | For LIB 599 patrolling soldiers | 15,400 |
| 29/1/08 | Chicken for LIB 599 battalion commander | 5,990 |
| TOTAL for January | | 102,780 |
| 1/2/08 | Rice for LIB 599 | 2,400 |
| 2/2/08 | For militias | 12,000 |
| 14/2/08 | For militias to buy books | 3,375 |
| 14/2/08 | For Kyin Pin Seik camp | 6,520 |
| 22/2/08 | Food, alcohol, and cigarettes | 3,300 |
| 26/2/08 | Burma Army travel to Kyauk Kyi/Mone | 15,000 |
| TOTAL for February | | 42,595 |
| 5/3/08 | Food and drink for LIB 599 patrolling soldiers | 7,950 |
| 5/3/08 | For the militia men | 8,816 |
| 5/3/08 | For Aung Lung Sein camp, food and drink | 6,300 |
| 11/3/08 | Roof thatches for LIB 599 HQ | 25,000 |
| 14/3/08 | LIB 599 leaders travel | 12,000 |
| 26/3/08 | LIB 599 patrolling soldiers | 17,950 |
| 28/3/08 | LIB 599 HQ battery charging | 1,128 |
| TOTAL for March | | 79,144 |
| TOTAL | | 224,519 |
Appendix B: Current Units in Papun District
MOC 4
TOC 1 — Based at Bu Hsa Kee (Busakee) camp (replaced TOC 2 on 1 April, 2008)
LIB 702 — Ta Keh Der, Kay Pu, Kaw Daw Ko, Ta Mae Kee
LIB 710 — point 3917, Lay Kee, Klay Mu
LIB 709 — Bo Na Der, Taw Ku Mu Der, Htee Hsee Kee
MOC 16 — based at Paw Shar Ko
TOC 1 — Based at point 2833
IB 240 — Htee Mu Hta, point 2833, point 2667
IB 242 — point 1540, point 2667, Hsaw Hta
LIB 567 — Maw Pu, Thit Ta Bin Gon, point 2833
TOC 2 — Based at Saw Mu Plaw
IB 68 — Htee Mu Kee, Pyit Gaw, Nyaung Bin Gon
IB 69 — Plako, point 3400, Hto Gay Day
LIB 568 — Ler Mu Plaw, Saw Mu Plaw, Pwa Gaw Lu
LIB 522 — Maw Law, K'ser Ter Kwee, point 3474, Baw Hsee Ko
Southern Command
IB 53 — T'Kaw Hta, Hsaw Hta, Htee Mu Hta
Div. 101 — based at Bawgata
TOC 1 — Mae Way, Kloe Kee, Kay Go, Win Maw
MOC 19 — based at Lay Kay
LIB 538 — patrolling in Baw Kyo Lay area
LIB 586 — patrolling in Ku Thu Hta
IB 62 — Pa Heh, Kyaw Nyit, Kaw Pu
IB 106 — Papun, Kaw Pu
Tactical Command 1 — based at Papun
LIB 340 — rotated out
LIB 341 — Kyaw Nyit, point 2731, Bpa Heh, Gko Ja Ko
LIB 434 — Mae Ra Hta, Mae Paw Mu Hta, point 2514 (Maung Mo Kyo)
IB 19 — Oo Thu Hta, Mae Ka Hta, Ler Dto, point 2669
Western Command
TOC 2 — based at Ker Ter Tee
IB 34 — K'Dter Dti, Htee K'shaw Meh, K'ser Ther Pler
IB 55 — K'ma moe, Wa Tho Ko, K'nye Do
IB 550 — Twee Thee Uh, Ma Htaw, Ya Aung Myit
LIB 354 — Papun