FBR REPORT: Lives Lost and Homes Destroyed: Villagers Suffer Under the Brutal Oppression of the Burma Army
Karen State, Burma
4 April, 2008
---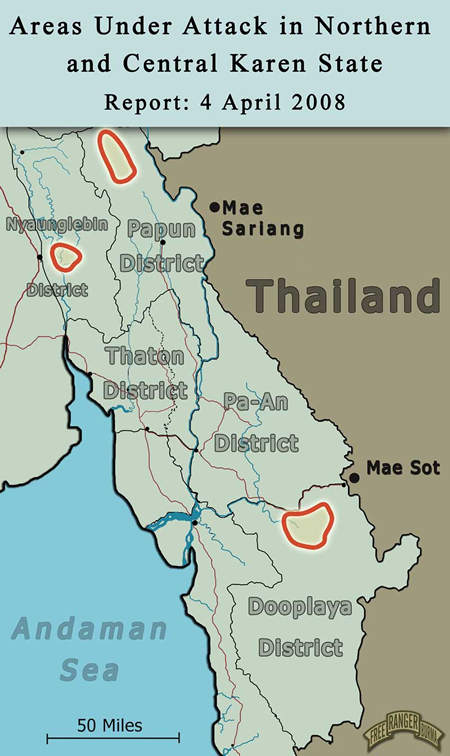 click map for larger image
Papun District: Villager Killed by Landmine and Teenage Girl Wounded by Landmine as Thousands Remain in Hiding.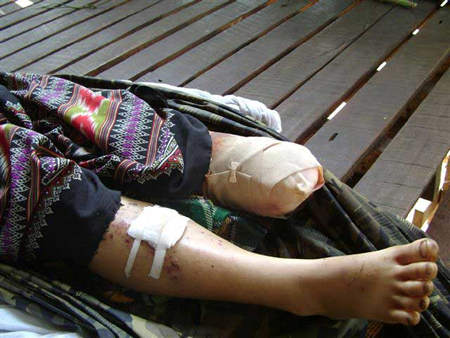 Naw Dah Gay Paw, at clinic after stepping on landmine
Teen Steps on Burma Army Landmine
These photos show Naw Dah Gay Paw, 16, who stepped on a Burma Army landmine on March 13, 2008, after Burma Army troops attacked Htee Mu Kee village in northern Karen State. More than 1,700 people were displaced during the attack and many of these people remain in hiding. Burma Army troops have now built a new camp in the area of the attack and have also left behind many landmines in villages and on trails. Naw Dah Gay Paw is now at a KNU clinic in northern Karen State, has received an amputation and is recovering.
Villager Killed by Burma Army Landmine
On 23 March, 2008, at 10:30 am, Saw Hta Sei, another villager from the same area of northern Karen State, stepped on and was killed by a Burma Army landmine close to Kaypu village in northern Papun District. Villagers from Kaypu have been in hiding since their village was attacked in 2007. There is now a Burma Army camp and new road on the hill just above the village. The Burma Army has launched frequent attacks from Kaypu camp and the 26 other new military camps built in Papun District since the beginning of 2006. As well as attacking villages and IDP populations, the Burma Army continues to use civilian-targeted landmines as a method to terrorize people and keep them from returning to their villages and farms.
Nyaunglebin District: Villages Burned Down as the Burma Army Continues its Expansion.
(Report sent from the field by a Nyaunglebin District FBR team)
Shweygyin Township
The Burma Army remains active in southern Nyaunglebin District, in the mountains east of Shweygyin town. On 8 March, several columns of Burma Army troops under Division 101 and LIB 57 combined to force the villages of Pa Ka, Bpwe Myaw and two other villages to return to the plains close to Shweygyin Town. The Burma Army forced them to move back to the plains, from where many had moved years ago, and then burned down homes in the villages. Burma Army troops in this area are now planning to build a new camp close to their old camp at Mae Tu Soe (lat/long N 17 56 E 097 01). Additionally, troops who were previously located at Koshaw Camp (lat/long N17 55 31 E097 07 43) have moved to a new camp at Wei Thaw Day (lat/long N17 54 35 E097 08 35). Two of the active units in this area are LIB 255 and 251 under Light Infantry Division (LID) 101.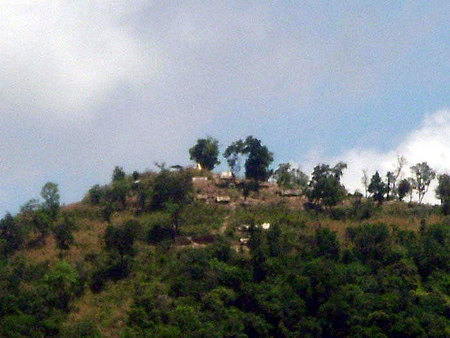 Burma Army camp at Wei Thaw Day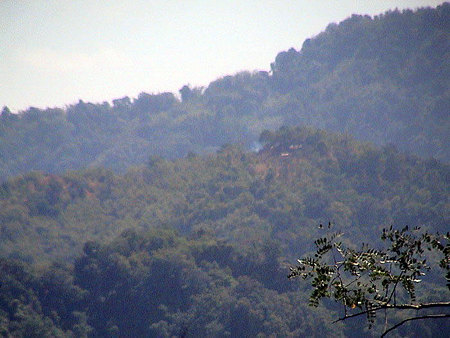 Wei Thaw Day Burma Army camp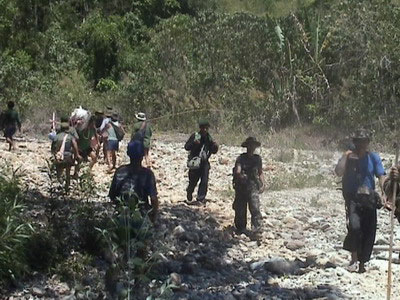 Relief Teams, along with security, crossing the road from Shweygyin to Koshaw. The Burma Army has been using mules, not trucks, to carry supplies along this section of the road.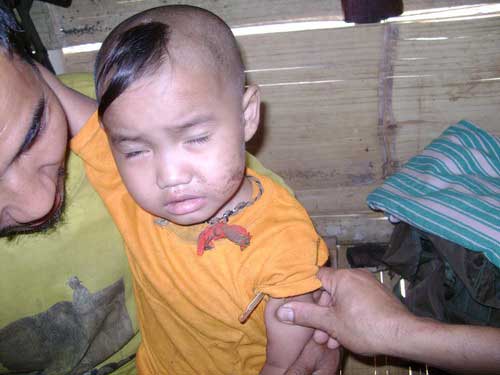 Sick child receiving treatment from relief team
Message from a relief team leader:
"We pray for our villagers and encourage and help them as much as possible. Today we also met one small girl age about 9 years old who was shot and wounded in Oct. 2002 on her stomach and her left arm. At that time both of her parents was captured by the troops and tortured. When she was shot her age was 3 years old and her older sister carried her after she was shot. Her name is Naw Wah Paw*. The Troops who attacked were LIB 589 and 598. The situation here is now quiet, but the situation of the IDPs' health is not so good, especially women and children."
*Name changed for security reasons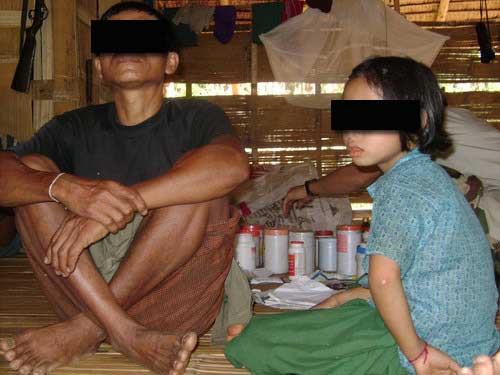 Naw Wah Paw with father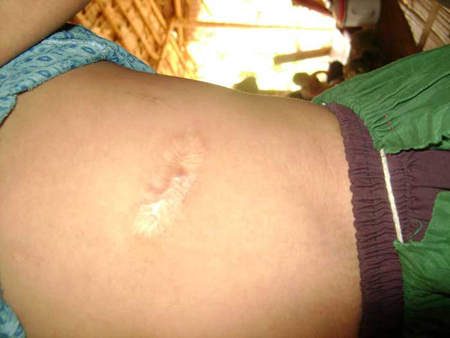 Scar on Naw Wah Paw's stomach after being shot by Burma Army troops in 2002
Kyauk Kyi Township
On 13 March, the Burma Army forced villagers from Muthey village to collect 300 sections of roofing and 4,000 bamboo poles for re-construction of their operations office close to the pagoda in Muthey village.
Mon Township: Forced Labor and Extortion
On 13 March LIB 237 troops under Ko Ko Aung forced 20 villagers from Maladaw to work for seven days on the road from Tha Pyi Nyut to K'mulo. The villagers had to bring their own food and were not compensated in any way. On 16 March, 10 additional villagers from Maladaw were forced to cut trees and bamboo along the path of the road.
On 2 March Captain Zaw Myint from LIB 590 forced villagers from Myaung Oo, Aung Chan Tha, Paw Pi Der, Kyauk Tan, Ko Pyi and Mee Tay Taw villages to build three layers of fencing around their Battalion Headquarters at Ye O Zin.
On 8 February 2008, LIB 351 demanded 20 villagers from Aung Soe Moe to bring 1,000 bamboo poles and 300 thatch roof sections to make improvements to the Burma Army's camp close to Aung Soe Moe.
Dooplaya District: Villagers Killed, Headwoman Severely Beaten, Homes Burned and Belongings Stolen as the Burma Army and its Proxies Continue to Tighten Grip on Villagers.
Kawkareik Township
On 18 March, DKBA troops from Battalion 907 entered Tha Waw Ther village and proceeded to capture villagers and destroy property. The troops severely beat Paw Yaw Ye, 27, and Kyaw De Heh, 42. According to the latest report they are alive, but are not able to walk or move about well. Troops also burned down homes belonging to Saw Eh Htoo, 43, Saw Hto Deh, 76, and Naw Boo Gay, 40. Along with the homes, villagers lost more than 660 tins of rice and 15,000 Kyats.
On 9 March, Burma Army IB 547 along with troops from DKBA battalion 907 captured Naw Ma Nyay, 45, the headwoman of Katoe Hta village and severely beat her head. It has not yet been reported whether or not she survived the attack.
On the same day, these same troops entered Kya Ka Wa village and burned down 4 homes. The owners of the homes are Saw Maw Sar, 47, Saw Pwe, 50, Kyaw Lay, 42, and Saw Moo Htoo, 37. They also burned down one sawmill belonging to Saw Htee Poe Klo, 45. These troops from DKBA Battalion 907 are under the command of Hsa Mu San.
Also on 9 March, DKBA troops from Battalion 999 burned homes, stole belongings and arrested people from Ywa Tan and Aung Par Kee villages. After stealing one ox, one goat and 10 chickens, the troops burned down homes in the villages. They then arrested 13 villagers and sent them all to the Battalion 999 headquarters. The names of the villagers arrested are: U Pa Sway, 50, U Amu, 49, Nga Mya, 40, Daw Mya Thine, 65, Amya Thine, 49, U Tee Tun Yan, 35, Mg Thein Myint, 37, U Myint Hla, 44, Daw Maw Paw Hto, 56, Daw K'ler Na, 60, Mg Chit Sein, 40, U Poe Chu, 52, and Aung Myint, 55.
The next day, on 10 March, another group from DKBA battalion 907 attacked Aung Par Kee village, burning down 27 houses and 27 rice barns. The approximate location of Aung Par Kee village is lat/long. N 16 30 and E 098 16. The names of the villagers whose homes were burned are:
Naw Paw Moo, 26
Par Ta Kwe, 30
Mu Gay, 50
Pa Per Ler, 39
Pa Lay Aye, 29
Mg Ri Ke, 45
Pa Naw Kay, 42
Pa Naw Di, 36
Saw Kay Wah, 37
Dee Nu, 42
Kyaw Aye, 36
Dee Maw Ku, 50
Mg Htun Lay, 60
Pa Da, 60
Kyaw Wa Hey, 65
Par Ker, 45
Kyaw Par Wey, 34
Kyaw Htee Bpwey, 65
Saw Pee Hae, 30
Pa Kaw La, 50
Mg Win Zaw, 38
Htwe Kli Nar, 52
Pa Kyo, 52
Pa Hte Yeh, 23
Pa Kyi Heh, 55
Kyaw Paw Say, 25
(note: one name was not reported)
On 10 March troops Burma Army LIB 547 and DKBA battalion 907 stole 40 tons of wood from villagers in Kawkareik Township in order to build their own homes. 10 tons of wood were taken from Saw Kyaw, 21; 10 tons from Saw Eh Moo Leh, 23; 10 tons from Saw Poe Oh, 45; and 10 tons from Saw Be, 27.
Eastern Dooplaya District: DKBA kills villager and villager killed by landmine while being forced to guide for DKBA troops.
On 11 March, Pa Oo Bpee, 40, a villager from Ta Waw Thaw village in eastern Dooplaya District, was returning from a trip to buy chickens in Thailand when he was captured and killed by troops from DKBA battalion 907. The DKBA soldiers captured him, accused him of interacting with the KNU, took him back to their camp at Ta Waw Thaw and killed him. These troops are under the command of Mee Nyaw Thu.
On 22 February 2008, DKBA troops from Battalions 907 and 999 entered Bpaw Baw Hta village and several villages close by and demanded villagers to carry loads and guide them along the trails in the area. Saw Bpo Heh, 35, was one of the villagers forced to guide the troops. While walking in front of the DKBA troops, he stepped on a landmine and died from his wounds on the trail. He is survived by a wife and children. These DKBA troops are also under the command of Mee Nyaw Thu.
For the villagers in this area of eastern Dooplaya District who live in villages under Burma Army or DKBA control, demands for forced labor, extorted goods, and forced guiding are a constant strain on everyday life. Villages in this area must all send 5-10 people at least 10 times per month for forced labor and portering. Additionally, people are often killed, tortured, beaten and their homes are burned down at the whim of Burma Army or DKBA troops. The fear of this abuse and the difficulty of life has forced many to flee into hiding or into refugee camps across the Thai border. For example, the village of Htee K'Bpler, which is under DKBA control and which had more than 30 households less than a year ago, now has only 6 households remaining in the village.
Karenni State: Burma Army troops capture and kill villager and steal belongings
On 16 March, at 1pm, Burma Army LIB 367, under Div. 66, based in Toungoo District, northern Karen State crossed the Karenni State border and entered the area of Kwaw Kee village. They captured Saw Heh Mu Htoo, 47, in his farm hut outside of his village. According to reports from the field, after they questioned and tortured him, they then beat him to death. The next day, they entered Kwaw Kee village and ordered all villagers to come outside of their homes. The troops then entered the homes and proceeded to search all the homes and steal property. They stole 700,000 Kyats from Saw Tha Wa, and 70,000 Kyats and 10 vises (about 14 kilos) of silver coins from Saw Kleh Htoo. They also stole 225,000 Kyats from Saw Ah Wah.
(Note: The villagers in Kwaw Kee are Karen, however their village is located within the borders of Karenni State)