FBR REPORT: Expansion of Burma Army Camps and Roads as New Troops Rotate In and Old Units Go Out
Northern Karen State, Burma
20 January, 2008
After killing hundreds and displacing more than 30,000 villagers in northern Karen State in 2006 and early 2007, the Burma Army has significantly expanded its military infrastructure, replacing the villages and farms cleared during the offensive with a growing web of army camps and roads. The re-supply of these camps is now in its final stages, and the yearly improvement of the previously existing roads has now been completed.
Having completed much of this re-supply, new Burma Army units are now rotating in as old units move out. This means that there is an overall reduction of troops in this area now although the numbers are still higher than before the 2006-2007 offensive. There are now 8 divisional-sized units stationed in northern Karen State, down from 13 divisional-sized units (over 90 battalions) during the re-supply of November 2007-January 2008. There are now over 63 battalions (including Southern Command units) in the three northern districts of Toungoo, Papun and Nyaunglebin. The Burma Army continues to conduct isolated attacks and regular patrols in areas close to its camps and roads, however, in 2008 large-scale attacks have not yet occurred. With Burma Army camps now supplied and roads improved, villagers and those displaced remain constantly prepared for renewed attacks.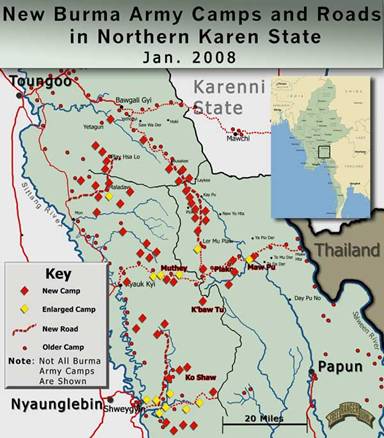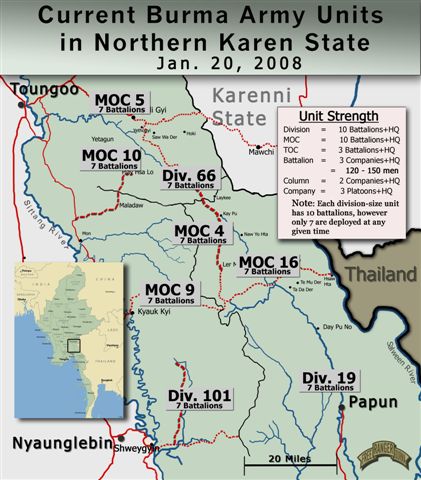 The following pictures show the Burma Army during their re-supply and expansion at several camps in northern Karen State. The pictures were taken by the newly graduated relief teams during missions to provide assistance to internally displaced people in this area.
RE-SUPPLY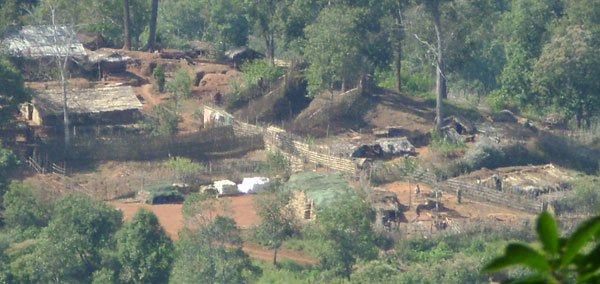 Maw Pu Burma Army camp. (Dec. 2007)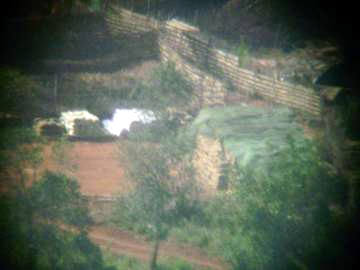 stacks of bagged rice at Maw Pu Burma Army camp. (Dec. 2007)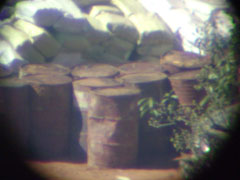 food and gasoline stacked and ready for transport at Maw Pu army camp. (Jan. 2008)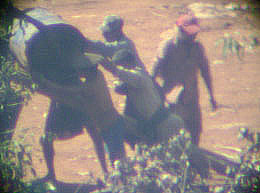 prisoner porters and soldiers loading gasoline onto a Burma Army truck at Maw Pu camp. (Jan. 2008)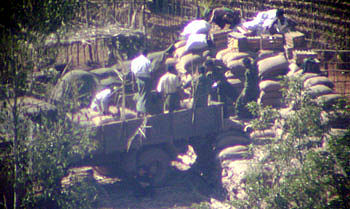 Burma Army troops loading trucks with food supplies at Maw Pu army camp. (Jan. 2008)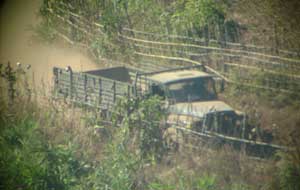 Burma Army truck moving into Maw Pu camp to re-load with supplies. (Jan. 2008)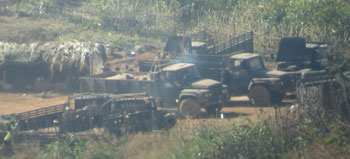 trucks at Maw Pu camp wait to be loaded with supplies. (Jan. 2008)
ROAD IMPROVEMENT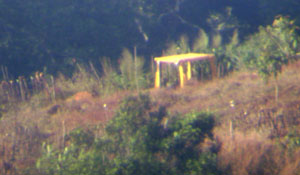 Bulldozer at Maw Pu Burma Army camp, partially concealed by hillside. Papun District. (Dec. 2007)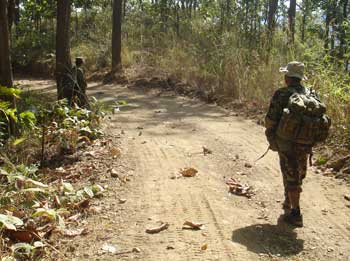 The Kyauk Kyi – Hsaw Hta road that connects the plains of Burma to the Salween river and Thai border to east; after being improved by Burma Army bulldozers in December. (Jan. 2008) We took this photo last week as we (FBR relief teams) crossed the road between Burma Army patrols on a relief mission. Until this crossing no one had been able to cross for over one month, meaning that relief was unable to reach those in need during that time.
PRISONER PORTERS
The Burma Army continues its widespread use of prisoners as labor for the movement of supplies, construction of new camps, and manual labor at existing camps.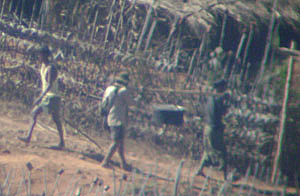 Prisoner porters at Maw Pu camp. (Jan. 2008)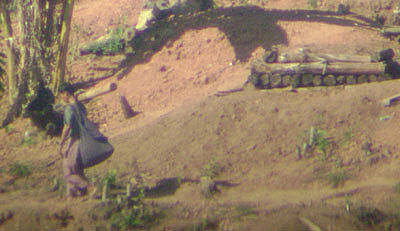 Porter doing forced labor at Muthey Burma Army camp on the border of Kyauk Kyi and Mon Townships, Nyaunglebin District (Dec. 2007)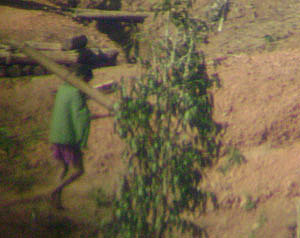 Porter carrying water for troops at Muthey Burma Army camp. (Dec. 2007)
BURMA ARMY CAMPS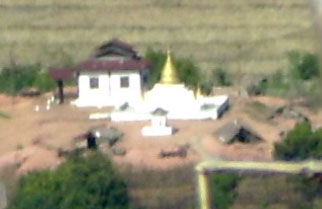 Burma Army camp at the pagoda in Muthey village. (Dec. 2007)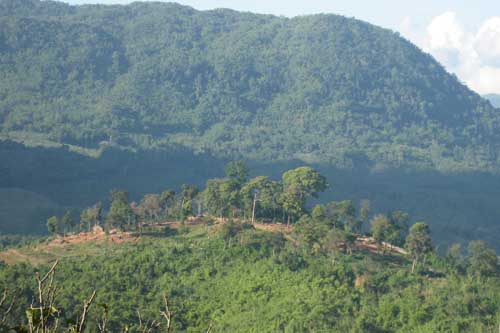 One of four Burma Army camps at Muthey. (Dec. 2007)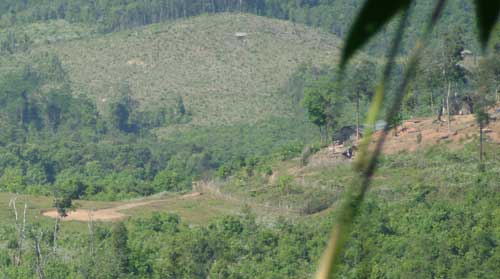 Camp and helicopter pad and Muthey Burma Army camp. (Dec. 2007)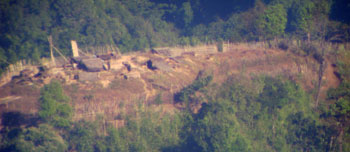 K'baw Tu Burma Army camp in Kyauk Kyi Township. (Dec. 2007)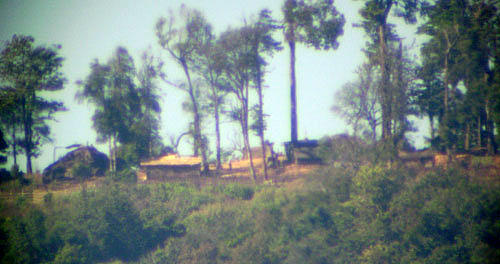 Plako Burma Army camp, Papun District. (Dec. 2007)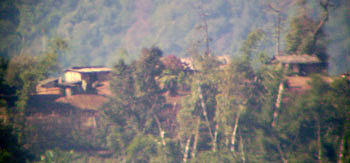 Burma Army camp close to Plako. (Dec. 2007)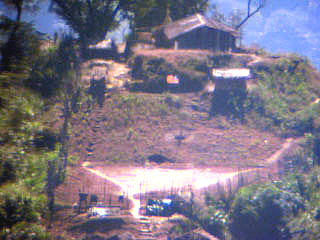 Burma Army camp at Ko Shaw, Shwegyin Township. (Dec. 2007)