FBR REPORT: Burma Army troops kill villagers and IDPs as they mass troops with over 90 battalions now in northern Karen State, Burma
Karen State, Burma
10 January, 2008
(Report made and sent directly from the field in Papun District, Karen State)
 

 
 
While the killings of demonstrators in the cities of Burma in September 2007 shocked the world, the attacks against the ethnic people are equally shocking, have gone on for over 59 years and continue to this day. Here in the Karen State, from where we are sending this report, the Burma Army continues its campaign of brutality.
 
The offensive of 2006- 2007 has slowed, but in the past two months at least 10 villagers have been killed, hundreds more have fled attacks, and thousands of people remain in hiding as the Burma Army continues to launch smaller scale attacks. These latest attacks are designed to terrorize the population, forcing people into hiding and making living conditions extremely difficult.
The Burma Army is consolidating areas gained in the 2006-2007 Offensive with the continual expansion of its network of camps and roads. They have now completed a new road which quarters northern Karen State, making travel for villagers, displaced people and those providing aid very difficult. Over 54 new camps have been built since the beginning of 2006. There are now 11,000 to 14,000 troops from 13 division-sized units (including troops from Southern Command), comprising over 90 battalions, currently operating in the mountains of northern Karen State. This is a 50% troop increase from the very height of the offensive in 2006.
The main focus of these troops is road building and the supplying of all the camps in the area. Whether or not a large scale offensive will commence soon is not clear but the Burma Army is already shelling village and IDP sites and killing people they meet on their patrols. It is possible that the Burma Army will rotate some of these troops out this month but this is still not clear.
Reports for each of the three Northern Districts follow with photographs of Burma Army camps taken by the new teams during their first relief missions to provide relief to IDPs.
11,000-14,000 Burma Army troops from 13 division-sized units comprised of over 90 battalions are now in the northern Karen State:
Nyaunglebin District: Division 11= 7 battalions, Division 101=7 battalions, Division 33=4 battalions, MOC 9= 3 battalions. Southern Command= 5 battalions.
Papun District: MOC 1= 7 battalions, MOC 4= 4 battalions, MOC 16= 7 battalions, Division 33= 3 battalions, Division 44= 7 battalions, Division 88= 7 battalions, Southern Command= 1 battalion.
Toungoo District: MOC 4= 3 Battalions, MOC 5= 7 battalions, MOC 9= 4 battalions, MOC 10= 7 battalions, MOC 21= 4 battalions, Division 66= 7 battalions, Southern Command= 3 battalions.
Note: A Division and a Military Operations Command (MOC) each have 10 battalions of which 7 are usually deployed in the field. The average battalion is under strength with a troop total of 120- 160 men.

Roads:
The Burma Army has finished the initial construction of the road connecting Ler Mu Plaw camp in the Papun District to Busakee camp in Toungoo District, (please see map). Numerous new camps have been constructed along its path, and while this road is not yet being used by Burma Army vehicles, landmines and frequent patrols make it very difficult to cross. The Burma Army is also currently constructing a new road in northern Nyaunglebin District and southern Toungoo District which will connect Tha Bin Yut camp on the edge of the plains with Busakee camp to the east in the mountains. A third road has been constructed in southern Nyaunglebin District from Shwegyin Town north towards Rokasoe camp, possibly continuing to Kyauk Kyi.
Nyaunglebin District:
The Burma Army now has 5 division-sized units deployed in Nyaunglebin District, with more than 4,500 troops. There are approximately 12,900 IDPs now in hiding. Many were displaced during attacks in 2006, and have not been able to return to their villages. Many have been displaced multiple times as they move from hide site to hide site escaping repeated Burma Army attacks.
Ler Wah Area, Kyauk Kyi (Ler Doh) Township: Over 100 villagers remain in hiding from Ler Wah village.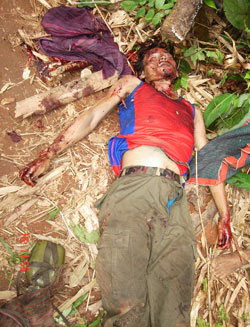 The body of Saw Ler Gay, 28, shot and killed by the Burma Army on 15 November, 2007. He was killed by the same troops who attacked Ler Wah village. (Nov. 16, 2007)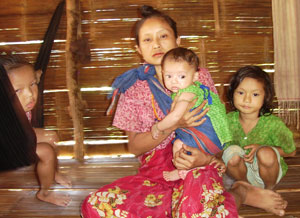 Saw Ler Gay's wife and children. (Nov. 17 2007)
More than 100 Ler Wah villagers, from 17 families, are now hiding and have been unable to return home since fleeing a Burma Army attack in November, 2007. On November 19, Burma Army soldiers from LIB 218 and 219, from Div. 11, were able to surprise the villagers and attack while everyone was in their homes. They lined up on a nearby ridge and shot machine guns into the village. Every home was hit by the machine gun fire. Amazingly no one was injured in the initial attack, however families immediately ran into the jungle without any time to collect belongings. Most ran further into the mountains to nearby villages, but some ran into the jungle and hid for several days.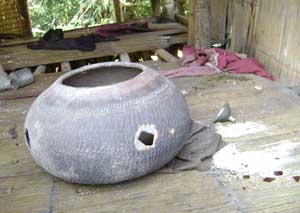 bullet-holes riddle the homes and belongings of Ler Wah villagers. Dec 2007. (Dec. 2007)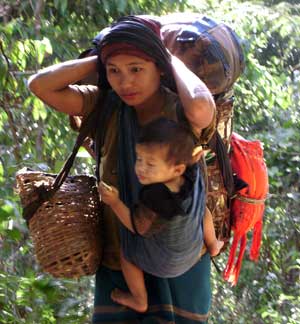 IDPs from Ler Wah fleeing attacks. (Dec. 2007)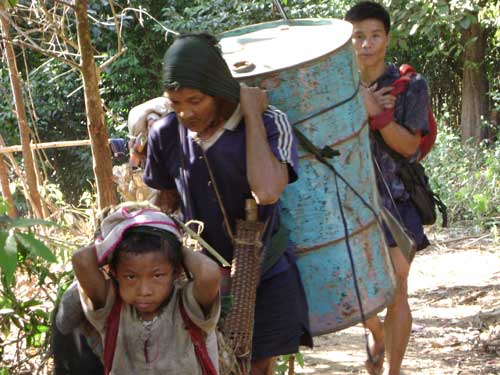 Ler Wah villagers fleeing attacks. (Dec. 2007)
The Burma Army then continued into the village, ransacking homes, stealing belongings, and destroying food and other property. They then set up camp close the village for several days, and placed landmines in the village before they returned to the camp. Karen soldiers have been able to clear paths to fields and homes, but they have not yet found any landmines. This attack was part of a larger attack launched by LIBs 218 and 219 in early November which swept much of Kyauk Kyi Township. Two people were killed during the attacks; Saw Ler Gay, 28, who is survived by a wife and three children, as well as one Karen soldier.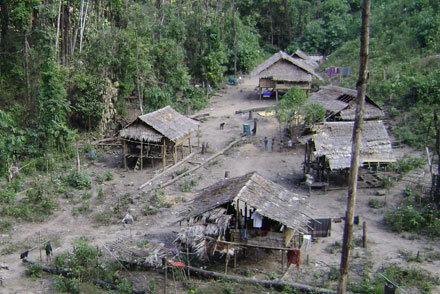 IDP hide site for Ler Wah villagers. (Dec. 18, 2007)
Villagers have been hiding higher in the mountains since the attack and have been sneaking back to the village and their nearby farms to collect belongings and food. The village is located at long/lat. N 18 09 36 and E 097 00 08, which is less than two miles from the Burma Army camp at Rokasoe. The Burma Army is now building a new road to Rokasoe from the town of Shwegyin in the south, and this road is expected to continue on to Kyauk Kyi. There are now two Burma Army divisions operating in Western Kyauk Kyi and Shwegying townships; Div. 11 is now conducting operations in northern Shwegyin and Southern Kyauk Kyi Townships. Div. 101 is stationed in southern Shwegyin Township.
Villagers reported that the Burma Army has made it impossible for most of them to produce enough food to feed their families. Many villagers have not been able to return to their farms for three years. Others were able to clear old fields to begin planting, but were never able to plant. Some were able to plant, but were not able to harvest, and yet others were able to harvest their crop, only to see it destroyed by attacking Burma Army troops. Villagers reported that they needed help to survive, and that what they wanted most was freedom.
In mid-December FBR teams visited IDPs from Ler Wah village who have been hiding in the mountains above their old village. The teams gave medical treatment, distributed Good Life Club materials, and encouraged the villagers. The teams then continued down to Ler Wah village where they photographed the homes that had been shot and destroyed, as well as the remains of the temporary shelters used by the Burma Army. FBR teams are now in the area and will continue to provide treatment to the IDPs and report on the situation.
Additional Kyauk Kyi Township Information: Religious Persecution, Forced Labor and Extortion
In mid-December villagers from Klaw Maw were going to be celebrating the upcoming Christmas holiday. When LIB 430 commander Maung Htun was informed about this, he immediately put the Klaw Maw village headman in prison. He then told the villagers that every Christian pastor in the Bawgata and P'deh Gon area must begin wearing monk's clothing because he no longer wanted to see any Christian leaders in the area. He also gave an order to destroy the churches in the area (whether or not this has happened has not yet been confirmed).
On 15 December Maung Htun then ordered the destruction of 6 houses belonging to Muslims in the Bawgata area.
On 28 November 2007, Ko Ko, the LIB 590 commander called in all fish pond owners in the plains area close to Kyauk Kyi. He demanded 100,000 Kyats from each pond owner. The very next day, Min Thu Ka, another Burma Army officer in the area demanded an additional 10,000 Kyats payment from each of the pond owners.
On 9 December LIB 430 commander Maung Htun demanded 200,000 Kyats from Klaw Maw, Bawgata, Shu Kin Tha Ya, Kaw Tha Say, Po Pin Gon, and Ko Myit Tha Ya villages in order to rebuild the pagoda and military camps in Klaw Maw village.
On 16 December these same troops destroyed two pre-schools in P'deh Gon and Klaw Maw villages.
On 21 December LIB 430 demanded 100 villagers, 2 boats and 50 ox-carts for the movement of supplies to Rokasoe Burma Army camp.
Shwegyin Township
Div. 101 began the construction of a new camp in Shwegyin Township in December. The name of the camp and the units deployed there have not yet been reported, however the location of the camp is at long./lat. N 17 59′ 25″ and E 097 00′ 40″
Mon Township
New Burma Army Camps in Mon Township:
| | |
| --- | --- |
| Maw Lu | unknown construction date. |
| Pe Be Soe | started on Dec. 2, 2007 |
| Pay Paw Hta | started on Dec. 1, 2007 |
In the last month four schools have been forced to stop in Mon Township as a result of Burma Army activity: Htee Kgo, Nwa Lay Ko, Htee Na Hta, and Nya Mu Ki schools are now unable to continue with classes because of Burma Army attacks and patrols.
Papun District
The Burma Army has conducted frequent attacks and patrols in areas where large scale attacks occurred during 2006 and 2007. There are now 3,000 to 4,000 IDPs in northern Papun District, most of who fled during the most recent offensive, and have not been able to return home. There are now parts of six division-sized units in northern Papun District, with more than 34 battalions deployed. The Burma Army has now concentrated its efforts on the continual improvement of the roads in this area as well as the re-supply and expansion of camps. The road from Ler Mu Plaw camp in Papun District to Busakee camp in Toungoo District has been completed, but is now being continuously improved.
The Burma Army is now sending supplies along these roads to their forward camps and new positions.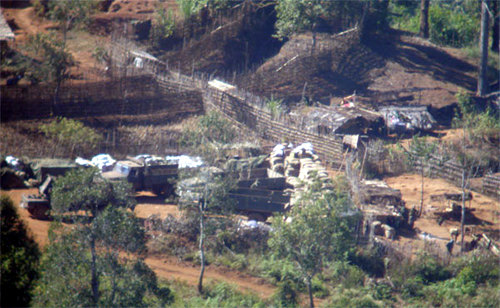 Burma Army troops at Maw Pu army camp in Papun District load military trucks with supplies destined for camps further to the east along the Kyauk Kyi – Hsaw Hta road (Jan. 9, 2007)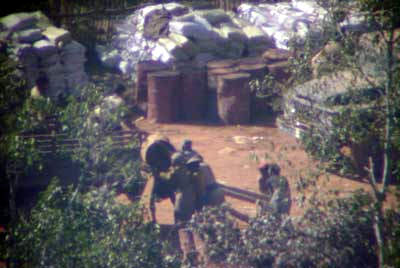 Soldiers and forced porters load gasoline onto a truck at Maw Pu Burma Army camp (Jan. 9, 2007)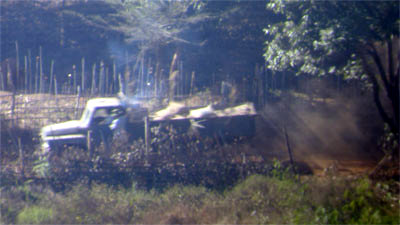 A truck moving out from Maw Pu army camp after being loaded with food supplies. (Jan. 9, 2007)
Toungoo District
Toungoo District remains the most active area of attack in northern Karen State. The Burma Army is now launching regular attacks against villages and IDP populations. Approximately 7,000 people are now hiding from these attacks, almost all of whom have been displaced numerous times since fleeing attacks during the most recent offensive. There are now over 27 battalions from five division-sized units deployed in southern Toungoo district alone. The Burma Army is also constructing two new roads, connecting Busakee army camp to Ler Mu Plaw camp in Papun District and to Tha Bin Yut in the western plains. In order to support this expansion, the Burma Army demands people from villages under its control, especially recently relocated villages, to act as minesweepers, road-clearers and porters. This forced labor is demanded on a daily basis.
FBR teams are now in Toungoo District assisting villagers and IDPs and documenting Burma Army abuses. Detailed reports on Toungoo District will be available later in January.
Thank you and God bless you,
Free Burma Rangers