FBR REPORT: Two Women Shot by the Burma Army in Shwegyin Township
Karen State, Burma
5 January, 2008
(This report sent directly from Northern Karen State on 5 January 2008, updates the initial report sent out in October 2007.)
We reported earlier on a young girl and her aunt who had been shot in their farm huts by Burma Army soldiers. The young girl and her aunt are now recovering and are still in the Hti Blah area of Shwegyin Township, Nyaunglebin District. We are now attempting the evacuate them for more extensive medical treatment. (note: the women's names have been changed)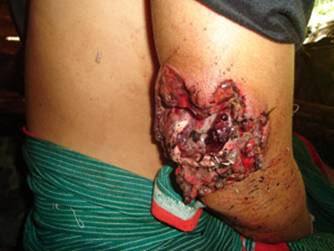 Naw Mu Mu's arm after being shot by the Burma Army. (Oct. 2007)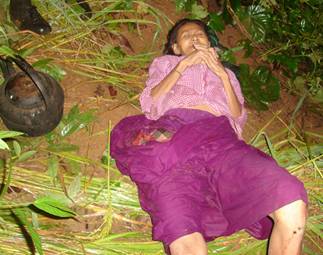 Naw Say Htoo fell when she was shot in the hip, trying to escape the Burma Army. She then rolled down through her rice crop where she lay, unable to walk because of her injury. She was found in this position several hours later. (Oct. 2007)
In early October troops from Burma Army Division 11 launched attacks into parts of Shwegyin Township, attacking villagers in their homes and fields. On October 9, at 8 am, Burma Army troops shot and severely injured Naw Say Htoo, in her fifties, and Naw Mu Mu, 16. The two women, along with three other family members, were in their field house when they saw the Burma Army soldiers approaching. Naw Say Htoo and her family jumped up to run, leaping out of the house. The Burma Army soldiers yelled in the Karen language "don't run away!", but the family, knowing the soldiers were Burma Army, continued running.
The Burma Army shot at the five scattering villagers from a distance of twenty yards. They shot Naw Say Htoo in the hip, and her niece, Naw Mu Mu, in the right arm. Unable to continue running, Naw Say Htoo immediately fell to the ground, sliding and rolling down the hill next to her field house
Her niece, Naw Mu Mu, was also shot in the arm. As she was running she fell and hit her knee on a rock, dislocating her knee cap. She was not able to keep running, but lay hiding where she fell as she watched the Burma Army soldiers search her farm house. She crawled forward slowly into a better hiding place.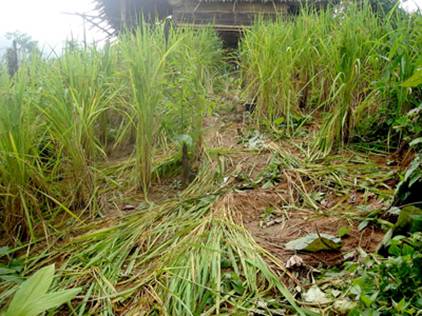 Naw Say Htoo's farm hut and rice paddy, beaten down by her body when she fell and slid down the hill. (Oct. 2007)
Naw Say Htoo heard the Burma Army gunfire continue, finally stopping when her relatives had either been shot dead or had escaped (she later found out they had all escaped).
The Burma Army, about 20 or 30 of them, then approached her and her field house. They asked her if she had a gun. She said no. They took her photo and stole her bag along with all of her money. They proceeded to enter the house, stealing all of her belongings, and shooting all the pigs, one of which they took. She asked them to put her back into the field house as she could not move because of her injury. They left her there where she lay, continuing in the direction they had been moving.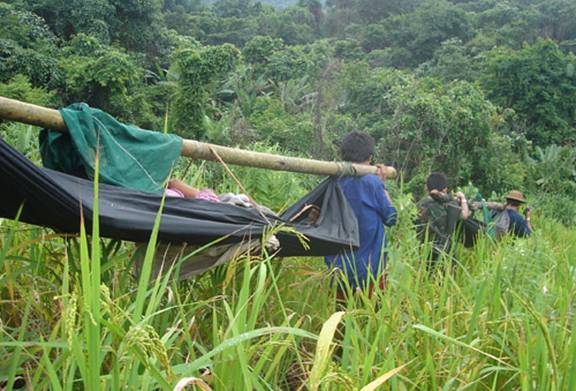 Karen soldiers carried Naw Say Htoo and Naw Mu Mu back to a local clinic. (Oct. 2007)
Naw Say Htoo lay in her field the whole day in the sun and rain, bleeding from her injured hip. After lying in her field for 10 hours, she heard the footsteps and voices of Karen people approaching. Six Karen soldiers and one FBR medic found her lying in the field where she had been shot that morning. They gave her immediate treatment and then carried her in a makeshift stretcher back to the township clinic.
Naw Mu Mu was also found later that day in hiding, having lost a large amount of blood from her wound. They carried her back to the clinic as well.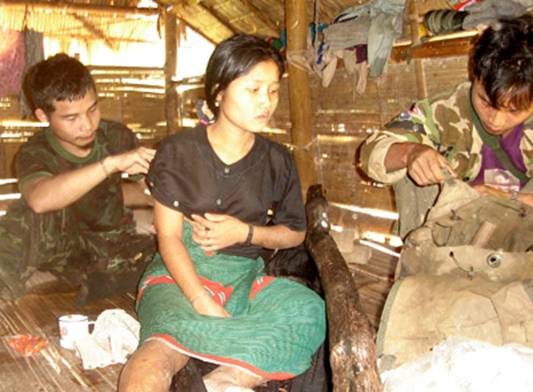 Naw Mu Mu being treated by medics at the township clinic. (Oct. 2007)
Naw Mu Mu was treated at the clinic and stayed there for several weeks while she recovered. She has now returned to the area of her village, but remains in hiding with the other villagers from Hti Blah. Naw Say Htoo is still at the township clinic, still unable to walk, and recovering slowly. Her 12 year old son is there to help take care of her, but the rest of her family is still hiding close to Hti Blah, along with 31 other villagers, trying to protect their food and belongings from being destroyed by further Burma army attacks.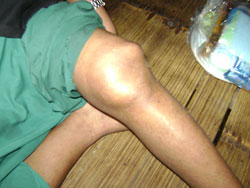 Naw Mu Mu's knee in December, not yet healed two months after being shot.(Dec 20. 2007)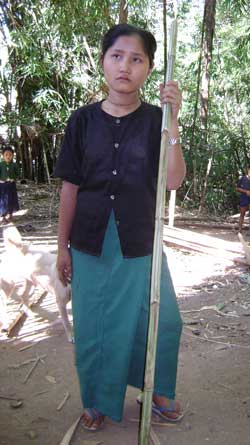 Naw Mu Mu now uses a bamboo stick to help her walk. (Dec 20. 2007)
Update of Overall Situation in the Northern Three Districts of Karen State:
This report was sent from Northern Karen State, where there are now over 86 Burma Army battalions deployed in the Northern three districts. This is a 50% increase in the number of Burma army troops in this area since the latest offensive began in 2006.
Papun District: over 33 battalions from MOC 4, Div. 88, MOC 1, MOC 16, and Div. 44
Nyaunglebin District: over 30 battalions from MOC 21, MOC 9, Div. 33, Div. 11, and Div. 101
Toungoo District: over 23 battalions from MOC 5, MOC 10, Div. 66, and MOC 4
(Note: Both Military Operations Commands (MOC) and Divisions (Div) have 10 battalions each, with 7 battalions usually forward deployed and 3 remaining at the MOC or Division Headquarters.)
We will be sending more detailed information of Burma Army activities in Karen and Karenni State in the next week.
Thank you and God bless you,
The Free Burma Rangers