FBR: Merry Christmas from the Free Burma Rangers
Karen State, Burma
23 December, 2007
Note: This Christmas message was sent directly from the field by a team leader now with the displaced people of Karen State, Burma. 22 December 2007.
Dear friends,
Merry Christmas from the jungles and villages of Burma. We are all on relief missions now and want to take time to thank you all and to wish you a Merry Christmas. Today we entered the remains of a burned village and our guide was a man who asked if I wanted to see where the Burma Army had killed two children by burning them alive during an attack 10 years ago. I said yes and another villager who was walking with us came along to show us the exact spot. "That is where I buried my son", he said as he pointed to a rock under a tree next to the charred remains of his house. As he pointed he began to cry and sank to the ground with his head in his hands calling for his son.
I tried to comfort him and could finally only hold him in my arms and pray. After he regained his composure we talked about what happened and I told him I would cry everyday if I lost my daughters or my son. He looked at me and smiled and said, "Yes, I have more daughters and sons, you will see them soon". As we got up to rejoin the team, suddenly I realized I knew this man. We had interviewed him and his wife seven years ago a two days walk from here as they were fleeing the attacking Burma Army. We had filmed him as he cried and told us of losing his son. This scene appears in one our videos:" Fear and Hope". I got up and ran after him and putting my arm around him said," My friend, I know you; we met at the river seven years ago! He smiled broadly and said, "Yes I know you very well too!" We embraced and later he brought his family to see us as the team treated patients and did a child (GLC) program.
I looked around the remains of the village and the new village that was rebuilt nearby and learned of four more children of villagers who were killed here. Still, in spite of all the dictators of Burma have done in attacks year after year, the people are still here. Now they are laughing with the team as they sing and play with the children. Gifts are given by the team from people all over the world including hats hand knitted by Norwegians. Later the villagers gave us fruit, melons and pumpkins from their precious harvest as the team caroled. There are fires going and the moon is almost full as people (both Animist and Christian here), sing hymns and laugh together. I am in wonder at the resilience of these people and feel this is how God has made all of us. To overcome, to hold on and to love each other in spite of all that is thrown at us.
In my own life I am usually my own worst enemy and I believe God overcomes that too. For me, I believe it was at this time over 2,000 years ago that God showed His love and care for us by sending Jesus into this dangerous word that would eventually kill him. Why? I do not know exactly but I believe that it is because God loves us all and is not afraid to suffer with us. Why suffering? I also do not know, but it might have something to do with our freedom and the fact that things are fatal for all of us on this world but with God they are not final. So, as we spend Christmas in the jungle, villages and hiding places of the displaced, we do so with peace in our hearts, believing that God is with us and has the final answer. We have fun at this time of traditional celebration and we have bitter sweet memories of those who are gone. Most of all we have gratitude to be with each other. We have a united joy. Why are the parents of the lost children smiling now? It is because we are alive, together and able still to enjoy the good things that are all around us. And it is also because we believe that all of us will be reunited in heaven because of God's love.
May God bless you and us all this Christmas; with peace and joy and an appreciation of those around us.
God bless you,
A Free Burma Ranger Team Leader
Western Karen State, Burma
A photo essay follows: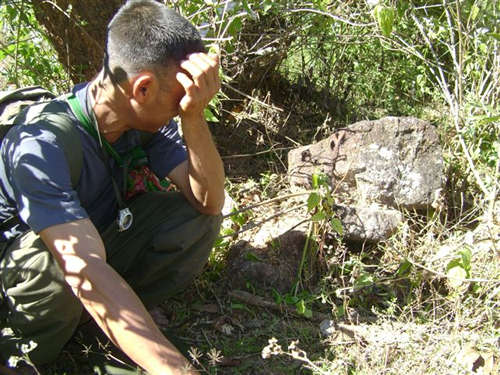 1) Father crying for son.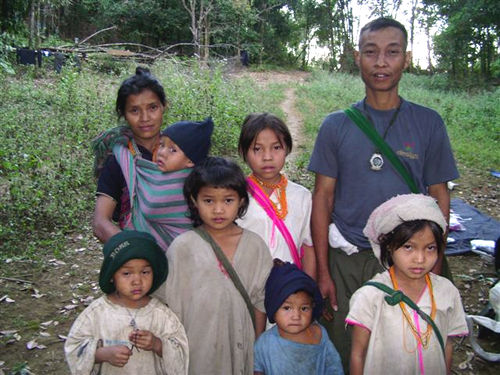 2) Father with his family and surviving children.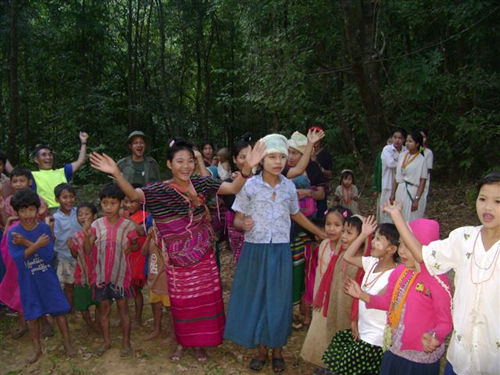 3) Villagers singing.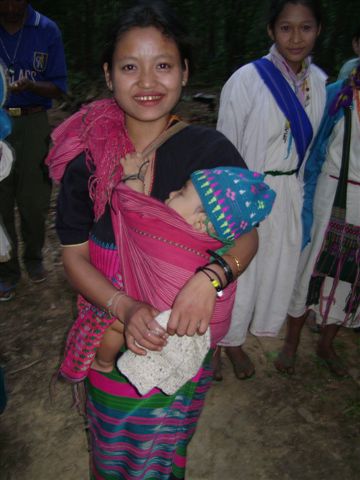 4) Widow receives hats from women in Norway for her and her baby.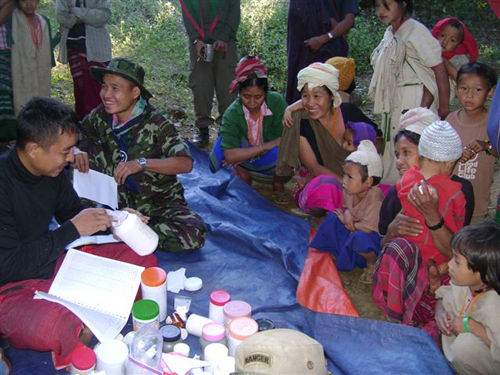 5) Medical treatment.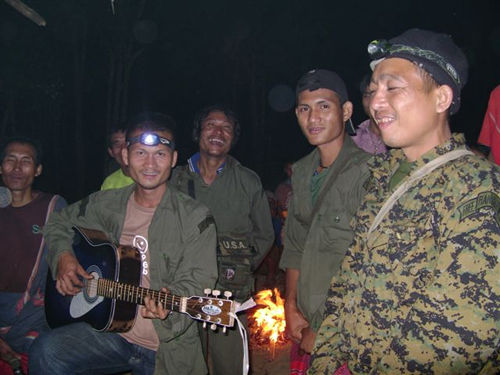 6) Team caroling.