FBR REPORT: 13-year-old Boy Blinded by Burma Army Landmine
Karen State, Burma
5 December, 2007
13-year-old boy injured by landmine
On 19 November, 13-year-old Saw K'Tray Soe detonated a landmine while gathering bamboo soot leaves to make a roof for his family's house. The mine blew up in his face, severely injuring his eyes and throat. His 8-year-old sister was nearby and was also injured by the explosion. The children are from Lay Kee village, on the border of Toungoo and Papun Districts, northern Karen State.
The mine was laid by the SPDC two months ago during their activity in the Ta Ler Ker Ko and Kaw Daw Ko areas. On 16 August, 2007, Burma Army division 88 entered Lay Kee village, burned down one house, and laid landmines, one of which eventually injured Saw K'Tray Soe and his sister.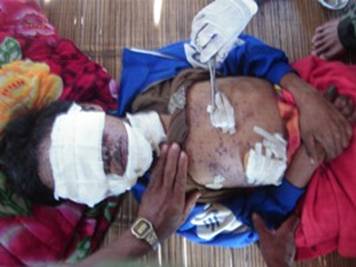 Saw K'Tray Soe, injured by landmine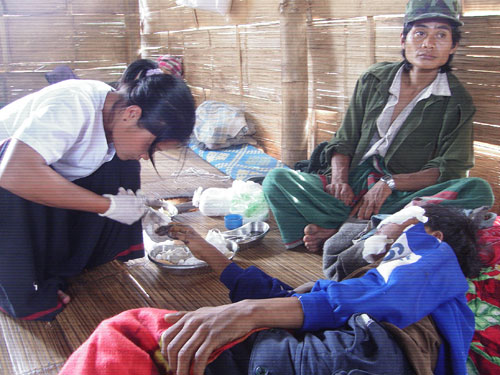 Medic giving aid to Saw K'Tray Soe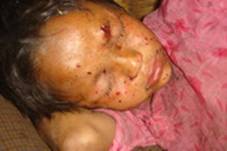 Saw K'Tray Soe's 8-year-old sister, also injured
New Attack: Burma Army Burns Down Bu Kee Village
December 5: Burma Army troops attack and destroy Bu Kee village; other villages shelled, and the people flee
On Wednesday morning, 5 December, 2007, the Burma Army attacked and burned down the village of Bu Kee in Tantabin Township, Toungoo District, northern Karen State. The troops, from TOC2 of MOC 4, attacked at 10:00 am, destroying every house in the village. The coordinates for Bu Kee village are N 18 47′ 48″ E 096 57′ 47″.
Earlier this week, on 2 December, the same troops, entered the Tha Aye Kee area shooting and mortaring villages, and burning down houses in Ka Lo Ta and E'Kar Ta villages. The people from this area have all fled and are in hiding now.