FBR REPORT: Burma Army Shoots and Kills Two People, Villager Steps on Mine, Hundreds Remain in Hiding
Karen State, Burma
24 November, 2007
Burma Army Shoots and Kills Two Villagers from Ler Wah:
On 15 November, 2007, troops from Burma Army LIB 218 and 219 shot and killed Saw Ler Gay of Ler Wah village. On 19 Nov, The same troops shot and killed Naw Nya Htoo, also from Ler Wah.
Villagers from Ler Wah, which is in Kyauk Kyi Township, have been in hiding from the Burma Army since they fled attacks in early 2006. Villagers have attempted to stay together, living as IDPs in the nearby hills, while returning to farm in their old fields. With these latest attacks, the Burma Army is attempting to terrorize and make life impossible for those in hiding, either forcing them further into hiding or to flee as refugees.
Burma Army forces villagers to pay for landmine victim:
On 15 November, 2007, Burma Army LIB 599 forced five villages to each pay 50,000 Kyat for the care of a villager who stepped on a landmine while building the Burma Army camp at Plaw Pa Taw. The villages of Myaw Oo, Paw Pi Der, Aung Char Tha, Kyaw Su, and Mi Ti Taw are required to pay the 250,000 Kyat to Saw Pah Byah, the villager who was maimed by the mine. Villagers were forced to provide materials and labor for the initial construction of the camp, but are now no longer permitted into the camp area.
119 IDP's from Yaw Ki village in hiding in Mon Township since 13 May, 2007:
This report is from an FBR team mission from 23 to 27 Oct, 2007.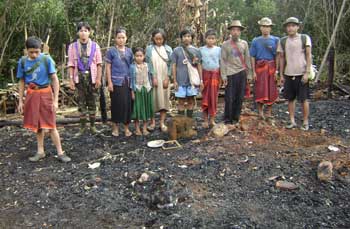 Villagers and relief team members on the burned remains of Yaw Ki
Since fleeing the Burma Army's attack on their village on the 13th of May, 2007, the villagers of Yaw Ki have been hiding in jungle, trying to avoid frequent Burma Army patrols and mortar attacks, and struggling to find enough food to survive.
Throughout 2007, the Burma Army has been conducting numerous attacks in the Mon Township area of northern Karen State. These attacks have been especially frequent for the villagers of Yaw Ki. Three major attacks have been launched this year against Yaw Ki, which have been supplemented by the almost constant threat of mortar or machine gun attack.
On 22 April, 07 the BA division (88) attacked the villagers of Yaw Ki in their farms and burned down the farm huts and destroyed all farming materials.
On 13 May, 07 the BA attacked Yaw Ki village and killed Saw Ra Say, 18, the son of Saw Ler Si and Naw La Hstoo.
On 13 Oct, 07 the BA attacked the village of Yaw Ki again and this time used mortars and large machine guns. During the attack six houses and one church was destroyed. (See Appendix for list of destroyed property)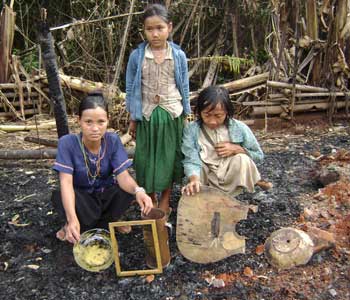 Villagers of Yaw Ki showing destroyed possessions
The Burma Army has a camp very close to Yaw Ki and shoots mortars and large machine guns into the village so the villagers are afraid to return to their village. The villagers live in the jungle and often change locations to hide from the Burma Army. One woman gave birth to twins while in hiding. Many of the elderly villagers and children have had frequent problems with illnesses. Finding enough food is also a major problem for those in hiding. The rice pounding they must do is very loud it must be set up in a location away from where they are living so the Burma Army will not hear the rice pounding and fire mortars into their hiding place. The IDPs are very afraid because of their close proximity to the Burma Army camp.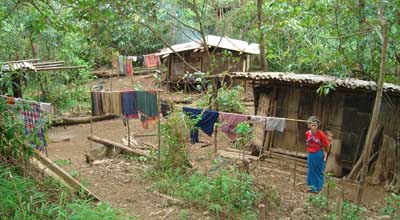 IDP in front of her make-shift home
When the Burma Army attacked, the villagers had no warning and no time to gather food or supplies. The most of the villagers have been unable to maintain their rice paddy farms because of fear of additional Burma Army attacks. Most of the farms are now overgrown with vegetation or have leaking or collapsed dikes and are therefore unusable. Two farmers have continued farming their paddies despite great fear of additional attacks.
In 2006, the village was able to maintain a primary school, despite the difficult situation caused by the Burma Army. This year, however, the current activities of the Burma Army have made this impossible.
From 23 to 27 October, 2007 the FBR team from Mon Township provided medical care, gave supplies, conducted interviews, and encouraged the IDP's from the village of Yaw Ki. Currently there are 16 families with a total of 119 people from Yaw Ki in hiding. During the team's mission, medical treatment was given to the IDP's who needed care, and the team educated all the IDP's on health care basics. Additional medicine was given to the village medic for later use.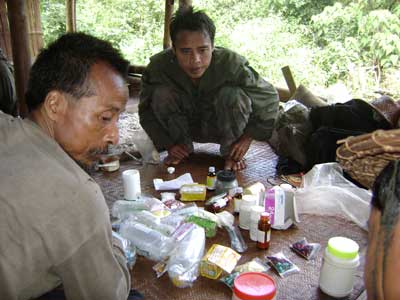 FBR medic providing medical care to IDP's
Yaw Ki village is a long distance from Mon township clinic. The villagers do not have good health care. The FBR team does their best to provide medical care for them.
Respectfully,
Saw Hti Moo Klo
FBR Mon Township team leader
(This map was made in the field by the Nyaunglebin District FBR coordinator)
Burma Army offensive in northern Karen State and Nyaunglebin District Summary:
The Burma Army's most recent offensive in northern Karen State has killed over 372 men, women and children and displaced over 30,000 people, most of whom are now in hiding, in almost two years of attacks that began in February of 2006 and are still continuing. Over 33 new Burma Army camps were built in the areas of Papun, Nyaunglebin and Toungoo districts in 2006 alone, with over 52 new camps as of this report.
The slow but unrelenting attacks and building of new camps seem to be driven by a plan to dominate, chase out or crush any people in these areas. This was the largest offensive in Karen State since 1997. It began in February 2006, with troops from over fifty battalions attacking through the rainy season, and the construction of 10 new main camps and 42 smaller support camps. The Burma Army is now completing the construction of two new roads that effectively cut the northern Karen State into quarters.
The disruption of their food production, burning of their homes and the shoot-on-sight orders of the Burma Army have made staying in their homeland untenable for thousands of people. Of the over 30,000 displaced, over 5,000 have already left their homes for the Thai border.
Appendix A:
List of destroyed houses and church: (1) Saw Lay Soe – One house and all belonging inside the house – value 70000 kyat. (2) Saw Ka Pru Htoo – One house. (3) Naw Ta Mwe – One house. (4) Naw Tu Tu – One house, 7 tins of paddy rice, 5 viss (approx 80kg) of cardamom, and all kitchen materials. (5) Naw Ma Wai – One house, all kitchen materials, and 30 visses (approx 480kg) of cardamom. (6) Saw Mu Si – One house and all belongings. (7) One community church, one church bell – value 10000 kyat, one light cover – value 50000 kyat, one box – value 5000 kyat, four Bibles, and four school books.