FBR REPORT: New Burma Army Attack Displaces more than 300 People, Including at least 100 Children
Newly Displaced Flee into Hiding on 15 November 2007
Nyaunglebin District, Northern Karen State, Burma
22 November, 2007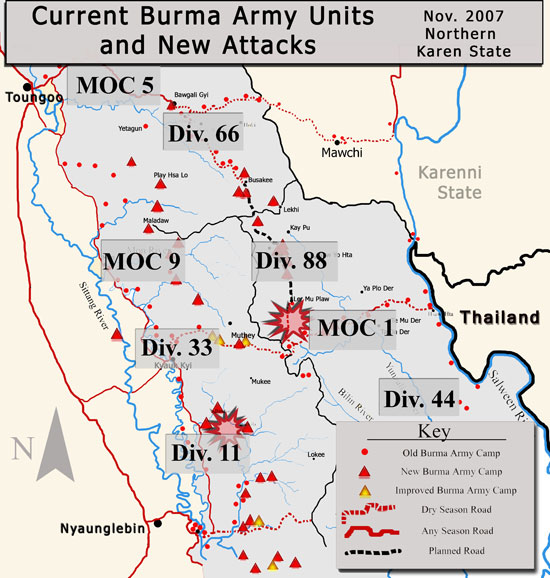 Current Burma Army Units and New Attacks
Attack: On 15 November 2007, troops from Burma Army Division 11 attacked Internally Displaced People (IDPs) at Ler Wah and Ta Hoe Aung. The 300 people, including at least 100 children, fled the Burma Army attack without time to take any of their belongings.
Two new Burma Army divisions reinforce units in northern Karen State: Two new divisional size units have now moved into northern Karen State, raising the number of division-sized units from six to eight. This is two more divisions than when the offensive began in 2006. Each division and Military Operations Command have ten battalions. The two new units are MOC 6 and Division 33.
Burma Army and proxy army activity: On 20 November 2007, 70 trucks with 3,000 Burma Army division 33 soldiers, and one truck with 20 Democratic Karen Buddhist Army (DKBA) soldiers and 100 porters left from Toungoo to Mon Township in northern Nyaunglebin District. On 21 November 2007, the Burma Army arrived at Muthey and Hsaw Mi Lu Camp. It is reported that they will attack in the Mon Township area and establish new army camps there to increase their control in that area. It is unclear at this time whether Division 33 will be replacing the current Burma Army division, MOC 9, in the Mon Township area or are here to reinforce the existing units.
Burma Army offensive in northern Karen State and Nyaunglebin District Summary: The Burma Army's most recent offensive in northern Karen State has killed over 370 men, women and children and displaced over 30,000 people, most of whom are now in hiding, in almost two years of attacks that began in February of 2006 and are still continuing. Over 33 new Burma Army camps were built in the areas of Papun, Nyaunglebin and Toungoo districts in 2006 alone, with over 52 new camps as of this report.
The slow but unrelenting attacks and building of new camps seem to be driven by a plan to dominate, chase out or crush any people in these areas. This was the largest offensive in Karen State since 1997. It began in February 2006, with troops from over fifty battalions attacking through the rainy season, and the construction of 10 new main camps and 42 smaller support camps. The Burma Army is now completing the construction of two new roads that effectively cut the northern Karen State into quarters.
The disruption of their food production, burning of their homes and the shoot-on-sight orders of the Burma Army have made staying in their homeland untenable for thousands of people. Of the over 30,000 displaced, over 5,000 have already left their homes for the Thai border.