FBR REPORT: Shan Report From the Field and Training of New Teams
Shan State, Burma
3 November, 2007
. .
Photo 1 and 2: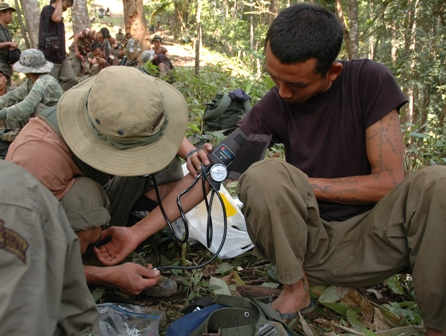 Shan medical treatment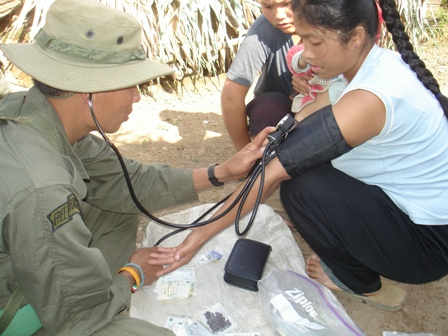 Shan medical treatment
.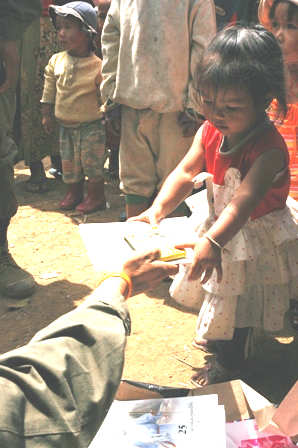 Internally Displaced children receive Good Life Club materials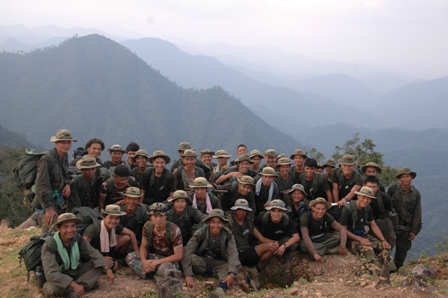 New Shan relief teams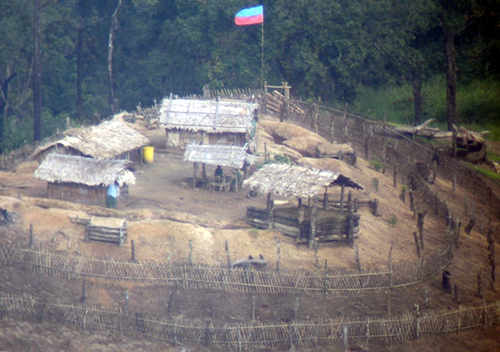 United Wa State Army camp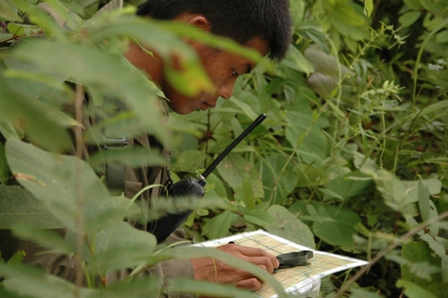 Relief Mission Navigation
I) Shan report from the field:
The situation of oppression in the Shan State continues. All major villages and towns are controlled by the Burma Army. People are now not allowed to demonstrate in the streets. In the mountains and rural areas the dictators do not have complete control and launch regular patrols to project their power and dominance. Here living conditions are very difficult, with the oppression of the Burma Army's patrols and threats of attack. The people also lack schools and medical facilities.
Fighting between Burma and Shan resistance occurs sporadically in these areas. For example on 21 October, there was a clash between the Burma Army and the Shan resistance- Shan State Army ( SSA) who are trying to protect the villagers, near Mawk Mai, north of Karenni border. The Burma Army has a proxy force in this area; a Pa'O militia that supports the Burma Army. The Burma Army also uses the United Wa State Army (UWSA), as a proxy force and have ordered the Wa to attack the Shan as they did two years ago. As of this report there has been no fighting between the Wa and the Shan.
Five Shan Free Burma Ranger teams are now providing relief in southern Shan State and sent this message:
"The people of the Shan State are oppressed. They are beaten, forced to pay taxes and forced to grow rubber trees. Villages are moved to make room for the rubber plantations. From Tounggyi city east and south. The Burma Army here has made a two part order to its troops: '…We need to;: a.) Control the Shan and force them to comply with all rules b.) Keep the news from getting out.'
"The Burma Army destroying rice crops in some areas that they want to replace with rubber plantations. The Burma Army is operating in every district, monthly with patrols. During patrols villagers are forced to give up chickens and pigs to the soldiers. The troops rotate in and out of this area every three months."
The teams now in the field were trained earlier in September and a report of their training follows.
Thank you and God Bless you,
Free Burma Rangers
Photo 6: New Shan Relief Teams
II) Training and sending of new Shan Free Burma Ranger humanitarian Relief Teams
Shan Leadership and Relief Team Training
3 – 29 September 2007
Five new Shan Free Burma Ranger humanitarian relief teams completed training and are now on relief missions. A combined training on leadership training, humanitarian relief and ethnic unity took place in the Shan State of Burma from 3 – 29 September 2007. The training integrated the issues of leadership, capacity building, medical assistance, practical humanitarian relief, reporting, advocacy and ethnic unity. The teams also conducted their own demonstration of ethnic unity with the protestors in the cities of Burma.
One purpose of the training was to further understanding and unity among young ethnic leaders, to raise issues of concern and to develop leadership among the participants. A practical aspect of the training focused on training ethnic teams to bring help, hope and love to the people of Burma, especially to the Internally Displaced Persons (IDPs). 30 men comprising five 6 person teams participated in the training and follow on relief missions. The training was hosted by the Restoration Council of the Shan States (RCSS) and facilitated by the Free Burma Rangers (FBR).
The training focused on the model of 'servant leadership' with a goal of strengthening young leaders and building up civil society. The teams received training in ethnic issues, leadership, conflict resolution, public health, first aid, advanced medical and basic dental care, human rights interviewing and documentation, reporting, counseling, the use of video and digital-still cameras, map and compass, land navigation, map sketching, solar power, power and battery management, communications, planning, operation orders, history of ethnic nationalities of Burma and two field training exercises.
During the training the teams conducted a two-day field training exercise to test the teams in every area of their training. This exercise was conducted using an IDP scenario with 12 stations to which the students had to navigate and complete the assigned tasks. This was conducted under pressure, over difficult terrain with multiple water crossings and no food or sleep. Every team successfully completed all tasks.
The training culminated in an actual four day mission where the teams provided medical treatment for over 500 Shan IDPs, conducted a program for women and children (GLC) and completed three reconnaissances of the dictator's forces in the area.
Upon graduation each team was equipped with enough medicine and medical supplies to treat 1,000 IDPs each, a video camera, tapes, digital-still camera, radio, flashlights, backpacks, hammocks, personal equipment, cash for travel, food for emergency relief, educational supplies (including bible story books where requested), "Good Life Club" packs for children, clothing for IDPs, toys, sporting equipment and a reporting format.
Each team is conducting relief missions to IDPs in different areas of the Shan State of Burma for 2-4 months. Upon completion of their missions each team will send a completed report and all tapes and film to their respective leaders who will in turn send them to the FBR. Any relevant relief, human rights, medical or other information will be passed on to the appropriate organizations. The teams will be evaluated, retrained in needed areas, re-supplied and then sent on to the next relief mission.
We are very grateful to Partners for their support of the medical and GLC program and the excellent instruction they provided.
Thank you and God bless you,
The Free Burma rangers