FBR REPORT: Four villagers shot and killed, villages burned and people forced to act as human minesweepers as the Burma Army attacks villages in Toungoo District
Karen State, Burma
1 November 2007
This report is being sent directly from the field by a FBR relief team. It includes information from August 2007 to 1 November 2007.
Toungoo District, Northern Karen State
1. Photographs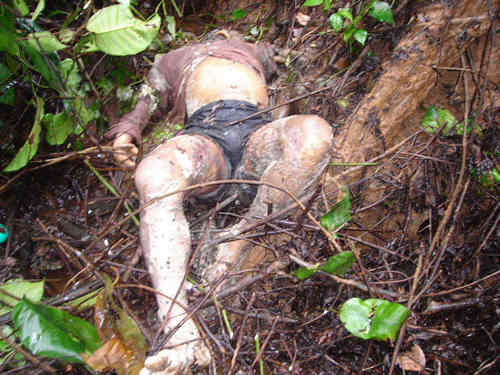 Saw Ko Tee Nor, 38 years old, shot by the Burma Army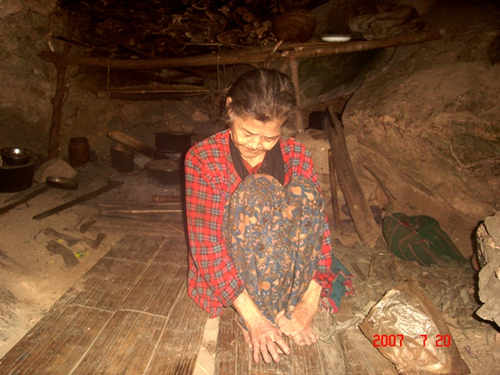 Naw Kay, hiding from Burma Army in a cave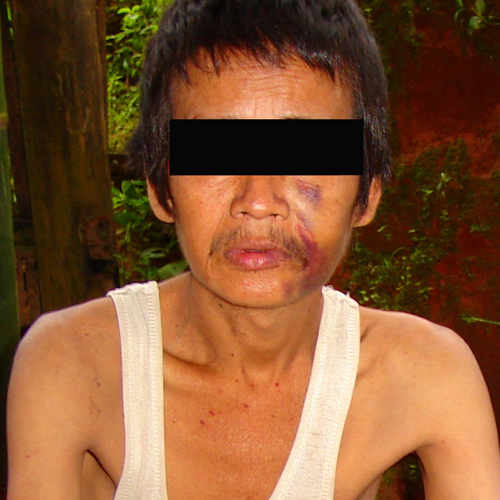 Saw D*, a 40-year-old villager captured and tortured by the Burma Army. Aug 07
*Name changed for his security.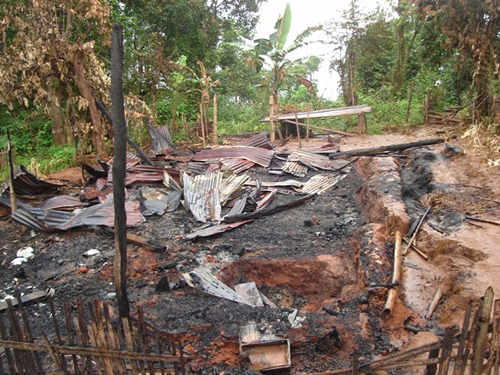 House destroyed by Burma Army in Haw Thaw Blo. Aug 07
2. Map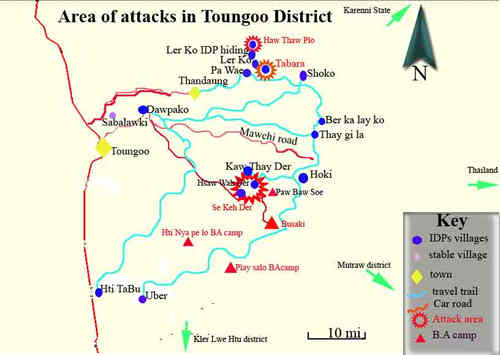 Area of attacks (click on image for larger view)
3- Report
The Burma Army attacks the Karen in Toungoo District: Villagers shot, arrested, punished and forced to do labor.
In Toungoo District, Northern Karen State, the Burma Army continues to attack and kill villagers and people in hide sites in their attempts to dominate the people in this area.
The slow but unrelenting attacks of 2006 and 2007, along with the building of 52 new camps by the Burma Army in the northern Karen State is driven by a plan to dominate, chase out or crush any people in these areas. This has been the largest offensive in Karen State since 1997. It began in February 2006, with troops from over 50 battalions attacking through the rainy season. The Burma Army is now completing the construction of two new roads that effectively cut the northern Karen State into quarters. The disruption of their food production, burning of their homes and the shoot-on-sight orders of the Burma Army have made staying in their homeland untenable for thousands of people. Of the over 30,000 displaced, over 5,000 have already left their homes for neighboring countries.
Four men shot and killed by Burma Army soldiers
On 19 July 2007, three villagers were shot and killed by troops of the Burma Army Division 88. Troops from IB 78 Division 88 attacked into in Yaw Ni See Zu Ko village, in the See Keh Der area. The three men killed were Saw Day Po, age 27, De Ku Lu, age 25 and Saw Wa Wa, age 35.
On 27 August 2007, at 5:00 p.m., troops of Military Operations Command 5 (MOC 5) shot and killed a villager named Saw Ko Tee Nor, age 38, in Tha Ba Ra village, Thandaung Township. His wife is pregnant and still lives in the village. Light Infantry Battalions 371 and 372 troops of MOC 5, were the troops who killed Saw Ko Tee Nor. The MOC 5 tactical commander is Win Htain Oo.
Women arrested by the Burma Army
The Burma Army takes villagers' belongings and arbitarily arrests villagers . In the Kler La area the Burma Army arrested Saw E* and Naw M* accusing them of being part of the resistance. Saw E and Naw M escaped, but, as punishment, the army captured two of Naw M's relatives. They demanded that she pay a fine for their release. The Burma Army troops destroyed Naw M's house and her relatives have been forced to stay in the army camp. They have not yet been released. *Names changed for the security of these villagers and their families
-The Burma Army burns villages, two men step on landmines as the Burma Army uses villagers as human minesweepers, and demands continue for forced labor
Haw Thaw Blo- three houses burned down by Burma Army troops, looting and a villager arrested and tortured.
On 27 July 2007, Burma Army Division 88, MOC 5, LIB 371 and 372 soldiers attacked Haw Thaw Blo area villages, burning down at least three houses. The following villagers had their houses burned down and their possessions destroyed. The costs of the losses are as follows: Saw Shwe (700,000 Burmese kyat), Saw Maung Lway (600,000 kyat), and Saw Bain Naing (650,000 kyat). Other villagers also had many of their possessions stolen or destroyed, including: cooking pots, rice, hunting riffles, blankets, fishing net, livestock, and other personal items.
On 10 July 2007 The Burma Army MOC 5, IB 544 soldiers forced 20 villagers from Ku Plaw Der to cut down bamboo in order to build the camp. They also forced villagers to work in the camp with projects such as carrying water. The Burma Army MOC 5, IB 544 is under battalion commander Tie Tay and stays at Ku Plaw Der army camp
During this time the Division 88 troops also arrested villager Saw Dar Mya, age 40. Burma Army soldiers hit and tortured him. When they arrived at the Burma Army camp, they released him.
The Division 88 troops carrying out this attack were under the command of MOC 5 tactical commander Win Htain Onn, who controls LIB 371 and LIB 372
Kler La (Baw Ga Li Gyi) – villages attacked, two men step on landmines as they are used as human minesweepers and forced to carry Burma Army rations
On 20 July 2007, two Kaw Thay Der (Ye Tho Gyi) villagers in the Kler La area, Saw Koe Mya, age 36, and Saw Eh Htoo, age 35, stepped on landmines as 60 Kaw Thay Der villagers and 40 Klay Soe Kee villagers were used as human minesweepers. The villagers were forced to walk in front of the Burma Army MOC 5/LIB 566 soldiers as they carried the Army's rations to Po Baw Soe, a new army camp. The villagers were also forced to provide the soldiers with food.
On 25 August 2007 the Burma Army forced villagers in the Kler La area to leave and did not permit them to return to their village for supplies. As a result, they have very little food. Also in Kler La area, all the government schools have been stopped and students are not allowed to attend class. The State Peace and Development Council (SPDC) is trying to prevent the people of this area from receiving an education.
Also, on 20 August 2007, the Burma Army arrested a villager named Naw Htee Ye, age 35, from Maw Pai Der. They tied her up, covered her face, and sent her to Kler La area. We have not heard about her current condition.
Blind Woman hidden a in cave to escape attacks.
On 20 July 2007 the Burma Army MOC 9 LIB 542 and LIB 346 from Po Baw Soe army camp attacked Saw Wah Der area villages. The villagers fled and went into hiding. One 68-year-old blind woman, Naw Kay, hid from the attacking Burma Army in a cave. Her family left her there because she has a great deal of difficulty moving quickly.
Another example of the Burma Army's brutality occurred on 14 July 2007, while MOC 5/LIB 566 stayed in Kaw They Der. They arrested a villager named Saw Nain Nain, while he was in a beetle nut grove.He could not speak Burmese. They beat him and questioned him about the resistance until he could not hear anymore and began to cough up blood.
MOC 5 commander Khaung Mya ordered many of the homes in the Kaw Thay Der area to be destroyed. He also placed many restrictions on the people there. He ordered that the villagers not go out of the village unless given permission by the Burma Army. He also instructed them to play sports such as soccer, volleyball and boxing, but demanded that each house pay 500 kyat per game.
MOC 5 soldiers forced one member from each household of Klay Soe Kee to carry army rations to the Naw Soe army camp.
Play Hsar Lo- forced labor and new IDPs
Between 23 July 2007 and 31 July 2007, MOC 9 LIB 375 and LIB 539 stayed in Play Hsar Lo and forced the villagers to cut down hundreds of bamboo poles. The villagers had to comply as they could not flee due to flooding in the area.
The Burma Army MOC 9 soldiers returned to the Play Hsar Lo area on 19 August 2007. This time the army destroyed villagers' farms in this area.
The Burma Army also established a camp in The Nya Pai Lo. From here they attacked villages in the Mwee Lo area and the Maw Nay Pwer areas. The villagers fled and are now hiding in the jungle. They do not dare to return to their villages. The Burma Army also occupies their camp in Po Baw Soe, so the villagers in the Ho Kee area have fled and are hiding in the jungle. Many are sick, but they do not have enough medicine to treat all.
In the Play Hsar Lo area, Kler La area and Kaw Thay Der areas the Burma Army continues to force villagers to carry food, check the roads for landmines and flee from their homes.
September- October 2007; The Burma army shells IDP hide sites and continues to chase villagers out of the Saw Wa Der, Ha To Per, Lay Kee areas and Yaw Kee (Mon Township border area).
In September and October, the Burma Army continued to shell villages and hde sites in Southern Toungoo District and along the Tongoo-Mon Township border. On 13 October 2007 the Burma Army attacked and burned the village of Yaw Kee, destroying 10 houses and a church. Most of the villagers of the Saw Wa Der and Ha To Po valleys have fled and the village of Lay Kee has been displaced once.
4. A Letter from a Karen resistance leader in Toungoo District:
9 August 2007
"Although it is difficult, we continue to stand in our land, and live our lives. From the beginning of 2007, the Burma Army Division 88 activity has become more serious in Toungoo District. Many of our citizens and soldiers cannot stay and have moved to refugee camps.
Most recently Saw Wah Der villagers have been forced to go to refugee camps. The Burma Army has moved into this area and has destroyed villages throughout. The Burma Army has also established occupancy in Po Baw Soe, Da Thus Soe, A Baw Kee and Yaw Thaw Bur.
We cannot predict what will happen in the future. However, among all this difficulty, we surrender ourselves to God. Please remember us and pray for us."
God Bless you,
Commander
#2 Company, 6th Battalion, 2nd Brigade, KNLA.
5. Background to recent attacks in Toungoo District, Karen State, Eastern Burma.
49 men, women and children have been killed by the Burma Army from February 2006 to November 2007.
In November, 2006, two children, a five year-old girl and two-year-old boy, were captured by the Burma Army and have not been released. Their condition is not known.
Of the over 600 prisoner porters used in this offensive (not counted are the over 850 villagers used to carry loads for the Burma Army), an escaped porter reported seeing 95 convict porters executed during this offensive in Toungoo District. Some were reportedly killed by having their throats cut, others starved to death.
There are over 6,000 people newly displaced in Toungoo District now and over 12,000 displaced from earlier attacks. Burma Army Division 88 and MOC 5 are attacking villagers and trying to complete the new road from Busakee to Ler Mu Plaw in Papun District.
The Burma Army continues to burn villages, build up the nine new camps it has built there and is forcing villagers to clear landmines and act as human shields on the Toungoo- Mawchi Road. Villagers from 12 villages surrounding Baw Ga Lyi Gyi (on the Toungoo-Mawchi Road), have been forced to act as human shields around a bulldozer and to go ahead of the construction unit to clear the roadway of potential landmines.